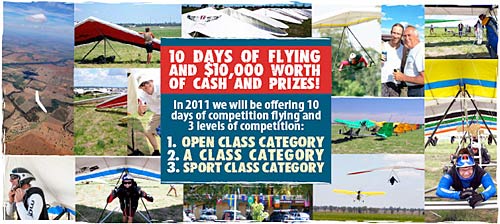 Australian hang glider manufacturer Moyes are organising two separate hang gliding competitions at Forbes, NSW, next summer: the Forbes Flatlands challenge will be divided into Open and Sports classes.
The Open class competition starts on 2 January 2011 and runs until 12th.
The Sport Class Competition will be held from Tuesday 28 December – Friday 31st December 2010. The focus will be on an introduction to competition flying, with in-depth weather and task briefings in the mornings.
Gerolf Heinrichs will be the meet director and will chair the morning briefings. He will also fly the task. There will be evening social/BBQ/meals when the days' flights will be debriefed.
Organisers ask that pilots register their interest in either event now please on Moyes' website, as the level of interest will affect the cost of the event.
Towing will be available all day for all pilots for the duration of the sports class event, so open class pilots can practise for their event. In between the two competitions, Curt Warren and Jonny Durand jnr will be running seminars on glider tuning and cross country flying. It will also be possible to gain a tow endorsement or attempt record flights with Attila Bertok.
---
• Got news? Send it to us at news@xccontent.local.
Subscribe to the world's favourite hang gliding and paragliding magazine
home
Never miss an issue
Our subscribers receive 10 issues a year, the annual Travel Guide and exclusive access to competitions and offers
Subscribe today