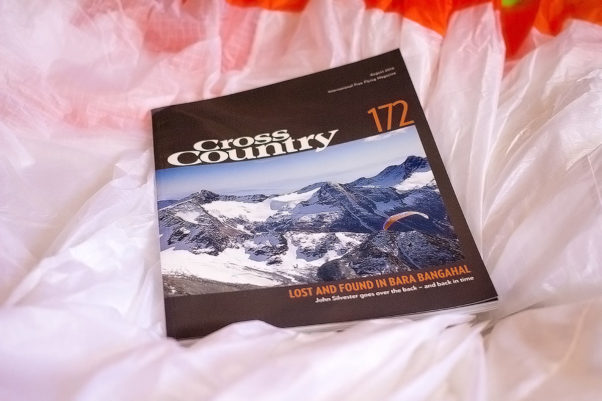 Looking for Shangri-La
We go to the mountains to lose ourselves, and then to find ourselves. It's not a new idea, but it is a timeless one. We travel to do the same – we go there so we can come back, refreshed, reinvigorated, with new eyes on the same landscape, external or internal.
John Silvester's trip to Bara Bangahal was the talk of the town in Bir last autumn. He and his band of merry men had left to fly off on an adventure into the mountains. Only he had got through, the others turning back because of low cloud.
I had seen John a few days earlier, moving along the street like a vulture on the ground, his body loping, his bones seeming to weigh him down. That is the real deal, I thought, as I watched him slip between cars and cows, unknown to the pilots with their heavy bags who were marching the other way. That's a legend, I wanted to tell them, a proper flying legend, but of course I didn't.
Reading and writing almost seem like arts from a slower time these days, when we have to parse digital information at lightspeed, deciding whether to let it in or not. John's article this issue is a tribute to those original arts, it's a tribute to him and to the places he loves. It's old-school, and a pleasure to present it here.
Of course you don't need to go over the back in the Himalaya to find your own piece of Shangri-La. You can do it on a Sunday, or on a summer's evening on the hill behind your house, taking off into the air on your own private mini adventure. It's amazing how quickly we can reach the wild places when going up.
We always return refreshed and revitalised. If we don't, then we can sit and worry about it for hours, days, until the next time we take off and it all fades away.
It is the adventure, the idea that you can refresh, renew and grow simply by going up there, going somewhere, and coming down again, that is almost miraculous to me. It's so simple and yet so not.
Enjoy this August issue – summer for us here. We're off to go flying. See you up there!
Ed Ewing
In this issue:
How Fast Does it Go? – Hugh Miller has been measuring the air speed of paragliders – with some surprising results
Thermalling Etiquette – Left, right or straight ahead? Kelly Farina has some words of advice on how to join a gaggle well
Bare Bangahal – 'I have mentally accepted the surfing's going to be done under fire.' John Silvester flies over the back
Splashdown! – The European Paramotor Slalom Championships were held over water – a good thing too!
Addicted to Acro – "We're laughing deep belly laughs." Andy Pag spends a week in acro land and can't keep up
Redemption in Rio – 'I cannot recall how the day began…' Jan Rentowski and friends finally get to fly Christ in Rio de Janeiro
Icaro Sitta – 'An EN-D hike-and-fly glider – surely a contradiction in terms? Charlie King finds out
Nova Ion 4 – Performance for all, they claim, but is that really true? Hugh Miller flies this low- to mid-EN B
---
Subscribe to Cross Country's Digital Version from just £2.25 per issue
Never miss an issue
Our subscribers receive 10 issues a year, the annual Travel Guide and exclusive access to competitions and offers
Subscribe today