IT'S EARLY NOVEMBER. Somehow I haven't flown since the end of August. I find myself newly married, and recently unemployed. I'm strapped into a crispy-white Skywalk Poison X-Alps on Sarangkot take-off in Nepal. What is it they say about changing one thing at a time?
I'm surrounded by tandem pilots. I must look quite pro, but I feel as rusty as the taxi that drove me up the hill. My friend who has been here for two weeks says the conditions haven't been very good and we should be happy with a boat up and down the ridge.
I get clipped-in and check out the wing. Mostly lightweight cloth, fully unsheathed lines, lightweight brake line, thin webbing risers, metal maillons and big wooden toggles. It's definitely a compromise between out-and-out hike-and-fly adventure racing and a lightweight XC glider.
The risers look complex – they always seem to be on modern EN-Ds – but I eventually figure out which are the As and give all four of them a tug.  The snake writhes up, one half quickly, the other side a complete mess. I no longer look at all pro.
I untwist the causal left brake and have a second go. The wing floats up overhead in the gentle breeze. (Later take-offs in stronger or cross conditions were more challenging, making the glider look more of a handful than it actually is in the air). The aspect of 7:1 is pretty normal for the class but wow, that's a lot of cells (80) on such a light glider, and stands out amongst the crop with some 20 more than is now common.
It's now or never, and I hop off to join the gaggle of tandems. I turn in and hear a strange sort of paper-bag crumpling sound. Those who've flown light wings will no doubt appreciate this initially offputting sound is down to the light fabric.
I soon forget the brake sound as she hooks in and I've soon climbed through the hordes of tandems and over the ridge. Wow, breathtaking views of the Annapurna that I've missed for several years and I've completely forgotten about my lack of currency as I glide into clear air to find a second moonbeam up to 2,500m. I cheekily get on the radio and let Pete know that I'm off XC.
The glide is excellent, and up to half-bar the wing feels incredibly solid. In fact, in the 30 hours or so I flew the wing, I noticed no span-wise flex or shooting at all, whether thermalling or on glide.
As I push more bar, the wooden toggles feel super solid, like I could do a one-armed pull-up before the wing even turns. At high speed I don't like this feel so much, and am slightly nervous that I won't feel anything until it's too late. On later flights I did occasionally take an asymmetric on full bar and although dynamic, the recovery was very quick and without more than 90 degrees of rotation. That said, the glider barely moves overhead in all but the worst of turbulence.
Full speed is definitely loud and radio distorting, which suggests this whip is quick. My first time on the Green Wall and I ridge soar back up to the less stable air. The glider feels playful as I try to mimic the swifts that surround me in the warm air. I'm immediately confident enough to take it close to the trees and spurs. Never a suggestion of a collapse, even with my lack of currency and unfamiliarity with the wing.
Another rocket thermal, surrounded by Griffons… it's been a while. At base, I head back to Sarangkot on this famously buoyant line. The days are short here and the lower ridge is already shutting down. Time to try some scratching in weak evening lift.
I'm flying the XS (65-90kg) wing at 85kg. We float and feel our way 5km down the ridge before heading back to Lakeside. The wing is easy to centre and turn precisely, and I can tell that, just like my Chili of old and a Cayenne 2 I flew, Skywalk still have a keen eye for precise and enjoyable handling.
At the end of the flight I'm a few hundred feet over the water and it's time to see how playful this thing really is. I enter an asymmetric spiral and then reverse it into a wingover the other way. The next one it loops and I ease back into straight and level flight.
Heart somewhat racing, I'm surprised at how stable such a dynamic glider has been whilst flying XC. The handling and performance are somewhere between a trials bike and a Dakar Rally car.
I'm still over the lake and now climbing slowly in the evening restitution. An eagle cruises over to join me. He surfs the leading edge and I take some photos. He drops back, dives in and gets his talons out. Shit, this is a review wing! I spiral again, he is a much better dog fighter than me and of course there's no way I can shake him off. My cohort now enemy, I shout at him like an idiot all the way down. I definitely don't look pro, I look terrified. He flies off at 30m, having never made contact with the glider.
In the gentle breeze the glider lands slowly, with a huge amount of flare authority. Later in the trip making cheeky top- and out-landings this was a great boon and something that hike-and-fly pilots will really appreciate. Whether to do with the jet flaps, or just sound wing design, I don't know – but the stall and spin points are late, and easy to spot.
A young lad helps me pack up, and with his expert help, we nearly achieve a factory pack. The glider is certainly small: at 4kg it's also perfectly suited to its design spec of hike-and-fly racing, and adventure XC. The plastic rods are flexible and even with 80 cells and long rods, it's easy to quickly put in the bag without any fuss.
The only design feature I find difficult are the wooden toggles: they take getting used to on take-off and can tangle with the lines; I think I'd prefer loops or little balls as they're less likely to snag up when you may have a tricky back-country take-off and can't really afford an aborted launch.
After that and many other flights during November, I can see why Skywalk give their gliders spicy names, although I think 'Poison' is a bit much! The wing is pretty hot compared to her peers, but she is exciting and a blast to fly.
****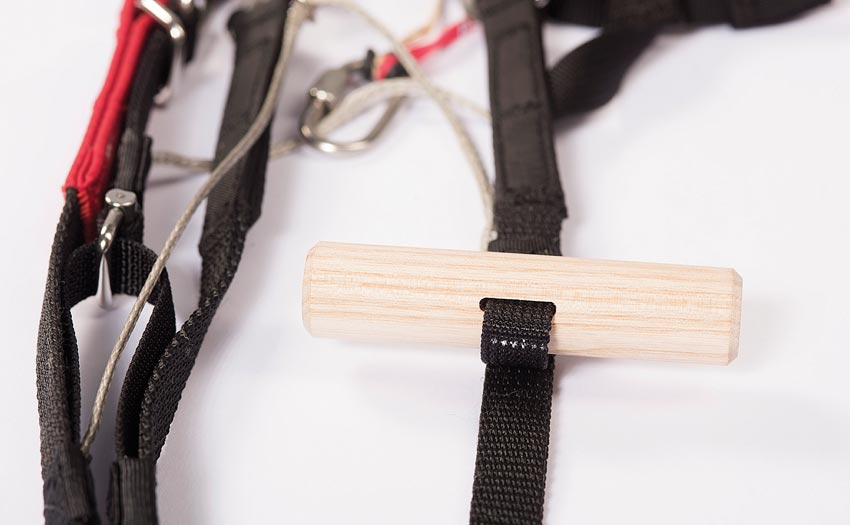 CHOOSE YOUR POISON
The Skywalk Poison X-Alps was developed directly from the Skywalk glider that Paul Guschlbauer, Stephan Gruber and Ivan Colas used in the Red Bull X-Alps 2015. That wing, the X-Alps 2, was produced specifically for those pilots to use in the X-Alps and was certified CCC. 
The Poison X-Alps is the production model of that wing, produced using more robust materials (32g and 27g Skytex), a clearer riser layout, an optimised line set and slight changes to trim. The result is a glider that, Skywalk say, has "increased performance and responsiveness". It is certified EN D.
Comparing the wings, the X-Alps 2 also had 80 cells, an A/R of 7.0 and three line levels. At 3.7kg it was a little lighter than the production Poison X-Alps is.
Features of the Poison X-Alps include a new Skywalk 'speed control' system. This is a rear-riser control system that, when applied, modifies not only the C-lines but also the B-lines. This system allows the pilot to even out turbulence, speed and pitch while flying on bar, without having to come off the speed, according to Skywalk. The wing is designed to be flown actively using a combination of the speed control system and the bar.
Pitched at time-served XC pilots Skywalk say the wing is "for experienced pilots who fly very actively".
Other features in the build include Skywalk's trademark Jet Flaps; C-wires (nylon wires sewn into the glider over the anchor points of the C-lines, which Skywalk say give better load distribution, reduced drag and consequently more performance); mini ribs on the trailing edge; rigid foil nylon wires on the leading edge; 3D shaping; and a sharknose. 
The result of all this up-to-the-minute technology and design is a glider that performs at speed while retaining a solid feel.
On the EN test, it scores a lot of As and Bs, while catching a D for recovery from a full front collapse (pilot input is required). Because folding lines were used in testing it also rates an automatic D for side collapses, although the test report shows a blizzard of As and Bs with the odd C.
Skywalk, like most manufacturers, don't make any claim for top speed or other performance measures, and, because of the nature of this review (we gave it to Ali and he took it to Nepal) we didn't do our normal objective speed testing using our dedicated speed probes. 
If you are in the market for this type of wing, the obvious other wings to compare it with are the LM6 and GTO 2. Both are also in the 4kg-4.5kg weight range, and are lightweight high-performance gliders. Niviuk's new Klimber P and Advance's Omega XAlps are in a slightly different bracket of super-small pack size and sub-4kg: ideal for hike-and-fly but without the durability of heavier cloth.
The Poison X-Alps will appeal to pilots who want top-end performance and a compact and lightweight package. For advanced XC pilots exploring the mountains on vol-biv adventures, or for those who regularly hike to launch to fly XC, it will be perfect.
****
Manufacturer's Specifications
What Skywalk say: "Ultralight performance EN-D"
Use: XC, mountain adventures
Pilot level: Advanced XC
Sizes: XS, S, M
Flat area (m2): 21.5, 23, 24.4
Take-off weight (kg): 65-90, 85-105, 95-115
Glider weight (kg): 4.0 – 4.4
Cells: 80
Flat aspect ratio: 6.99
Certification: EN / LTF D
Ali Andrews flew the wing in thermic and XC conditions for 30 hours in Nepal, including 45km triangles and +4m/s climbs
To stay up to date and read our reviews first, subscribe to Cross Country