Sophie Tudor has history with heated gloves – she gives these a go.
Having suffered with the rather grandly named Raynaud's phenomenon, where fingers go white in the cold as blood flow is restricted, for as long as I can remember, I was eager to get my mitts (pardon the pun), on a pair of these new Racer gloves. These would be my fourth pair of heated gloves, used almost entirely for paragliding.
Aware that Racer heated gloves have been around for some time for motor-biking, I was pleased to see that they now have a paragliding range too, as well as gloves for skiing, horse riding, biking and mountaineering. There is crossover between the sports, and these gloves are sold as good for both paragliding and biking.
First look
After ordering online they arrived quickly in cardboard packaging, not plastic, which gets the thumbs-up from me. There are several colour options, and I chose dark blue. The top side fabric is a lightweight Polymax waterproof membrane while the palm is made from an artificial leather called Clarino, with lines of sticky silicone grip bands.
There is a zip used to access the battery pouch and I wasn't sure about this at first – something else to get a line snagged on – but in use I found the whole battery pouch area works well. The zip gets tucked away under your jacket anyway.
Battery connection is easy, and when the glove is on the battery sits snugly on the wrist.  Cuff length has been extended to help keep the battery from moving, something which also helps reduce cold-air gaps. With previous gloves I have found that the batteries move constantly, but there was no such problem here. It's all very snug.
Racer say it takes four hours for a full charge, but I found it quicker, more like three. Depending on the size you buy, they weigh around 350g, including batteries.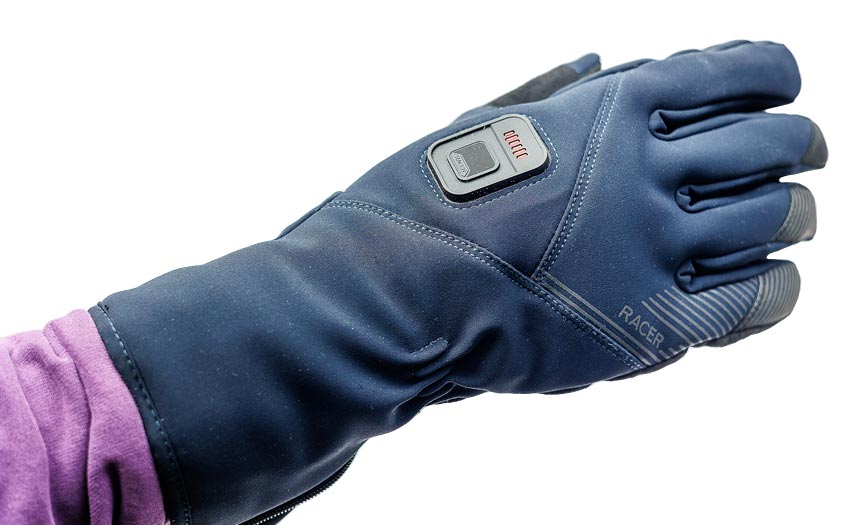 Switching on
The heating wire passes under your fingers, in closer contact with veins and where the heat is needed to aid circulation. This alone is a vast improvement on previous options, which placed the wires over the top of fingers only, a choice I never understood.
Heat is immediate, nicely constant and well distributed with no "hot spots" – something I have found problematic in other gloves.
There are three heat levels. A single button on the right-hand glove controls both gloves via Bluetooth. Using one control rather than two simplifies the whole experience. The light system for power is bright and clear.
With fully charged batteries, I found maximum heat (toasty) lasted for 2hr 45min; medium heat (nicely warm) lasted 3hr 30min; and low heat lasted 5hr 30min. Heat was good even on the low setting.
Feedback to Racer? I'd love to see them come with lanyards. Sizing on the Racer website is described as "men's unisex" – for women, even if the site directs you to a "women's range," bear this in mind and I recommend you buy XS or S.
The verdict
These gloves are the closest, so far, to my idea of perfection. Flying with bulky gloves isn't fun and these are the most effective and least bulky I've used. They work a treat and will help to keep your hands warm. They are comfortable as soon as you put them on, and are by far the best heated gloves I've ever had paragliding. That said, at €199.95 they are the most expensive too. However, I do feel that I will use these for many years, making the investment more than acceptable.
Racer e-Glove 4, €199.95, racer1927.com
Published in issue 238 (April 2023)