This freestyle EN-B is aimed at pilots who like their flying with added G. Marcus King catches the dive
Even if your main aim is distance flying it makes sense to learn some acro, as it gives you an excellent level of glider control. Just look at the results of the acro pilots who turn their attention to XC comps – from Women's World Champion Seiko Fukuoka down.
But what to learn on? Many time-served acro pilots recommend an ordinary EN-B wing. A low-B saves you money by going second-hand.
These are perfect for nailing full-stalls – a manoeuvre you should have dialled before moving onto more acro. However, once you are hooked on the more dynamic side of things you will probably want something smaller and more responsive. This is where pilots will often look to a freestyle wing.
The Xenus is Icaro's new freestyle wing, and it combines high wing loading (up to 110kg on a 22.5m2 wing) with EN-B passive safety.
Construction
The wing certainly looks the part. It has a wild colour scheme, reminiscent of Icaro's full-on acro wing, the Nikita. The company say it "shares DNA" with the Gravis, their mid-to-high EN-B wing. It has the same 40 cells, a sharknose up front and mini-ribs on the trailing edge.
Icaro's test pilot Xandi Meschuh was responsible for trimming the wing. He said: "Although it shares the DNA of the Gravis we have made lots of changes to fit the requirements of a freestyle wing. For example, the Gravis is made to be as light as possible and the Xenus to be as strong and durable as possible.
"We've used Skytex 38 rather than 32 and added Mylar in the profile of the nose, so it will survive a nose hit. Additionally the attachment point reinforcements are bigger and better able to transfer high loads into the canopy."
But it's not just materials that have changed. "There are quite a lot of changes in the trim of the wing. A freestyle wing has to have a bigger back-flight window, which requires a different angle of attack on the profiles.
"Handling is another area we have worked on. [Designer] Ralf Grösel and I did a lot of reverse engineering, meaning all the trim changes have been reflected in the 3D model. This ensured the final wing is very clean and has the flight properties we were looking for."
I was surprised to find the risers more akin to an XC wing. Some freestyle wings I have flown try to give the full acro experience with brakes on elastic etc. Instead, Icaro have gone with thin, racy-looking risers that even have C-control loops.
"The C-steering works effectively for turning flat, especially at the top of the weight range," Xandi said. "Secondly, it's a nice tool for groundhandling. You can control the glider much better with rear risers than with the brakes."
The brake handles are nice, large, well padded and comfortable. They're attached using directional magnetic clips and have a swivel to stop line twisting. The A-risers are well marked with red and the inner ones are marked with the words "Take Off" so you know which ones to pull.
Launch behaviour
I took the wing to the El Hierro International Paragliding Festival in May where one of the launches was quite challenging – from the road with a big wind shadow.
Even with helpers this meant you needed a good pull to get the wing moving upwards, but then as soon as it was in the airflow you had to ease off the pressure completely to stop it shooting forward. This is true of any wing and there were some pilots having some interesting times.
On my first attempt I was unceremoniously dumped. But once used to it I found it easy to feel what control was needed, and it was generally easy to launch. Above my head it was well-behaved.
On the larger top launch with smoother conditions it was particularly easy to play around with the wing on the ground.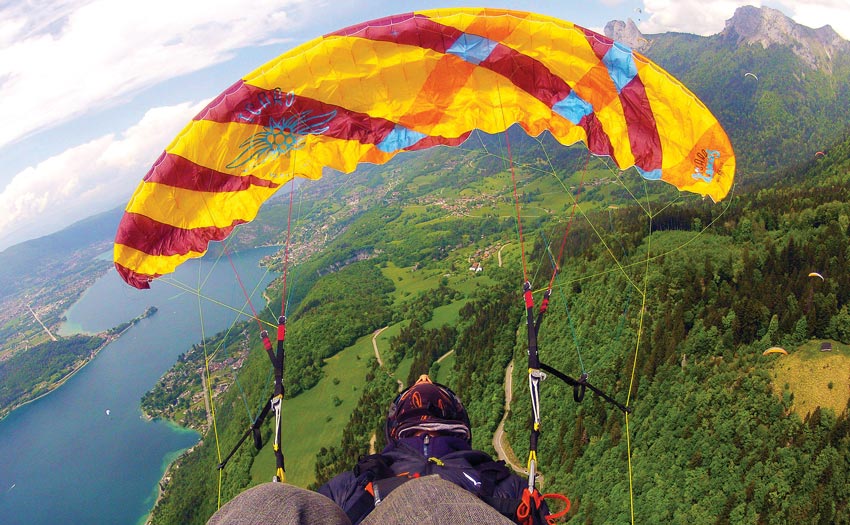 In the air
In the air its playful side shows from the off. Flying with an open harness I noticed how reactive the wing was to weightshift. I was flying at 100kg all-up and with this wing load you would expect it to be reactive.
The brakes are mid-pressure and nice and linear. They are not as short in travel as I had expected (feared) but still precise enough. Big brake inputs will make the wing dive into the turns, but it is possible to turn fairly flat when you are trying to be efficient.
I was pleasantly surprised at the wing's ability to climb in thermals. Its precise steering allows you to place it well and it has good energy retention.
In very soft early morning lift I was struggling a little compared with the bigger XC wings, but when there were small stronger climbs I think I had an advantage. So much so that on landing at the festival a couple of pilots came up to me and commented on how well it was climbing.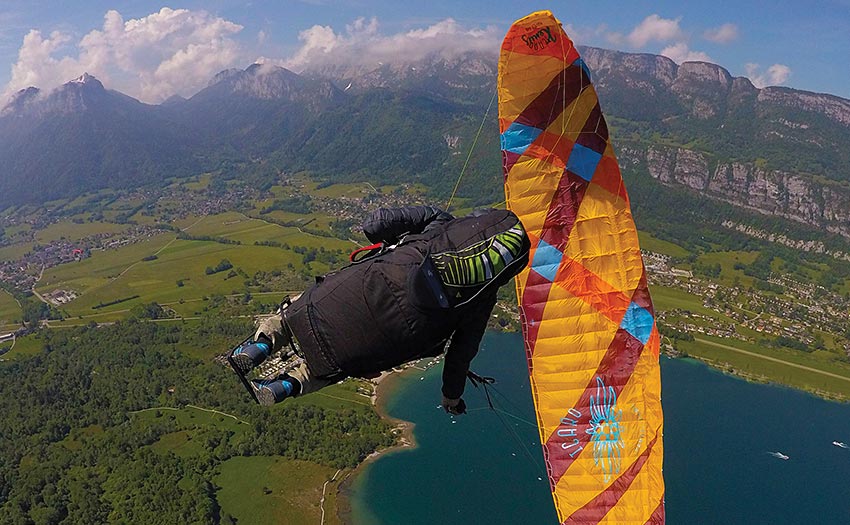 Playtime
Playing with wingovers the wing quickly builds energy and height in the turns. It's possible to get quite high with just weightshifting. But use a proper technique combining weightshift and brake inputs and you will soon be seeing the wing between you and the ground.
As with any wing you need to brake it at the top of your swing. Good timing was rewarded with high amplitude and clean wingovers but bad timing wasn't severely punished.
In spirals the wing is easy to control, and I had no problems with it staying in. Exits were easy to control with easing off weightshift and brakes then coming back on the brake to bleed the energy.
Doing a quick exit there is a reasonably big surge but the corresponding pitch was easy to control. Asymmetric spirals were fun and I found them a great way of learning glider control rather than doing normal spirals, which can disorientate.
Being above the ground that was as far as I was willing to push it, so on my return I passed the wing to SIV instructor Malin Lobb in Annecy – see the sidebar opposite for what he thought.
Conclusion
With cross-country wings becoming ever more optimised with thinner lines and materials, they are increasingly less likely to stand up to the forces of doing some freestyle flying. It's an important area of our flying to work on.
In his Cross Country column recently Gavin McClurg suggested every pilot should have done 300 full stalls. Would you want to do that on your crispy racer? Probably not. This is where having a freestyle wing in your quiver comes in: they are built to take the abuse.
The Xenus is a great example that combines EN-B passive safety with sporty handling. It's pretty much suitable for any pilot to learn backfly and dynamic moves on. "Pilots don't need any experience in flying manoeuvres on other wings, to fly this one," said Xandi. "It is made for entry into the world of freestyle paragliding."
It certainly has inspired me: I'm off to the lake to get some more moves dialled – I need the practice.
Marcus regularly reviews EN-B and EN-C wings. Cross Country's designer, he has been flying paragliders for 25 years. He lives in the south of France near the sites of Gréolières and Gourdon. He flew the Xenus with an Icaro-supplied Larus at 100kg. 
---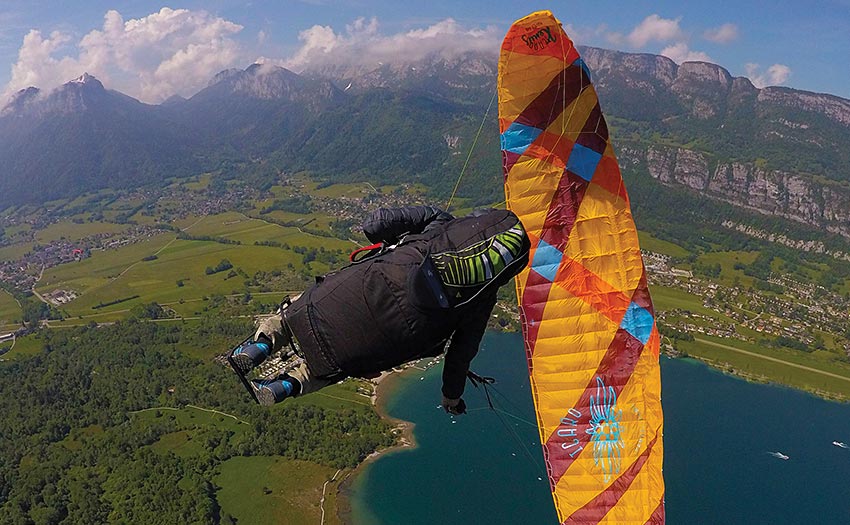 OVER THE LAKE
Malin Lobb and Jim Nougarolles tested the Xenus between 90-95 all up
"My first impressions were it really felt like a B glider. It has clearly marked risers for the split-A's for take-off. It has C handles, which, although I'm not sure is very relevant for this type of glider, makes flying actively on bar possible. It also shows the designers have a broader use in mind than just pure freestyle.
"The brakes are long with light pressure with more than enough length for a beginner pilot to get away with a less than precise brake action.
"When you initiate wingovers the hidden characteristics of the wing come out to play. The wing is easy to keep positive in large wingovers, whipping around with little input and agile in its turn ability.
"After the long and forgiving feel of the brakes in normal flight I was surprised how little you needed to sustain large wingovers. The brake pressure is really light to stall or catch the dive, which makes the glider accessible to more pilots.
"Jim liked the brake setting for Heli. The wing doesn't turn too fast, allowing you the time to progressively learn negative tricks. This is a really important feature for anyone looking to venture into the world of acro; getting on to a small wing too fast will hamper your understanding of negative moves as everything happens so fast. When you are learning, slow is good!
"In conclusion I think Icaro have designed a glider that is right for their target market. The glider is playful enough that you can start to explore freestyle and basic acro, and forgiving enough that an EN-B pilot can make mistakes along the way, without being put off the sport. In fact, I wish this glider had been created when I was first getting into freestyle."
Malin Lobb
---
MANUFACTURER'S SPECIFICATIONS
Icaro say: "The perfect tool to enter the world of Freestyle. Easy back-fly manoeuvrability and overall forgiving flight characteristics make it easy to progress safely."
Use: Freestyle and acro
Pilot level: Freestyle beginners and above
Sizes: One size only
Flat area (m²): 22.5
Certified take-off weight (kg): 80-110
Glider weight (kg): 4.6
Cells: 40
Flat aspect ratio: 5.2
Certification: EN B