BACK IN 2000 there were only a few Gradient wings on my local hill. I was flying one of them. It was a beautifully shaped AFNOR Performance Saphir 2000 that seemed to float to the top of the stack. My friends who competed at the UK Nationals or Paragliding World Cup were on high-aspect Avaxes. These wings introduced us to the beautiful profiles masterminded by Gradient boss Ondrej Dupal and his team.
Our wings were seen as a little exotic and specialist. At that time there was nothing in the Gradient stable to tempt weekend XC heroes away from the more established brands. Then the Aspen's launch in 2003 changed all that. It soon became a favourite wing for those who liked a light but XC-capable wing. It gained a reputation for class-leading speed and glide. The Aspens were also light and easy to carry up our local hills for an hour or two and they looked good too; they have evolved but generally look fast and purposeful with very clean profiles.
For some pilots the wing's all-round performance was game-changing, but the level of feedback was too much. Over the years each Aspen has trodden a line between outright performance and ease of use. Fans of the Aspen series have always had their favourite wings. My own Aspen experience started with the Aspen 2, size 26, which I flew in the middle of the weight range. It really was a boaty XC machine with very efficient turns. Then for one season I loaded up on a feisty Aspen 3, size 24. That was a real go-kart and in the hands of capable pilots performed well in competitions. I flew my first 140km flights in the Alps on that wing. My main XC wing for the past few years has been an Aspen 4, which has a fantastic turn and XC performance but is a little more damped-out than I would like.
Evolution
Although I have liked Aspens for many years the market has evolved. There are now many good EN-B wings, and lots of great XC wings in EN C. Many of the newer class of wings have the performance of older-generation comp wings but with lower aspect ratios. At the top end of the EN-C segment, sports-class competition pilots are moving straight from low-end EN-Cs to two-liners. So where does the Aspen sit now?
Looking at the design on paper it seems that Gradient's wing profile is very similar to previous generations, but again with an increased aspect ratio. For certain people regardless of the test results, they will not step beyond a certain aspect ratio. For me this is a little arbitrary but it can have an influence on the handling and fun factor that I cherish.
As I rolled out the wing on my local launch I wondered if I would find myself wobbling around the sky or whether I would fall in love again with an Aspen.
Design
Ondrej Dupal and his new designers set out to improve on the speed of the Aspen 5 and even to overtake that of the XC5 (EN D). However, feedback from the market was that the Aspen 4 and 5 were too demanding for typical C-level pilots. This represented quite a challenge and demanded some new ideas. The fresh eyes at Gradient HQ realised that the new Aspen would need to be more than a tweaking of previous designs. Gradient made several prototypes before settling on a final design.
Initial impressions
The shape will please Aspen fans. It is sleeker and more refined, with sweptback wingtips and a very clean profile. I've rarely had so many people come up to me when testing a wing and say, "Wow, it's beautiful!" That happened every time I flew the Aspen 6.
The leading edge has a light but nicely reinforced shape. The A-lines are placed back from the leading edge but not so far back as in more shark-nosed designs. The leading edge and inlets are a mix of narrow slits and more triangular shapes, which are optimised to improve the balance of the leading edge and inflation characteristics.
There appeared to be more of an arc and sweptback shape to the wingtips. I decided to have a quick look at those and got my first surprise. The front section of each wingtip has a long, rigid nitinol metal reinforcement. This allows the leading edge section of the wingtip to remain solid and efficient while the rear section has sufficient flexibility. Various prototypes showed that it was very difficult to achieve this balance of support and flexibility using traditional materials. In hours of testing the obvious fears of adding rods near the tip were checked out, such as closures with cravats.
Lineset
The lineset feels immediately light but, due to changes in the internal construction, line consumption is higher than previous models. The A4 had only two lines per side, the A6 has three. However, total line drag has been reduced. The most important and longest lines are Aramid Magic Pro, which have proven to be robust on previous Gradient models. Only the very upper level is Dyneema DC Series. The intention is to have good efficient lines but to reduce the amount of special care or stretching required over the glider's life. Also, from my point of view having three lines per side makes the wing easier to control on the ground.
Launch behaviour
Our local test site, the Cheiron ridge, is a massive south-facing mountain with quite a low launch which is in a little bit of a crosswind. A typical flight is a technical climb out from launch to the main ridge. Then after two or three thermals it is easy enough to race around 9km along the ridge and back. At various points there are shear layers, leeside Bruce Lee moments and strong convergences which knock you. These really help you to find the limitations of your wing and your bump-tolerance.
Conditions on the first test day were stable and fickle. A warm southerly and chopped thermals made climbing out incredibly tricky. We watched a series of pilots bomb out in quite hazy conditions. Up above the mountain there was a west wind, which would no doubt give us a kicking if we got too high. Marcus and I gave each other that "Oh great!" look as yet another pilot sunk out. It was going to be a hard day at the office.
Launching the Aspen I was really pleasantly surprised. Previous Aspens tended to have a dead spot just before the wing came overhead. It was difficult to bring those wings back up to flying position if the wing dropped off-centre. This seems to have been improved upon – the three lines on the A-risers make a difference. I gave my usual firm tug but realised the A6 is a lot more eager to launch than my older-generation wing. Rather, I just needed a little light tug and harness pressure to bring the wing up. Suddenly I appeared to have god-like groundhandling skills.
Gradient's Ondrej Dupal tells me that he and his team worked hard on improving inflation both on the ground and following collapses. The wing is lighter and feels that way, but not in the overly dynamic way that a specialist light wing may feel.
Early in the day in weak conditions the wing is easy to bring up. In stronger thermic conditions the wing behaves and sits in a wall with very little tendency to hop around. In stronger winds it does need a well-timed jab on the brakes to stop it overshooting. In general groundhandling is much improved over previous incarnations of the wing and the feeling is that the wing is pressurised earlier and more eager to fly.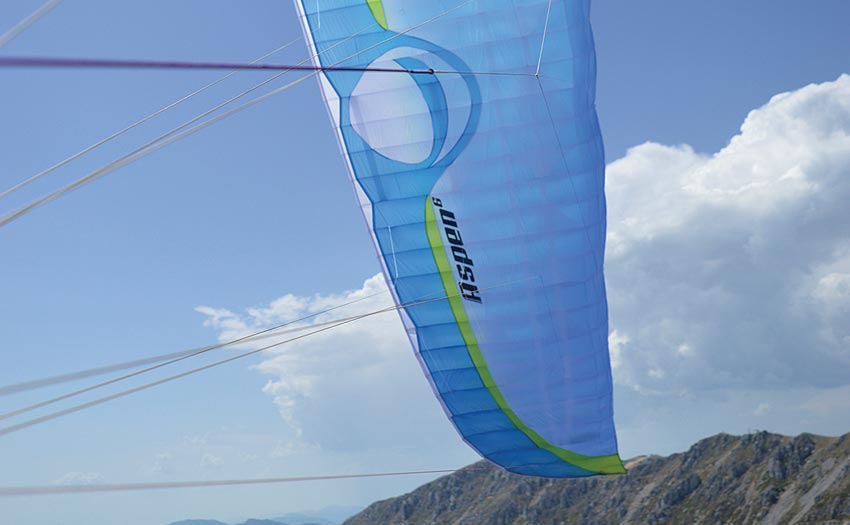 Scratching up
The Aspen 6 has an aspect ratio of 6.46. I am not one for figures but know that a clean profile, increased cell count and increased AR usually come with a cost in terms of fun and handling. Add lighter materials to the mix and you get more flexing, more flutter and rustling. Off I went to the laboratory in the sky to test out this theory.
I concentrated hard to scratch my way out of launch. Immediately I felt that the Aspen felt nicely pressurised across the span. The leading edge began to talk to me without overwhelming me with information. After around an hour of scratching in the broken thermals Marcus and I were quite tired but enjoying the challenge. The Aspen behaved well throughout, allowing me to keep the wing flat when I wanted to and to crank it up like a hooligan when the vultures finally showed us the where the real thermals were. I was warned of the braking limits quite early and could see the wingtip starting to peel back if I over-cooked it. Overall the wing was more solid and had a lot more flex than I expected.
Turning
It definitely helps to have a nice weightshifty harness to get the most out of this wing and to carve turns nicely. Compared to previous-generation Aspens I felt more locked into thermals. After around 20 minutes on the wing I was standing it on a wingtip and then switching direction halfway up a climb just for fun. It really has a beautiful, coordinated turn.
Pitch behaviour is an area where the Aspen 6 has upped the game. The Aspen always cut into thermals well but with the refined profile and cleaner lineset the wing seems to do so with less fuss and with less fidgeting.
When searching for lift, feedback is excellent both on the brakes and through the harness. When flying conservatively and measuring thermals, the wing tugged gently at the harness to tell me when to tighten up. It doesn't shout too loudly, but it makes plenty of suggestions that are usually correct.
Later on in the day Marcus and I arrived at the shear layer above the mountain and had some strong air to contend with. As I entered strong rising air the wing stayed pretty flat and had fewer of the violent pitch and yaw movements I sometimes get on my A4.
Flying at speed
Our ridge run is pretty straightforward but crosses a few areas of strong thermic lift and convergence. The turbulence dragons usually wait in the same places and if you are not happy on a wing it is not a place to be. I set off to see how the A6 would look after me.
Until a few years ago, when entering strong convergence or a thermal I would panic and let off my speedbar until it was time to leave on a glide. At a sports-class competition Gin test pilot Michael Sigel talked about this and mentioned that it is important to stay on speedbar to cut into this kind of lift cleanly. Letting off the bar too quickly is effectively like putting on the brakes as your wing pitches back, and makes the entry to the thermal slower and potentially more bumpy.
However, to stay accelerated you need to be comfortable with your wing's abilities and to be able to modulate bar. Bar pressure on the Aspen 6 feels just about right for active speedbar flying. The A6 has small loops on the C-risers for rear riser control. I found it easy enough to use those to damp out surges and dives.
As I entered some strong lift I tried half-bar and full-bar to see how the wing would cope. I was impressed with the lack of flexing across the span. If I overcooked it or was close to the edge of a thermal, I got plenty of warning to damp out the surge and to slow down a little until the drama had passed.
I had one major blow-out, almost on purpose, and lost the whole leading edge. The frontal collapse on full bar was the least dramatic I have had on an Aspen and really inflated so quickly I started laughing!
The best thing for me was that the wing felt good at speed and never as if it was being forced beyond the limit. I was sharing the air with a few pilots who were flying faster EN-D wings. They were flying conservatively due to the turbulence. In a few cases I could catch up easily as I could use all of the performance on offer and could stay on bar almost all of the time.
Once we arrived at the next snotty little thermal I had a tighter turn so could get a few turns in as they wobbled around the outskirts. "Wow," I thought, "for regular XC this wing is going to be an absolute weapon."
Flying into wind I felt that the wing was efficient and stable. There is very little flexing as it passes through turbulent areas. It feels loaded up and purposeful.
Collapses
Induced and actual collapses were very quick to reinflate. Big ears inflated without hesitation and anything less than a 50% collapse was very quick to pop out. On two-line big ears the wing felt best with some bar applied, as is the norm for many modern wings.
Spiral dives were easy to modulate. The exit was quite dynamic but less lateral movement than on previous Aspens. As per any EN-C you simply have to be alert to the upcoming dive.
Conclusions
I've sometimes been slow to recommend my favourite wing, the Aspen, to fellow pilots, knowing that the feedback and other characteristics may be too much. However, this is really the best Aspen I have flown. In fact one of the best all-round wings I have ever tested. The basics like launching and groundhandling have been improved and give you a feeling of confidence from the start. Did I mention that she is beautiful too?
****
Manufacturer's Specifications
What Gradient say: 'A new generation of high-performance glider within the EN-C category'
Use: XC adventures
Pilot level: XC pilots
Sizes: 22, 24, 26, 28, 30
Flat area (m2): 20.97. 22.73, 24.73, 27.25, 29.56
Certified take-off weight (kg): 60-77, 75-85, 85-97, 97-110, 110-125
Ideal take-off weight (kg): 65-75, 70-90, 85-105, 95-119, 110-135
Glider weight (kg):  3.7, 4.5, 4.7, 5.2, 5.5
Cells: 66
Flat aspect ratio: 6.46
Certification: EN/LTF C
Brian flew at 90kg all-up using an Advance Lightness 2 harness
To stay up to date and read our reviews first, subscribe to Cross Country