WE ARE now on Episode 8 of the Epsilon series. Like most Netflix episodes, let's start with a recap of what went before.
Epsilons have always been intended for pilots looking for their second wing, after graduating from the EN-A Alpha or similar. Usually these pilots are starting to think about their first XC flights and want usable acceleration and a step up in glide. A close competitor to the Epsilon actually comes from Advance themselves: the Iota is also an EN-B but is lighter and sportier.
To B or not to B
The EN-B sector is fairly confusing for most of us, never mind a newer pilot. Gliders range from lower-end traditional EN-Bs to demanding, high-aspect performance wings like the Gin Carrera+. The Epsilon aims to be a traditional EN-B.
This means there is little scope to increase aspect ratio or to make a more efficient profile by adding more cells. Advance wanted to reduce the weight of the overall wing, reduce line consumption and drag and to improve the wing's profile. All this had to be achieved while maintaining a wing durable enough to survive in the hands of a newer pilot.
Compared with the Epsilon 7 there is a reduction in weight of around 5%. This is achieved by using complex but very light internal ripstop structures called 'sliced diagonals'. These replace the heavier mylar structures seen on previous Epsilons.
The construction of these is quite an effort with single sections cut in the direction of the yarn to minimise deformation. Each finger (three per attachment) is cut individually, which reduces cloth consumption but needs a lot of skilled handiwork. In the end the form, stability and efficiency of the wing is improved using these attachments, so the effort is worthwhile.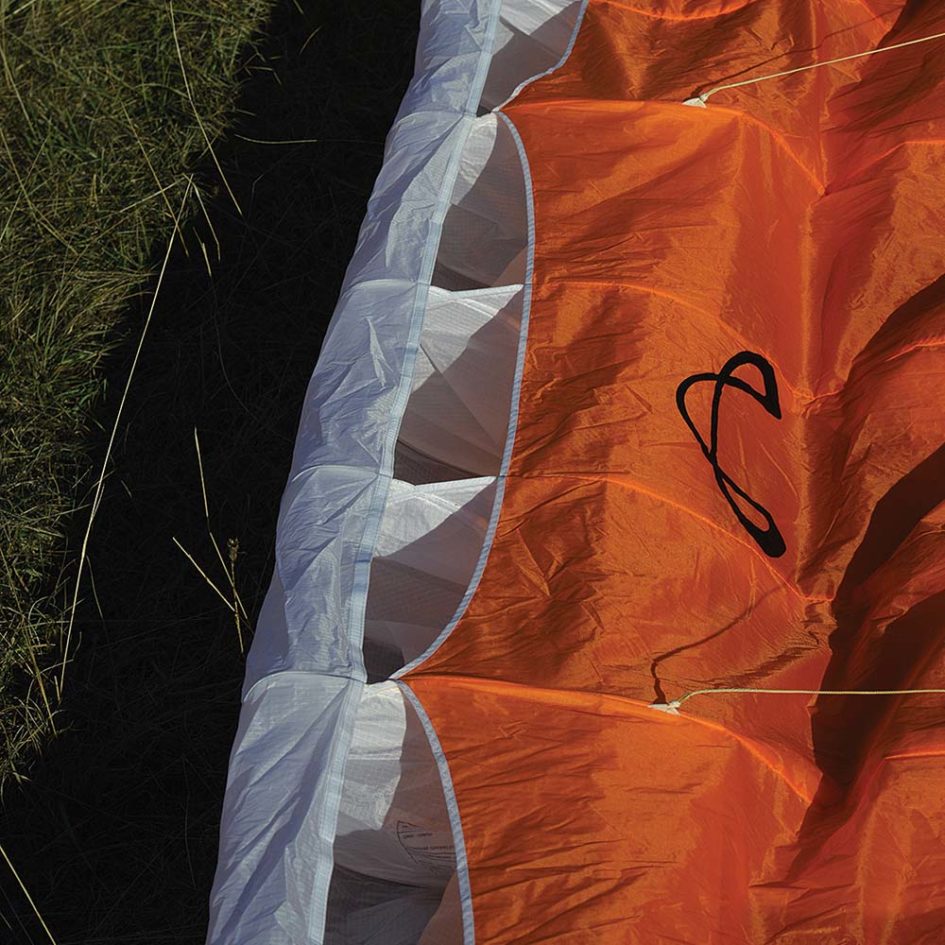 Leading edge
The leading edge feels light internally but robust on the outside. There is a slight sharknose look, which Advance call 'Air Scoop Technology'. Unlike some sharknose wings the A-lines are attached fairly closely to the leading edge inlets. Launch and collapse induction should therefore feel very similar to a non-sharknose wing. One of my fellow pilots had a look at the wing on launch and decided that the wing had a "friendly sharknose" but I am not sure Advance will trademark that term!
Advance picked a lineset that improves performance while retaining maximum durability in the hands of a heavy-handed intermediate pilot. They say the combination of colour-coded and sheathed lower-gallery and aramid-coated upper lines offered better stretch resistance than other unsheathed alternatives such as Dyneema. Advance have used software built by designer Hannes Papesh which has allowed them to drastically reduce the amount of attachment points and the overall line consumption. Apart from improving the drag figures and glide, the wing should also handle better as a result of these efficiencies.
Comparing the Epsilon to the Iota, as the two wings lay on launch side by side, it was clear the weight savings on the Epsilon were primarily obtained by reducing line consumption, rather than reducing the weight of the sailcloth. For example, traditional 38g Porcher cloth is used for the upper surfaces on the E8 versus a mix of 38g and 32g on the Iota. For sure the Iota is a lighter and sportier package, but there will be some penalty in terms of longevity.
First impressions
Opening an Advance bag is like opening an iPhone box. The attention to design detail is really apparent. My first impressions were therefore great. I spent a minute or two just looking at the Comfortpack rucksack – the quality is probably the best I have seen, there is a good mix of materials and a really sorted design. The wing itself packed down to quite a small size if concertina folded and I had plenty of room for my light pod harness, DSLR camera and winter flying clothes.
My first day out took me to Gréolières, not far from my home in France. It's a great place to test wings as you need to fly efficiently to escape from launch, then there tends to be choppy air higher up as the upper winds mix. On this day conditions were decidedly lee-side with a moderate north wind up high, and sun blazing on our nice 2,000m mountain. A nice day to be on an EN-B!
As I rolled out the wing, I was impressed with the neat leading edge. It retains the elliptical cell openings that are recognisable Advance design cues. There are flexible rods in the wing, but compared to wings from two or three years ago the impression is of a light and optimised construction rather than a rock-solid maze of rods.
The lines are clearly colour-coded and easy to organise. Risers are a straightforward but sporty 13mm. There are some nice touches such as magnetic split A-risers, which allow the pilot to easily hold the risers together on launch. Once in flight the A-risers separate so that the big ears riser is separate and easy to grab.
I prefer press-stud brake holders but Advance's magnets were acceptable even to a magnetophobe like me. They have a nice cup design, which stopped the brakes from appearing at my ankles. Advance use squeak-free ceramic rings rather than traditional brake pulleys.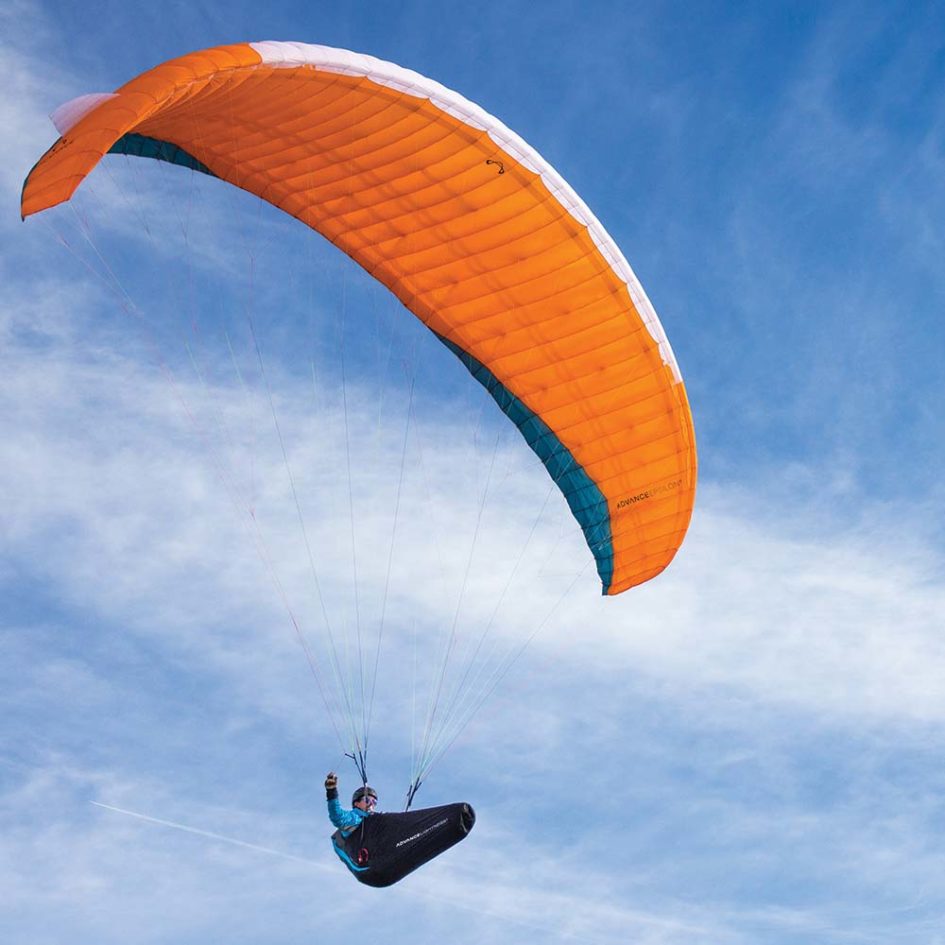 Launch quickstep
I'm used to my ageing EN-C wing with its slightly sluggish launch characteristics. I was therefore slightly taken by surprise by the speed at which the wing came up. It is not quite as flighty as a true lightweight wing, but it really just needs the lightest of pressure on the harness and the risers to come up.
Although fast to rise, the wing comes up steadily with no dead point or surprise acceleration. It does need a little dab of brake to stop it in stronger conditions, but once I adapted to that the wing was easy to keep overhead, with just a slight wrap to keep it on the deck. The wing was easy to manage on the ground, but I wanted to get up in the air and fly.
In the air
Airborne first impressions were that the wing looked sportier than expected. There's a long lower gallery of lines which then splits close to the wing. Years ago on a wing like this there would have been a veritable forest of lines above the pilot. I felt like I was flying a sawn-off EN-C.
Looking up at the internals there appears to be a central spar and then X-shaped structures between the cells. If I was a new pilot this would give me the impression the wing was nicely solid. The X-shapes are not solid metal of course but are the sliced diagonal ripstop items mentioned earlier.
Closer to the trailing edge the construction is quite simple, with no trailing edge ribs and just a few brake-line gatherers to pinch the trailing edge span-wise as you apply brake, optimising the shape as you turn. Overall the wing felt compact and solid.
As I climbed out the first inputs on the brakes surprised me. I was expecting truck-like handling, but brake pressure was fairly moderate and there was a nice quick response. The feeling was not so light as to be unnerving but not so heavy as to be tiring or numb.
On some EN-B wings I find it a real effort to maintain bank or to turn on a wingtip. Not so with the Epsilon. It is really straightforward to dial in more bank angle and to moderate it using outer-brake or weightshift.
Newer pilots tentatively getting used to the Epsilon will find that the wing is probably more responsive to brake inputs than their old wing. Add in some weightshift and the wing definitely comes alive. In steady flight it has a feeling of stability, that it will look after an intermediate pilot. However, as the pilot learns to use pitch to their advantage they will find enough energy to help with handling.
The leading edge has a nice cut-in to thermals. On exiting a thermal there is very little dive to catch. That's not to say that the wing is overly pitch stable. After around 30 minutes I found myself changing turn direction in the middle of the thermal just to release my inner hooligan and to see the wingtip on the horizon. When thermalling it was easy to monitor outside brake and to optimise the turning pattern. The wing converts energy well but can also be flown flat and efficient if required.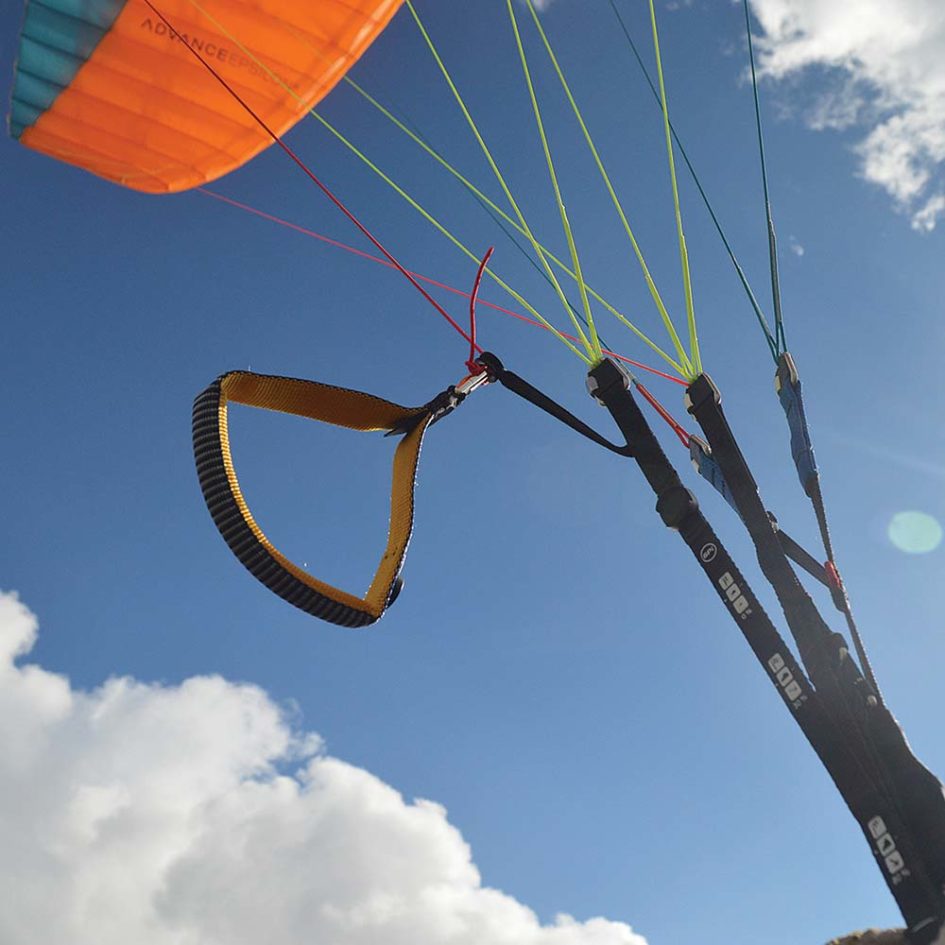 Feedback loop
A nice surprise was the level of feedback from a wing that has so much passive safety. Flying some higher-level wings is like trying to speed read Lord of the Rings and pick out the important bits. The Epsilon issued short Twitter messages telling me when something needed to be done.
The first thermals of the day were weak but I had just enough usable feedback to measure the thermals and find the cores, without being bullied or roughed up. As I got to 2,000m thermals were strong and slightly turbulent. I waited for my friend who was climbing slowly and tentatively on my old EN C. He arrived at the ninja zone and started pitching around, his hands moving to catch up with the wing. On the Epsilon I had work to do but it was less frantic and I suddenly felt very smug as I spiralled upwards.
Initially I flew with a little too much brake. This is an old habit I have when I'm getting used to a new wing and is something I imagine many new EN-B pilots do too. As I set off along our ridge I started taking photos and found that flying at trim / hands-off cut through the bumps nicely and felt more efficient overall. I made course corrections on weightshift and while I held the brakes I barely needed them.
As my friend arrived at my height I thought I should push on to get a head start. As we bobbed along my friend was too nervous to touch the bar. Meanwhile I found the bar was light and easy, and pushing more bar on entry, as I might on the EN-C, felt natural and efficient. I felt like I was driving over the speedbumps with my foot on the accelerator but getting away with it.
A useful marker on the riser helped to show how much speedbar I had applied, so I didn't have to stare at the pulleys to figure out how I was progressing. I also looked over my shoulder and saw my friend behind me, which told me enough! Advance estimate trim speed is 38-39km/h and maximum speed to be 52km/h. It is not that far off the performance of their Sigma 9.
Certainly for a wing of this level I was surprised by the into-wind performance. The stability and the usable speed definitely helped me to stay ahead of friends on their three-year-old EN-Cs.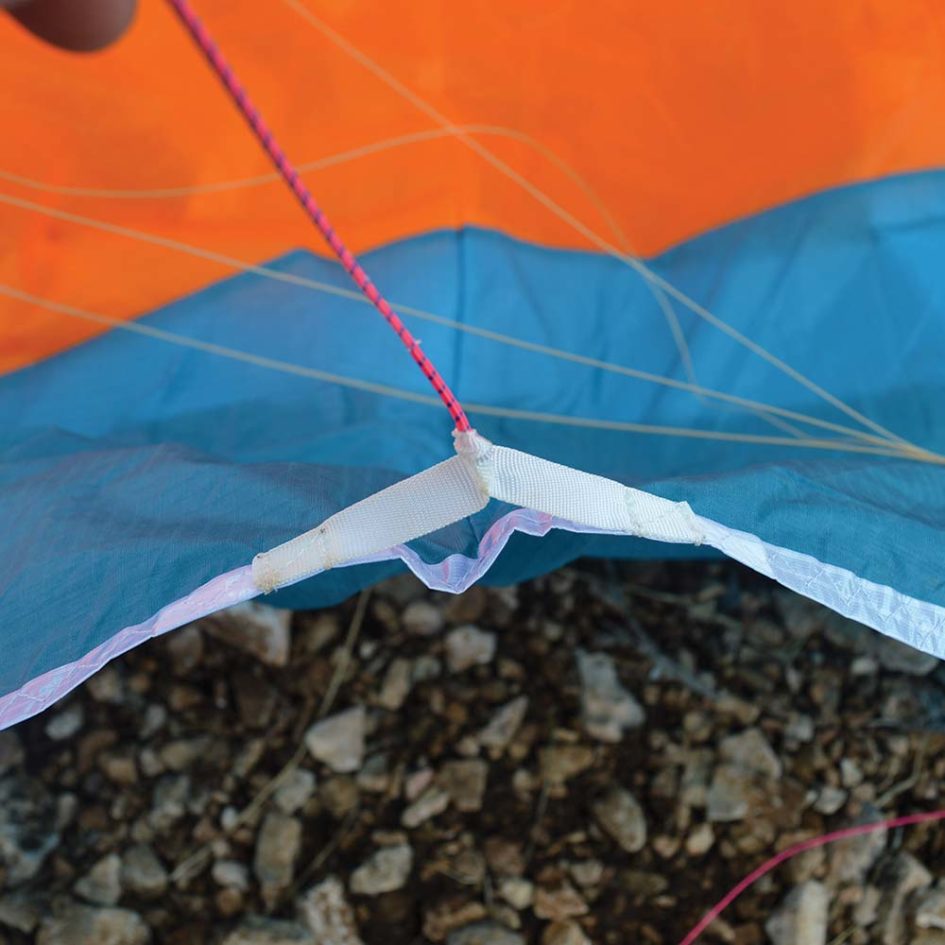 Scratchy days
That first day really was a bit of a baptism of fire for the Epsilon. Straight out of the bag, shiny and new it had coped with the strong stuff well.
On strong days it is easy to feel smug on an EN-B, but on scratchy days where I need to feel and measure every little 0.5m/s I wondered if the wing would talk to me. On my next few flights I took off with the earlybirds, straight into scratchy and difficult conditions.
As we avoided each other we watched every flicker of the leaves on the trees below us. We slalomed between rocky pinnacles in search of little updraughts and I really appreciated the quick brake response and agility, allowing me to turn in tiny little thermals.
When turning in gentle climbs the wing could be slowed down nicely to maximise climb. Advance told me that slow-speed handling improvements and a lower stall speed are a result of the new leading edge and profile. Top-landing a few times on a small take-off at Gourdon allowed me to test this out.
Overall the Epsilon passed the scratchy days testing with flying colours. Twenty minutes after launching many pilots had bombed out but a select few of us were sitting beside a cloud. Knowing the site helps but the balance between slow speed efficiency and agility really allowed me to make the most of what was on offer.
Security
In 10 hours, ranging from full-on leeside thermals to scratchy inverted conditions I had one small asymmetric collapse. Now, in thermic flying there is a definite need for active piloting and there was enough work to be done to keep me interested. However, the overall feeling is of a secure and sorted wing. The collapse had recovered by the time I realised it had happened.
Simulating collapses is straightforward. I started by pulling the big-ears risers and then moved on to pulling both the main and split riser. The A-riser position is fairly traditional and so there's no special technique. The wing recovers quickly with little turn. Big ears are effective and a little bar pressure helps the wing to feel a little more stable in that configuration.
After having such fun on the strong days I knew the wing would bank up easily and turn tightly. I was surprised at the speed that the glider went into a spiral. It was fun but a newer pilot may be surprised with the speed of entry. The good news is that the exit behaviour from a strong spiral is very predictable. There is no nasty yaw moment as the wing climbs out and settles, it simply straightens out with quite a lot of energy retention. After the surge skyward, there is a dive but it is easy to catch.
And finally
The Epsilon 8 continues the story of predictable, efficient flying but with a surprising amount of fun and performance now added to the mix. Years ago I always found Advance wings to be reassuring but rather dull when it came to feedback and handling. The Epsilon 8 won me over. It gave enough feedback and handling to keep a Sports class pilot like myself happy. However, the wing as a whole is reassuring to fly and allows a pilot to understand the air around them without being bullied by it.
The construction seems to be a great balance between performance, lightness and longevity. As Lotus do with cars, Advance have added a lot of lightness where it counts and solid engineering where strength is required. Pilots trading down from EN-C may wish to try the Iota, but for pilots trading up from EN-A or an older EN-B the Epsilon is the wing to choose.
As always, for newer pilots I'd definitely recommend some groundhandling as the wing does come up easily. If you think you have heavy hands, then it may take a short while to adjust.
Finally, having enjoyed the handling of the Epsilon 8 I am now looking forward to trying Advance's Sigma 10 in the spring.
****
Manufacturer's specifications
What Advance say: "A distinctive feel-good factor and glows with an ideal mix of precision, performance and safety"
Use: Thermalling, XC, daily flying
Pilot level: Intermediate
Sizes: 23, 25, 27, 29
Flat area (m2): 22.5, 25, 27, 29
Take-off weight (kg): 55-75, 70-90, 80-105, 95-125
Increased take-off weight for PPG (kg): 75-85,90-100, 105-120, 125-140
Glider weight (kg): 4.15 to 5.15
Cells: 45
Flat aspect ratio: 5.15
Certification: EN B
Paramotoring: The Epsilon is DGAC certified for powered flight. Special hybrid risers allow the pilot to fly the same wing with motor or with a standard free-flying harness without changing the brake-line length
advance.ch
****
Reviewer Brian Steele flew the size 25 at 80kg-85kg all-up with several harnesses including the GIN Genie Lite, the Woody Valley Peak 1 and Advance's Lightness 2
To stay up to date and read our reviews first, subscribe to Cross Country