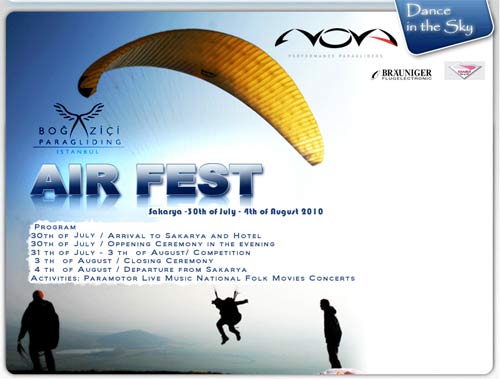 The 5th annual paragliding festival and accuracy competition in Serdivan, north-west Turkey (about 2 hours east of Istanbul), takes place from 30 July – 4 August this summer.
Run by the Bogazici Paragliding Club, it is an international event, aimed particularly at overseas pilots with the number of Turkish pilots to be limited to 20 – 30.
First prize in the accuracy competition is a Nova wing, with a harness, Brauniger vouchers, helmets, boots and gloves also up for grabs.
The entry fee of 120 Euros is all-inclusive and covers Istanbul Airport transfers on the day in and out, all lodging, food and soft drinks, retrieve and landing-to-take off shuttle, as well as the awards dinner.
http://bogaziciparagliding.com
---
• Got news? Send it to us at news@xccontent.local. 
Subscribe to the world's favourite hang gliding and paragliding magazine
Never miss an issue
Our subscribers receive 10 issues a year, the annual Travel Guide and exclusive access to competitions and offers
Subscribe today