>> Podcast: Richard Carter on his 300k day
Richard Carter set a new UK paragliding record on Sunday 15 July – flying the country's first 300km paraglider flight across the country.
Richard, a veteran pilot who has been flying for 32 years, flew a straight-line distance of 306.8km. He had declared a distance-to-goal of 300.9km and flew a free distance of 317.1km via three turnpoints.
He flew northeast across the country, from the Elan Valley in mid-Wales to the coast at Scarborough, England.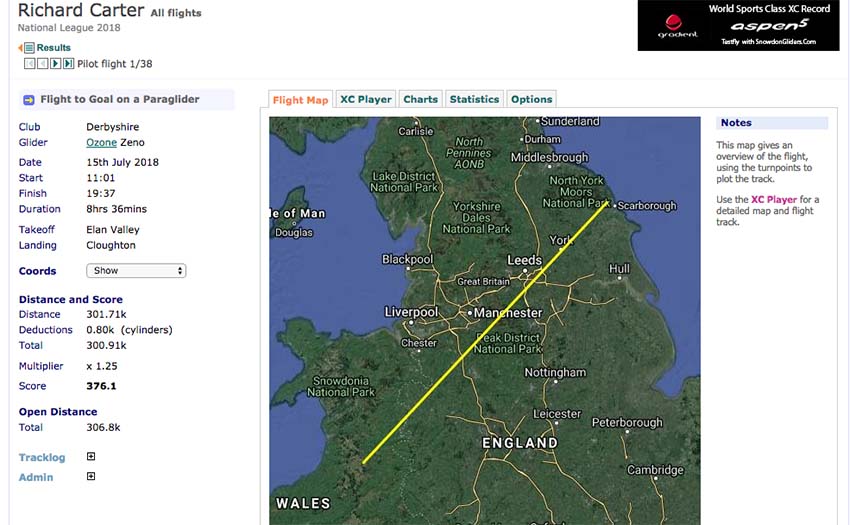 Launching at 11am he climbed out in a 4m/s thermal and spent the next eight-and-half-hours in the air. Flying his Ozone Zeno his average speed was 35km/h, and his maximum height was 7,005ft (2,135m) – unusually high for England.
"I wasn't convinced 300km was on at all," he said afterwards. "But I set the goal at 300km to give me the direction to fly."
Flying long distance in the UK is difficult because it's an island and has crowded airspace; the race to be the first paraglider pilot to break the 300km mark has been hotly contested.
Richard said he first learned of the potential 300km site in mid-Wales a year ago and paid it a visit on a non-flyable day last summer. When conditions aligned over the weekend on Sunday 15 July 2018, he said he thought he'd give it a go. The UK has experienced the driest June and July this year since the 1920s.
Richard is no stranger to breaking distance records. He was the first pilot to fly 100km and 200km on a paraglider in the UK, in 1994 and 2011 respectively, and has held the national distance record eight times. He first set it in 1989 with a 47.1km flight on board an ITV Saphir.
The new record beats the previous UK record by 25km. That was held by Alex Coltman who flew 281.0km in August last year.
>> Podcast: Richard Carter on his 300k day