The family of a pilot missing in the Alps for a week have appealed to pilots and hikers to keep a lookout in the area he went missing – and urged all pilots to use a reliable tracker.
French pilot Olivier Roche, 65, went missing in the southern French Alps on Friday 18 August. He launched from Ceillac in the afternoon and his last reported position was at 4.10pm close to the Col des Ugousses at 2,900m, 10km ESE of launch. No sign of him at that position has been found.
He was flying a lemon yellow Advance Epsilon 9 paraglider with black leading edge. He was wearing a blue flying suit. His family have asked pilots and hikers in the area to report anything they see that might help in the search to the local authorities.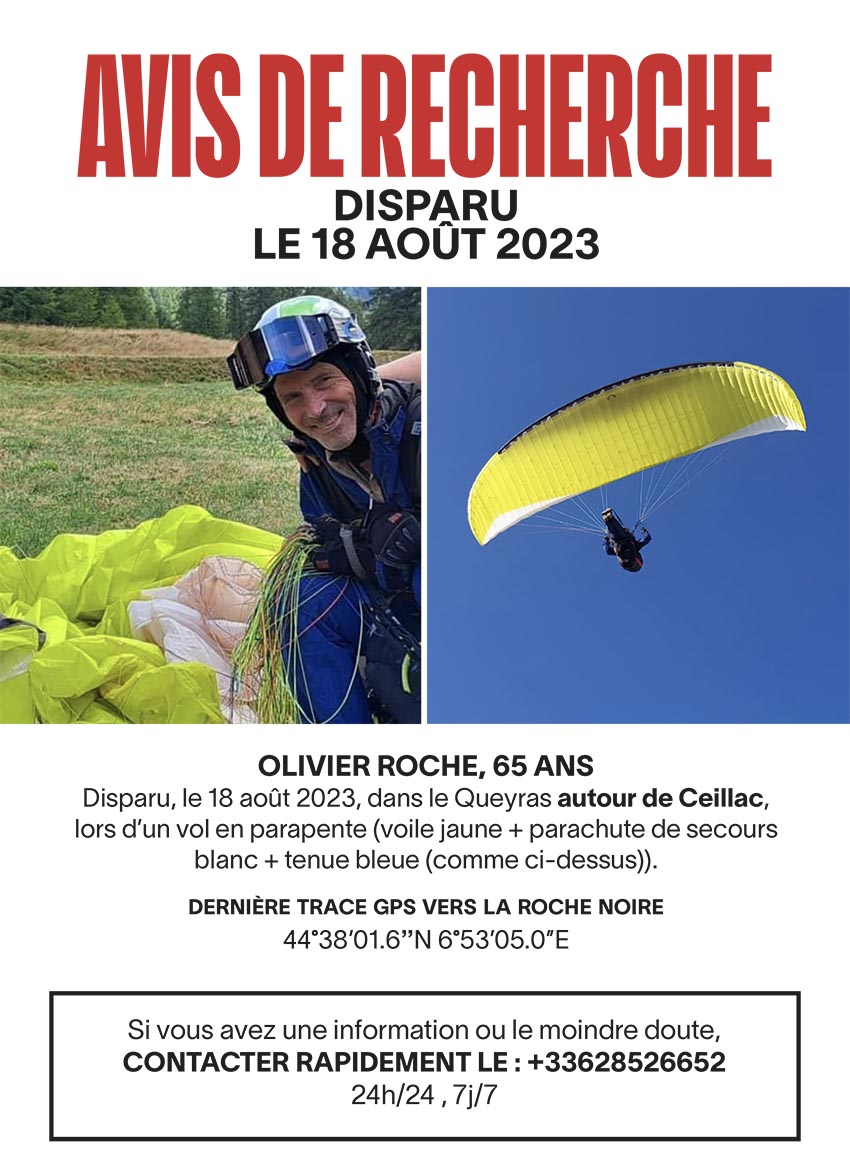 Olivier is an experienced pilot "with no competitive spirit" according to his wife, Catherine. "He only flew for pleasure and did not bother to record his flights."
When he went missing he was using a lightweight solar-powered vario and did not have satellite tracking. His last known location comes from sharing his position with his wife via Shared Location on Google Maps. "Precision is therefore limited and altitude unknown."
When he failed to return or check-in as expected a search and rescue operation was initiated that day at 5.46pm.
A statement issued by the search team through Oliver's wife said: "Five helicopters circled the area until Sunday evening, starting from his last known point point and then widening the area.
"On Monday 21 and Tuesday 22 August, the Briançon CRS, assisted by rangers from the Queyras Regional Nature Park, equipped with drones and binoculars, continued to scour the entire region in search of him. Never before have such resources been deployed in this valley."
Despite the intensive search the official search was called off on the evening of Tuesday 22 August. The statement added: "It was a failure for the rescuers, as no paraglider has ever disappeared in the Queyras Park since paragliding began in 1986."
An informal search on foot has continued and 26 family, friends and volunteers have been looking for him on the ground.
Catherine said her husband could have been found if he had been using a satellite tracker. "In your article, please insist that pilots use a [tracker] that is not reliant on the mobile phone service. It may save a life. Olivier would have been found if he had such a beacon with him."
Anyone in the area who has any information is asked to contact the search team on +33 62 85 26 652.
His last known position was at: bit.ly/missing-pilot-fr