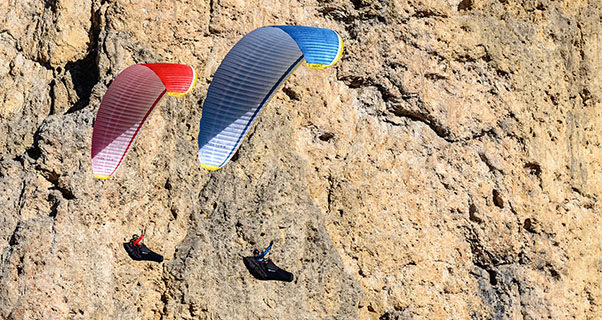 Nova have officially announced the release of the new Mentor 5, their benchmark EN B paraglider designed for cross country flying.
They say the wing, which as an EN B is bracketed in the 'Standard Class', will be more accessible to more pilots, stating, "the excellent performance is easily accessible". They say they have achieved that by lowering the trim speed of the wing.
Announcing the new glider Nova said:
"The Mentor 5 is probably one of the most important new designs of 2017. At the centre of the R&D process was 'accessibility'.

Of course, the Mentor 5 comes with an improved performance (better L/D and climb) but what matters even more: its performance is much easier to use!

The Mentor 5 features balanced handling with plenty of comfort and a super-relaxed feeling for its pilot – highly important ingredients to munch miles successfully and joyfully.

Nova keeps the low aspect ratio (5.4), most of the lines are sheathed, and the wing is easy to launch, land and pack. The Austrians do not max out the limits of EN/LTF-B on purpose – but that is exactly what makes the Mentor 5 so suitable for XC.
The wing is a three-liner, has a flat aspect ratio of 5.4, 59 cells, and will come in five sizes up to 130kg.
To achieve the 'more performance, more accessible' claim, Nova say they have made the wing slower at hands-up speed, while retaining the top speed. As is normal with most manufacturers, no absolute top-speed measurements or claims were revealed by Nova.
Designer Philipp Medicus however promised a "marked performance increase" in comparison to the Mentor 5's predecessor, the Mentor 4. "A slightly reduced trim speed leads to reduced sink and less brake pressure, while the top speed remains consistently high," he explained.
"The handling distinguishes itself with its agility and precision. One of the Mentor 5's greatest strengths are its thermalling characteristics: the wing is very easy to centre in the thermal and it loves every climb."
Nova said that Nova Team pilots Rinaldo Vuerich and Lukasz Sieminski had been testing the wing in the Kerio Valley in Kenya in January.
"They had various excellent flights, with Lukasz flying a 255.69 km flat triangle and Rinaldo a 239.6 km flat triangle."
The company added: "Rinaldo emailed us, 'I flew a 240km flat triangle with an average speed of almost 30 km/h. Unbelievable! I really love this wing!'"
The glider will officially be unveiled at Thermik Messe, the paragliding trade show that takes place in Germany this weekend.
Nova say that sizes S and M will be available in early March. Size L is currently in production. XS and XXS are being certified now.