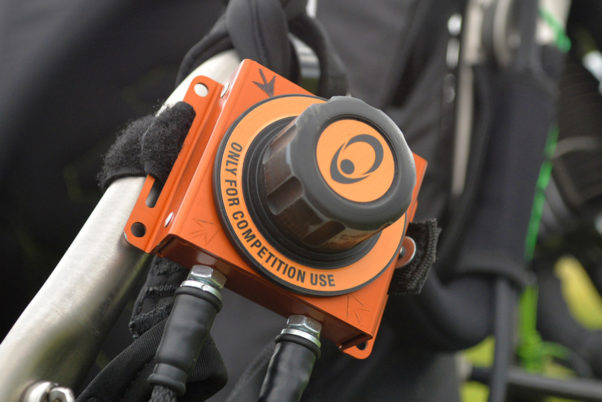 Vittorazi Motors developed a special carburetion regulator for the Green Twins' world altitude record flight over Mont Blanc in April 2015. They have announced it will be available for expert pilots in the Paramotor World Championships 2016, but not for general use.
The regulator can be used for any Walbro membrane carburetors, but its use invalidates the engine's warranty, they explain, and it is only intended for special uses such as competitions and record attempts. It enables pilots to regulate fuel flow during flight to obtain an optimal performance.
Having a lower fuel flow, the engine reaches higher temperatures, has scarce lubrication and so the risk of breakage is higher.
All pilots can benefit from their new competition fuel decanter, though. An additional one-litre fuel container, it has an anodised aluminium top containing the inlet, outlet and return to the main tank. A double stainless steel support allows it to be mounted and positioned where the pilot can easily see it, and graduations enable the pilot to keep a close eye on his last litre of fuel as it is used.
The fuel decanter weighs 330g including the stainless steel supports. A tap and filter on the outlet pipe make it practical to transport, and easy to work on the carburettor. It is made from materials that are resistant to oils and petrol, and has been tested for a year by Vittorazi's race team before being brought to the market.
Vittorazi will be on hand at the World Championships in the UK this August, supporting their racing team and also offering a free engine check to any Vittorazi pilots who are competing in the championships.
---
• Got news?
Send it to us at news@xccontent.local.
Subscribe to the world's favourite hang gliding and paragliding magazine home
Never miss an issue
Our subscribers receive 10 issues a year, the annual Travel Guide and exclusive access to competitions and offers
Subscribe today