AcroGame 2018 has announced its pilot list – 15 of the world's best acro pilots going head-to-head in a fast and furious battle above Organya, Spain in the first weekend of August.
Organiser Horacio Llorens said: "The best pilots in the world, a total of 15 top pilots from 11 different countries, will compete face to face in Organyà, to see who is the most technical and daring pilot of the competition and claim victory in the 2018 AcroGame."
Unlike traditional acro competitions, AcroGame is designed to be run in an afternoon, with pilots constantly in the air, competing against each other to see who can complete each trick best. The winner of each battle moves on to the next round, until the winner emerges.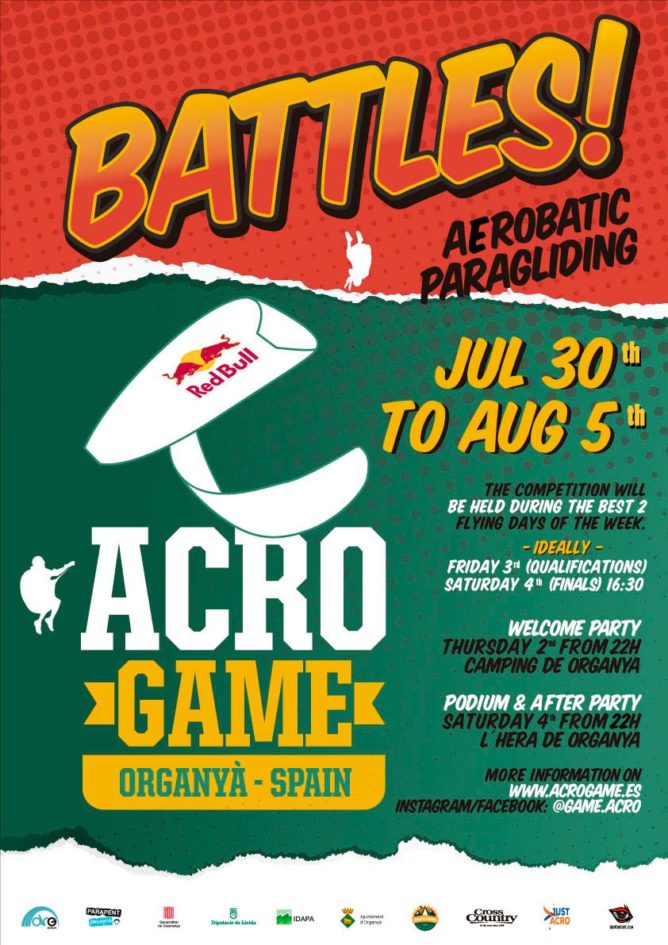 Dates for the competition are from 30 July to 5 August. The competition will take place over the best two flyable days during that period. Preferred days are Friday 3 August for Qualification and Saturday 4 August for the finals at 4.30pm.
There is a Welcome Party on Thursday 2 August from 10pm on at Camping d'Organyà, and an After Party on Saturday 4 August from 10pm at L'Hera d'Organyà.
Take-off will be closed to non-competing pilots for two hours during the final.
The pilot list:
Egor Posokhin  BS: LEFT Russia
Rafael Goberna  BS: RIGHT Brasil
Horacio Llorens  BS: RIGHT Spain
Bicho Carrera BS: RIGHT Chile
Theo de Blic BS: LEFT France
Thomas Schlögl BS: LEFT Austria
Tim Alongi  BS: RIGHT France
Eliot Nochez  BS: RIGHT France
François Ragolski BS: RIGHT France
Yeray González BS: RIGHT Spain
Nicola Donini BS: LEFT Italy
Jack Pimblett  BS: RIGHT UK
Cesar Arevalo BS: RIGHT Colombia
Veso Ovcharov BS: RIGHT Bulgaria
Artoosh Ghafoorian BS: RIGHT Turkey
More at acrogame.es and Instagram