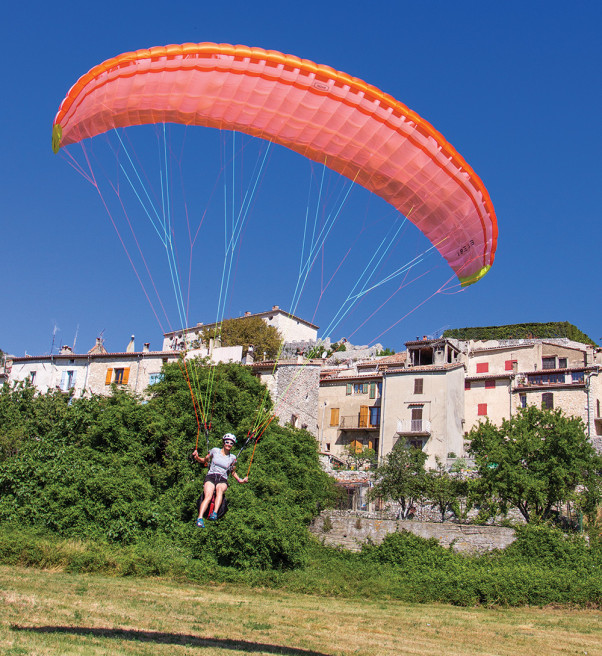 Charlie King tries a mountain wing with the promise it can be flown XC
Nova's Ibex 3 is "by mountaineers, for mountaineers". In Nova's words it's a "small, lightweight paraglider that can cope with rough Alpine terrain, can be thermalled and has decent performance".
All three of its intended sizes should be available now, so that's XXS, XS and S. All three sizes have wide weight ranges and, as would be expected, fly a bit differently depending on how heavily loaded they are. All of them, if flown in the lower section of the weight range, fall into Nova's 'Pleasure' bracket, "gentle fun for recreational pilots". In the middle of the weight range Nova call them 'Hybrid' – faster but still good in thermals. When heavily loaded the XXS gets a 'Fast' category too.
The two larger sizes are certified EN A, whereas the XXS is EN C. I tested the XS. It has a flat area of 22.6m2 (19.4 projected) – which is similar to my everyday wing – and is EN A throughout a very wide weight range of 58-95kg. Nova's Pleasure category for this size goes up to 80kg, after which it enters the Hybrid zone. I flew it at 63kg with Nova's Montis + hike-and-fly harness, and also took it out thermalling with my usual harness and reserve at an all-up weight of 70kg, so I didn't leave the Pleasure zone.
Initial introductions
In the box from Nova, with the wing, were: a Montis+, which is a 320g split-leg hike-and-fly harness, with an Inverto airbag/reversible rucksack. Together they weigh around a kilo. The Ibex 3 came in a smallish stuff-sack, and Nova also included a waterproof compression bag (all Ibex 3s come with one), which protects your wing from damp including sweat, and helps pack it into a neat, compact square for easy carrying. There was also an external rain cover for the rucksack.
The 60-litre Inverto rucksack does feel light, but it looks as if it would take a reasonable amount of pounding in rugged terrain, which is what it is supposed to do. The ripstop material is not overly flimsy or delicate looking, and the design of the 'sack is certainly very well thought-out.
A big easy-access front zip runs the whole length, so it's easy to get your wing in and out. The zipper works both ways, and a flap of material protects the lower end of the zip from damp ingress from, say, wet grass. Sixty litres is easily enough space to pack a mountain wing, helmet, clothes and water, and if you needed to, a rope and crampons as well. There is an ice-axe holder on the front, and a pair of walking pole holders. A stretchy mesh panel under the rucksack lid is to carry your helmet, although without much luggage the helmet will fit inside the main compartment. The rucksack lid has a large external zipped pocket that will fit a jacket, flight instrument etc. There are large stretchy mesh pockets on both sides of the bag, one of which is split and ideal for a two-litre drinks bladder. You could equally put your bladder in the main compartment with the tube sticking out of the top of the zip (there is no specific hole for a tube). I could access the rucksack's side pockets on the go, so they proved a good place to keep a bike-type drinks bottle and my camera. They felt very secure and I had no concerns about things falling out. On one side of the hip belt is a zipped pocket that a standard size phone will go into, but possibly not a large-screened model, or you could put snacks, cash etc in here. Really, nothing has been forgotten.
So that's the bag packed, how is it to carry? Well, great actually. Two perforated foam strips pad the back, with an air channel in between, all covered with a nylon mesh for breathability. The hip belt is similarly padded and very comfortable, and the whole thing adjusts in the usual places – hip belt, chest strap (with sliders that move the chest strap up or down), shoulder strap length and there are compression straps to squish the load and straps to pull it in close to your back. There are even little loops to hang onto to rest your arms while you walk.
First date
After a comfortable hike to launch, it's time to get the kit out and reverse the rucksack so that it becomes an airbag for the Montis harness. The harness is a step-through design made from Dyneema ropes. There are no adjusters on either the split legs or the chest strap, but the shoulder straps are length-adjustable using a friction system – no heavy buckles. This worked very well and did not slip. There is fabric on the harness back and the legs to support you in the air. Nova recommend packing all of your belongings in the lid of the rucksack before you turn it inside-out, and not to put anything loose in the main compartment as it could interfere with or possibly damage the airbag. I did have to put my walking poles in loose, but everything else fitted in the lid.
I have to say that while the Montis is not the most comfortable thing to stand around launch in, especially if you are not wearing a jacket (the Dyneema straps dig in a bit), in the air it is surprisingly comfortable. The fabric on the legs and the back supports you really well, and because there is no seat plate to slide around on, you're held in a good position (it's designed to be flown fairly upright, which I like). Nova stress that it isn't meant to be used as an everyday harness, nor for extensive groundhandling (it would not be comfortable for this) but it's 300 grammes well spent if you ask me. Actually it's a kilo well spent. You have to carry a rucksack anyway, so I'd definitely opt for the Inverto as it's a great rucksack and gives you the extra security of an airbag. The Montis and Inverto attach to each other by simple loops and toggles and can be left attached when packing away. The airbag inflates very well and looks very 'airbaggy', but forgive me if I didn't test its efficacy in a hard-landing situation. The Montis+ (with the airbag) is certified to 130kg, and the Montis (no airbag) to 100kg.
Taking things further
On to the wing. The first thing you notice is the soft, slippery, shiny orange fabric. It's made from Dominico 10D (26g/m2), with Dominico 20D (35g/m2) on the upper surface's leading edge and I wasn't the only one caught caressing it on launch. The risers are 12mm Kevlar and all the main lines, of which there aren't many, are sheathed. The split A risers sport one line each, the B risers have three lines and the Cs just two. The lines are attached with maillons rather than the softlinks used by some manufacturers. The C risers also have a red line at the back, to alert you of riser twists. The speed system runs through a series of five low-friction rings rather than pulleys, and the brake system uses the same kind of rings.
The lines were simple to sort, and I had no problems with snagging on any of my flights, even on rocky/stony launches and around those awkward little catchy-plants that like to hang on to your lines. It is such a gorgeous and forgiving thing to launch, both forwards and reverse. It neither hangs back nor overshoots and it gives you plenty of time to correct if you pull it up unevenly. It's definitely a wing that helps you into the air, whatever your experience level. In flight it has very little pitching tendency, and feels very reassuring and damped, although you can still feel enough to know where the thermal is. I tested out big-ears, which are quite big as there are only two A-lines each side, and they folded in nicely without pitching the wing about, and then popped out again when I let go (they do have to be held in).
Getting it on
Nova say the Ibex 3 is not for doing aerobatics on, which suits me fine, though I did have a little dabble at seeing what happened if I weight-shifted and pulled one brake quite hard. It seemed to agree with me that we didn't really want to spiral, though I'm sure that if I had insisted it would have, and some tightish 360s had us descending nicely. It's such a laid-back and reassuring wing, which I absolutely love. In fact, I couldn't see why you might not consider it as an everyday wing, so I decided to ditch the Montis + for a bit and get my usual harness and reserve, and take it out in the Gourdon thermals to see how it felt.
It launched fabulously, as it always does, and off we went into the thermic air on a fabulous sunny day, the sky full of vultures. High up there were mares' tails, a sign there was some wind around, but it wasn't especially windy at launch. Conditions were strong but smooth.
The Ibex 3 climbs really nicely and easily. It's nice and compact, and its lack of pitching or doing anything remotely worrying meant I had no qualms about getting stuck in. I found myself near the top of a wide but strong thermal, high above the site, sharing the thermal with around 30 vultures and ten or so gliders. It was just magic. I did notice the wing felt a bit slow though in the thermic gusts, and annoyingly I had not adjusted my speedbar correctly and it was set too long to be of use.
Nova don't quote a speed on their website, and it's difficult to accurately measure, but on my next hike and fly I took a GPS to roughly estimate my speed by flying along a course downwind and then into wind and averaging the two figures. The figure I came up with is 31km/h, but I'm not suggesting it's accurate, just an idea.
Moving in together
I gave the Ibex 3 to Marcus, who flew it at around 90kg. He reported that it felt very nice, more agile and faster than I had found it, and it still climbed well, even in the light morning lift. Even flying in the Hybrid zone he did not find it a radical wing, and somebody looking for a nice, safe lightweight well-mannered glider really should consider the Ibex 3.
I think it is everything Nova say it is: light yet robust, easy to launch, resistant to snags, comfortable and safe-feeling in the air and thermals really well. For hike-and-flying I have really enjoyed flying both the XS Ibex 3 and the Montis+. For mountain use for myself, flying at the lower end of the weight range, I think I would be tempted to try the smaller wing though, as I think the extra speed would be a bonus.
Charlie flew the Ibex 3 with a Montis+ and her own harness, a Swing Connect Reverse