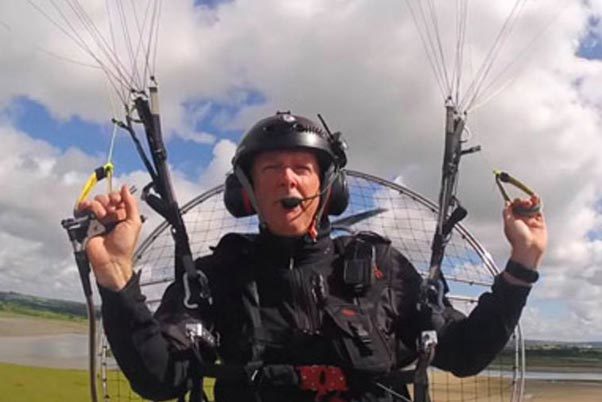 Oisín Creagh flew his paramotor from Ireland to Africa in August / September 2016, to raise awareness and funds for an African charity.
His expedition has earned him a nomination for an award with Ireland's Outsider magazine – the winners will be announced on 2 February 2016.
The Irishman, who was dubbed 'lawnmower man' by Irish newspapers, planned and executed the 3,000km paramotor journey in order to try and raise €12,000 for the International development aid organisation, Gorta-Self Help Africa, whose mission is to help end hunger and poverty in rural Africa.
Oisín strapped into his paramotor and left Ireland on 24 August, making the 38km crossing of the Irish Sea to Scotland – the first of three open-water crossings – and going on to fly 300km in two flights on his first day. It was just over three weeks before he set foot in Africa, landing at Ceuta on the northeastern tip of Morocco on 19 September after crossing the Straits of Gibraltar.
Sadly, the permit to fly in Morocco that he had applied for arrived too late, hence the final destination of Ceuta, which is Spanish owned.
Oisín flew an Ozone Spyder 26, and Air Conception Nitro 200 motor. Because of the duration of the trip and the open-water crossings, there was a lot more than just a wing and motor to think about:
Both [the Spyder and Nitro 200] performed remarkably and not only was the light weight of the Nitro motor a huge advantage for such a trip, but I had also to appreciate the huge additional power over my normal 125cc motors.

There are some small things I would like to do with the motor, including changing the primer system, but all in all, I would not have flown the English Channel and the Straits of Gibraltar without boat support, unless I had huge confidence in the combination of this motor and the Ozone Spyder wing.

I flew in a commercial Immersion (dry) suit for all water crossings, with floatation device on the motor and also on me. I flew with airband radio and marine VHF (over water sections) on me personally, for use in the event of ending in water to contact boats/ coastguard. I had a SPOT epirb/plb tracking me throughout the rip and also carried smoke 'flares'.

I conducted tests in the equipment and wearing the motor, in the test pool in the National Maritime College in Cork, and worked closely with Sacha Dench (Flight of the Swans) to compare notes and carry out extensive testing of safety equipment. I spent over 5 hours with the staff of the Maritime College, much of it in the pool or jumping in and out!

After bringing a large mapping Garmin GPS and Garmin Fenix, I navigated the whole trip on the iPhone in a 'Lifeproof' waterproof case with integrated back up battery. This combination was all that was needed and would allow the phone to survive a water landing as well. I used the very cheap and perfectly acceptable flyskyhy application, and alternated between this and Navionics marine charts on the iPhone for the water crossings (shipping lanes etc) . The Fenix tracked every flight, recording hours in flight, track, etc. Great combination.

The last essential item of equipment was the SENA bluetooth headset, which allowed me to communicate with John on ground through his headset, when in and close to field, and more importantly on this trip, allowed me to make perfect phone calls in flight through every flight. I even did three inflight live radio interviews to Irish National TV while in transit! I carried a SENA action camera as well, which allowed me to record voice onto video while in the air, all the way along the flight. When I needed distracting, I would use the built in FM Radio or connection to music on phone. It connected to the ICOM A6 with a bluetooth adopter as well. The noise suppression technology in this compact piece of kit is truly remarkable! I will never fly again without this kit.
The cost of the mission itself was entirely borne by Oisín, and all funds raised go to charity. Oisín had hoped his mission would raise €12,000. Visit flyafrica.ie for a link to the donation page.
You can find out more about Oisín's mission, including extracts from television interviews, on Facebook.com/flyafrica.ie
---
• Got news?
Send it to us at news@xccontent.local.
Subscribe to the world's favourite hang gliding and paragliding magazine home