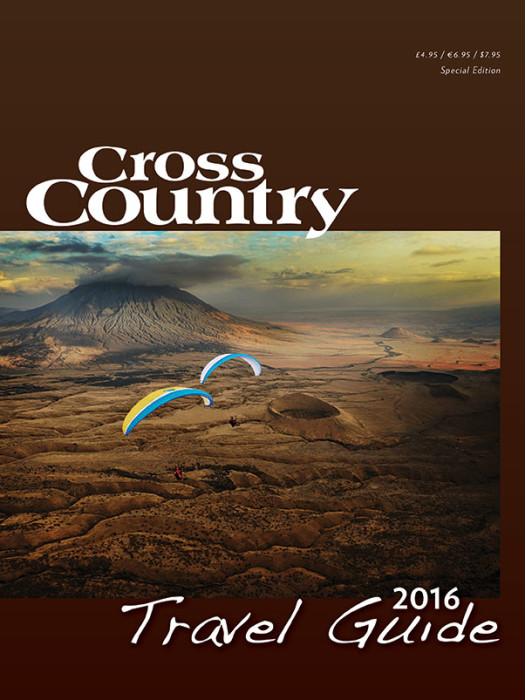 Daydreaming turns into reality every time we take off in our sports – and the new Cross Country International Travel Guide is all about making those dreams come true.
Our latest 100-page international travel guide visits and updates some old favourites but also uncovers some exciting new places, providing information and inspiration in equal measure.
Each entry is researched and fact-checked – usually by people who know the site the best: the locals who live and fly there.
In brief, the Cross Country Travel Guide 2016 covers:
European winter escapes
Bright in Australia
Ager in Spain
The Azores
Bucaramanga, Colombia
Annecy's secret spots
Stress free competitions
Governador Valadares, Brazil
Dune du Pyla, France
Island hopping through the Med
Unknown Brazil
Macedonia
Hidden gems of the Cote d'Azur
The best paramotor fly-ins for 2016
Himalayan getaways
Hike-and-fly events
Paragliding and paramotoring in Thailand
Gavin McClurg's guide to flying the Red Bull X-Alps
And a year in the life of US hang gliding star Jamie Shelden
The incredible cover photo is by pro photographer Felix Woelk and is from an expedition he made in eastern Tanzania.
The Travel Guide is sent free to all current subscribers (those who have a subscription for XC167) in both print and digital.
It is also available to buy in the XCShop or digitally.
SUBSCRIBE TODAY
Learn to fly better with technique, weather and safety articles, read the latest glider and gear reviews, and be inspired with adventure and flying stories. Subscribe now and get ten issues per year, plus our Travel Guide, and entry into our Prize Draws
Subscribe today