Marcus King reports from the inaugural SRS Ozone Edition in Krushevo, North Macedonia.
After a few days of cloud and rain, the sun finally came back to the skies above Krushevo, North Macedonia. There was a lot of deliberation on where to send the pilots – with a low cloudbase meet director Jocky Sanderson did not want pilots landing at the pass.
With that base not much above launch and the wind predicted to come over the back, a 38.5km race to goal was set via five turnpoints.
Despite the low base and lots of shade the first pilots to launch quickly climbed out and showed it was possible to stay up.
Before the start the hardest bit was staying clear of the clouds, as the gaggles built. The wind was coming up both sides of the ridge creating a convergence line on the way to the first turnpoint, allowing pilots to make quick progress towards the next turnpoint.
There, the leaders pushed on but got low. Those following behind could make use of a spur to head out and back without losing so much height before throwing themselves back into the convergence. Here the big-ears and speedbar were needed to stay below the clouds.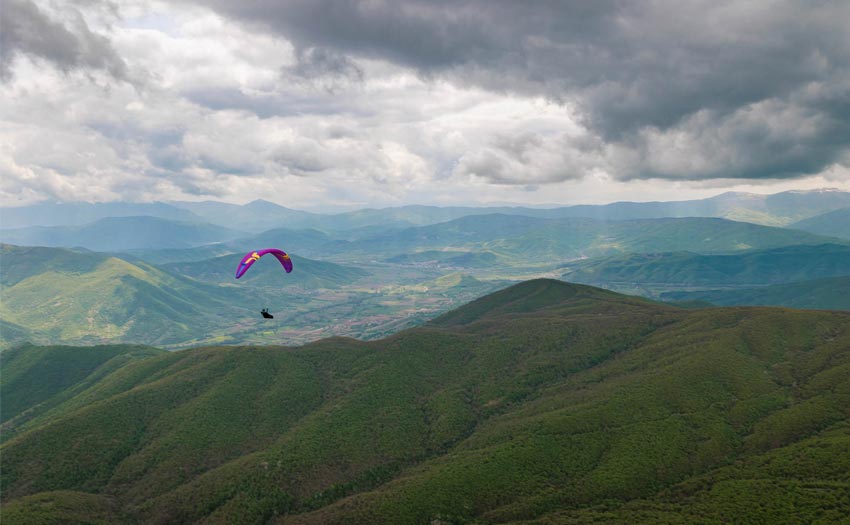 Back at the take-off those who had a bit more height were able to jump back on to the eastern slopes which had a good breeze blowing on them, allowing a ridge run back south to tag the southern point for a second time. A climb near that end put the leaders in a position for a final glide via the last two turnpoints to the end of speed and goal.
France's Pierre-Antoine Durand was first across the line on his AirDesign Volt 4 with local pilots Martin Jovanoski (Gin Bonanza 3) and Igor Todevski (Advance Sigma 11) three minutes behind.
Eleven pilots made goal with the last 30 minutes behind the leaders. First woman was again Monika Takáts (AT) in seventh overall.
After two tasks Martin Jovanoski is leading the competition overall ahead of Igor Todevski with Gerhard Depner (DE) on an Ozone Photon.
Monika Takáts (Ozone Photon) is seventh overall and leading the women's class. Summer Barnham (US) and Magdalena Janaway (GB) are also on Photons in second and third.
Gin are currently leading the teams, then Ozone and then Cross Country and Naviter tied on third place.
There is all to play for as the weather clears and we enter the final weekend of racing here in Krushevo, home to one of the finest paragliding competition venues in the world…
Task 2 Overall
Pierre-Antoine Durand (FR), AirDesign Volt 4
Martin Jovanoski (MK), Gin Bonanza 3
Igor Todevski (MK), Advance Sigma 11
Task 2 Women
Monika Takáts (AT), Ozone Photon
Summer Barham (US), Ozone Photon
Magdalena Janaway (GB), Ozone Photon
Full results at https://airtribune.com/srs-2023-1/results