Classic Routes is the beautiful new paragliding and hang gliding book from the makers of Cross Country magazine.
Cross Country International, the publishers behind Cross Country magazine, have released Classic Routes.
Created in the same style and to the same high standard as Cross Country magazine, Classic Routes is a story and photo-led journey through some of the most exciting paragliding and hang gliding terrain on Earth.
It's a glide-by-glide 'How-To' to some of the most exhilarating flying in the world, with some of the best pilots in the world.
Featuring 20 destinations across five continents the book includes contributions from some of the sport's top pilots, photographers and writers.
Brought together by editor Bob Drury the book features 20 'classic routes' around the world.
From outback Australia to the mountains of the Alps to the green fields of England, the book features stunning photography and great writing as it takes you on a spectacular international tour.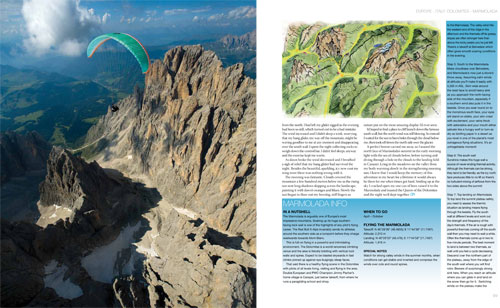 Editor Bob Drury said: "As well as a book of amazing adventures and brilliant photography, it's a how-to manual for cross country flying around the world.
"It's my ultimate tick-list of flights I'd like to do if I had unlimited time and money."
According to Bob the book has been in the planning stages for over a decade.
"It's something I've wanted to do for years," he said.
"After over a decade working in the free-flight world, discovering new talent and showcasing photographers and writers, it was the perfect moment to launch the Classic Routes project," he explained.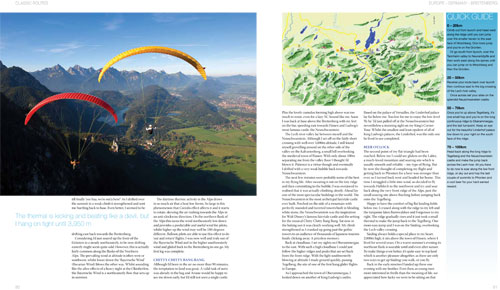 "The book is the culmination of so much that is important to me about free flight. Whether it's taking your first tentative glide 'over the back' or pushing full bar through the big mountains – it's all in there.
"I'm hugely privileged to have been able to work with such great pilots and talented individuals on Classic Routes. Launching it is a huge moment for me. I hope I can bring a little of what makes flying so exciting to me to the reader."
Published, printed and bound in the UK, Europe, Classic Routes is available NOW – just in time for Christmas. Santa is expecting a rush, so order early!
MORE ABOUT CLASSIC ROUTES
The book is divided into three sections, Americas, Europe and Rest of the World. It includes:
AMERICAS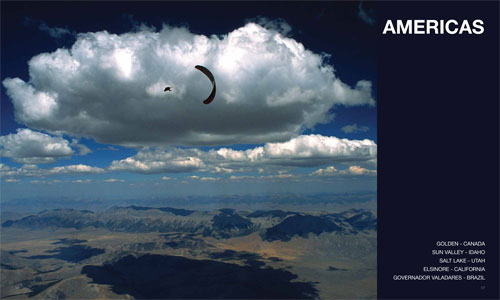 – Will Gadd steps into the Rocky Mountain Trench for a 100km classic in Golden, Canada
– Nate Scales tip-toes 75km through Idaho's Sun Valley, USA
– Mitch McAleer rides the ridges of California's Lake Elsinore
– Jocky Sanderson goes dot-to-dot for 100km from Governador Valadares, Brazil
EUROPE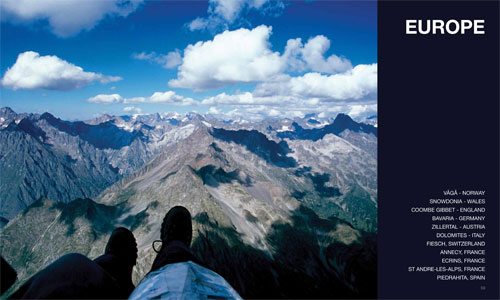 – Simon Coe and Arne Kristian Boiesen go troll hunting in Norway's mountains
– Bob Drury shrugs off the rain for a classic tour of Snowdonia, Wales
– Hugh Miller dodges airspace and chases cloudbase as he boots it downwind across the flats from Combe Gibbet in England
– Matthew Whittall swaps his office BlackBerry for a vario on a 100km tour of King Ludwig's castles in Bavaria
– Kelly Farina flies an FAI triangle in Austria's 'racing valley', the Zillertal
– Felix Wolk top-lands Marmolada on his hang glider
– Roland Mader dares to ride the giant for a 200km FAI triangle starting from Fiesch, Switzerland
– J C Skiera surfs the limestone cliffs around Annecy's Grand Tour du Lac
– Marcus King goes into the freezer on a 100km blast through the Ecrins in France
– Bob Drury rides wild horses on the 100km Dormillouse Run in southern France
– Bob Drury flies a blinder using the classic convergence in Piedrahita, Spain
REST OF THE WORLD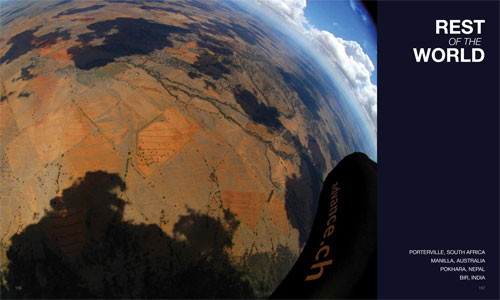 – Greg Hamerton goes for 133km in Porterville, South Africa's most popular site
– Adam Hill takes us by the hand around the Korchon Circuit in Pokhara, Nepal
– Jim Mallinson flies along the mountains from Bir to Dharamsala on this Himalayan classic in India
EACH CHAPTER INCLUDES
– A personal essay about the classic route by a pilot who knows and has flown the area intimately
– A bite-sized guide on how to fly the route
– In-depth information on meteorology, airspace, aerology and local travel
– Stunning in-air photography: full page and double-page colour photographs are used throughout. This is truly a pilot's eye view
– Full colour, specially commissioned illustrations created specifically with pilots in mind: take-offs, landings, house thermals and local landmarks are all clearly shown.
CLASSIC ROUTES INFO
– Classic Routes was published on 25 November 2011
– It is a hardback, full-colour, coffee table book with 192 pages
– It costs £29.95 or the euro or dollar equivalent
– Buy it from www.xcshop.com
HOW TO ORDER CLASSIC ROUTES
Classic Routes is available now from www.xcshop.com.