Stefan Bocks takes us on one of the most sought after vol bivouac routes in the world
A COMPLETE coast-to-coast crossing of the Pyrenees mountain range that spans the western edge of Europe is one of the most aesthetically perfect lines of them all.
Buckling up to 3,400 m high, the 400-km-long range carves a perfect west to east swathe linking the Atlantic Ocean to the Mediterranean Sea. In times past the mountains created an impressive barrier against invasions between France and Spain.
To the modern free flyer, though, they make a fantastic cross country playground and a perfect challenge for a couple of pilots looking for a little bit more from their flying holiday.
Rewind to August 2003. I'm stood in a hall in Ramsau, Austria, making my final preparations for the start of the X-Alps with the rest of the teams.
A wiry, middle-aged Swiss man in bare feet keeps smiling at me like I'm an old friend. In comparison to the surrounding mayhem, Urs Lötscher seems calm and relaxed, and I strike up an instant mental rapport with him.
We race hard against each other, and when the race ends he has my full sympathy for having to drive the last few kilometres to goal, while I manage it by air.
Two years later our fortunes reverse: Urs reaches Monaco and I have to drive the last kilometres to congratulate him. After that second X-Alps we know that we want to do something together, somewhere, sometime.
DAY 01 – July 30, 2006
Distance from start: 0 km
Biarritz airport, Western France
Coast to coast, Atlantic to the Med, without any support, using no form of transport apart from our feet. It's a big mission and one that means we start our journey soaring the sea cliffs next to St Jean de Luz. Urs is first to throw himself over the back; I quickly follow.
Twenty minutes of flight and we're on the ground and walking the 10 km to the next take-off on the mountain of La Rhune. We're punished for our shortcuts by prickly scrubs and nasty ticks, but rewarded when we reach the take-off and are joined by a flock of fifty, or so, vultures.
They guide us along the first few kilometres and we realise that our dream adventure has become reality. We land in Spain and start stomping along the road towards Pamplona. The rain soon arrives and we make shelter and prepare for our first night outdoors.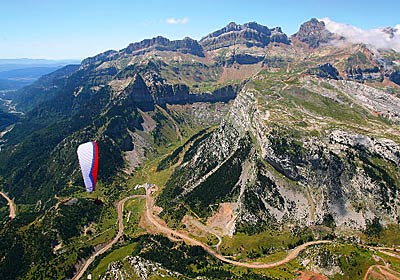 DAY 02 – July 31
Distance from start: 24 km
After two hours walking the Valle Baztan, we power up on Basque sandwiches and hike up Mount Houtza, a pyramid-shaped, but cloud-covered mountain on the border. We hop along our route making a couple of short flights when possible.
Finally, we glide down to Valcarlos in the Val d `Arneguy in the evening light and are greeted by enquiring kids who've never seen a paraglider before. All the hotels are closed, but we're in need of electricity for our equipment. Fortunately, someone offers us a dirty 'party cellar'.
DAY 03 – August 1
Distance from start: 45km
The day starts with rain, so there's no reason to rush. We buy food and batteries and head off up into the clouds towards Pic d´Hostateguy and get lost in fog. Hours pass as we wander about failing to find the route.
Finally, we're able to make a short flight. Great! It's been a slow day, but we're back in France and check in to hotel in Behérobie. The whole day brings us only nine kilometres closer to our goal and worse still, I've lost my radio!
Read about the rest of Boxi and Urs' journey in Issue 111 of Cross Country as well as the 2007 Worlds, nailing the SAT, HG tumbles, Ewa's story and much more.
---
• Got news? Send it to us at news@xccontent.local
Subscribe to the world's favourite hang gliding and paragliding magazine