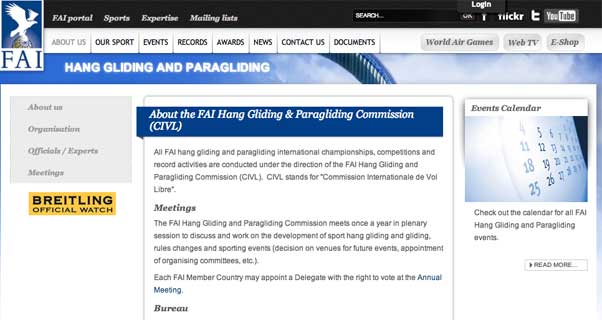 Minutes from the the CIVL Bureau Autumn meeting have been published.
Most of the proposals are not formal but they do give some idea of what will be on CIVL's agenda for the next annual meeting in February 2013.
Actions and recommendations include the mandatory use of a second reserve parachute in Cat 1 paragliding events from May 2014. And in hang gliding the lack of bidders for Cat 1 events is raised as an issue.
Elsewhere, CIVL also received a submission from the Paraglider Manufacturers Association (PMA) on competition paragliders. The PMA said it is "convinced" having competition wings in the EN system is not a good idea:
The PMA is convinced that having competition wings in the EN system is a bad idea, not least because it leads to a corruption of the EN classes. The PMA also thinks that having to trim a competition wing to pass EN certification MAY lead to said wing showing unwanted behaviour, not least in the deep-stall department.
The meeting of the CIVL Bureau was held in Reykjavik from 1-4 November 2012. The minutes are online here.
Or download them in pdf:
CIVL Bureau minutes, Autumn 2012
PMA Submission to CIVL Bureau, November 2012
CIVL stands for Commission Internationale de Vol Libre, International Commission of Free Flight. All FAI hang gliding and paragliding international championships, including World and European Championships, competitions and record activities are conducted under the direction of CIVL.
---
• Got news? Send it to us at news@xccontent.local
Never miss an issue
Our subscribers receive 10 issues a year, the annual Travel Guide and exclusive access to competitions and offers
Subscribe today