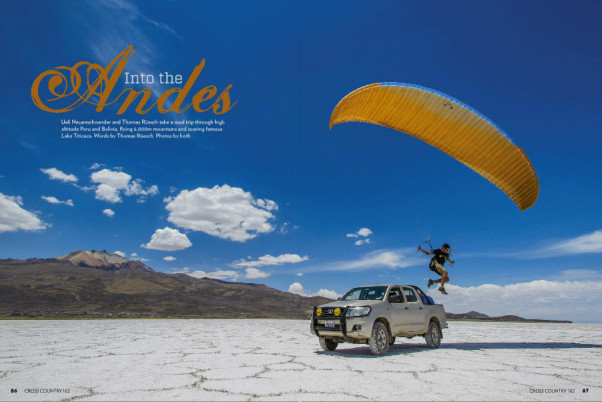 Swiss pilots Thomas Rüesch and Ueli Neuenschwander found a place for a flying adventure where they could explore new places and fly over sites rarely seen from above.
Flying in the region of the Andes, they over-flew snowcapped 6,000m mountains, salt flats, patchwork flatlands, tropical rainforests, volcanoes, trout-filled lakes and ancient Incan ruins.
The pair started in Perus's Sacred Valley near Cusco, then moved on into Bolivia to the shores of lake Titicaca. In the Cordillera Real they reached heights of 6,500m, where "It was damn cold, and the air noticeably thin."
Read their story and lose yourself in the stunning photographs the pair came back with, in issue 162, out now.
---
Cross Country is a reader-supported international publication and is available through subscription only. We publish 10 issues a year in print and digital. Subscribe to Cross Country.
Never miss an issue
Our subscribers receive 10 issues a year, the annual Travel Guide and exclusive access to competitions and offers
Subscribe today