Glenn Tupper and Matt Minyard head to Australia for a 12-day blast along open roads and through epic skies. By Glenn Tupper
We arrived in Sydney in the morning and it was time to get to work. We picked up the motorhome and sourced our supplies. We collected the fuel tanks that had been delivered by Parajet; got oil for the engines from a motorcycle shop; bought gas cans at a hardware store, and found CO2 cartridges for our water rescue systems at a sporting goods store. This took most of the day – especially once we'd visited one of Australia's most popular beaches, Bondi Beach.
The plan was to head north to the Gold Coast, and fly with local paramotor pilot Brett Paul. But when we woke up the next morning and looked at the weather forecast it was bad: strong wind for most of the time we were there.
Normally, this would have totally destroyed a trip like this, but we spoke to Brett and made a decision to do a 180-degree turn and find better weather. That better weather was south towards Melbourne instead.
We set off with no real destination, which is another reason why I love trips like this. You just kind of happen into things, places, people… and, oh yeah, kangaroos.
I got out the map and picked a spot in the general direction of the southern coast. Little did I know that it was a very popular free-flying spot called Lake George, near Canberra. We arrived and parked at a rest stop on the side of the highway and began to assemble our paramotors.
Two hours later, from our four luggage bags that had just been flown halfway around the world as checked luggage in a Boeing 777, we had fully operational flying fans to strap to our backs and we were in the air. That first flight, I will never forget.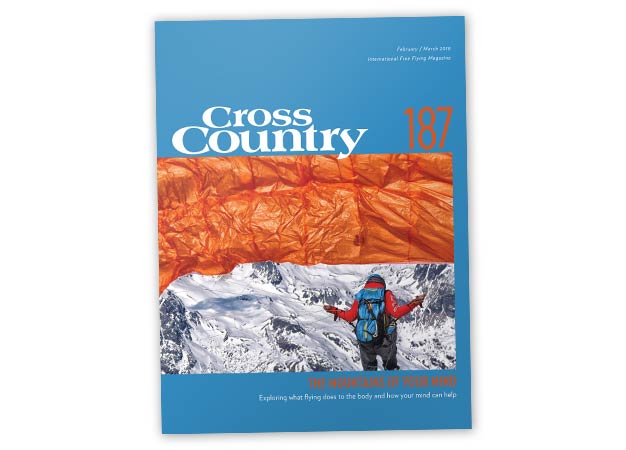 Read the rest in Cross Country 187 (Feb/March 2018)
Never miss an issue
Our subscribers receive 10 issues a year, the annual Travel Guide and exclusive access to competitions and offers
Subscribe today