The Skywatch®BL is a pocket-sized weather station that talks to your smartphone.
It was developed by Swiss company JDC Electronic SA for outdoor sportspeople and professionals, and is available in three versions. The top-of-the-range model, BL500 pictured above, measures wind speed and direction, atmospheric pressure, UV, humidity and temperature.
BL300: measures wind, temperature, humidity. Price around €160
BL400: measures wind, temperature, humidity and pressure. Price around €175
BL500: measures wind, temperature, humidity, pressure and UV. Price around €200
Readings are communicated to an app on your smartphone or tablet via Bluetooth, and there's an app to suit all smartphones and tablets on the market.
You can activate a tracking system that automatically records measurements at pre-set time intervals, so you can see how the weather evolved over the course of your flight. You can also share current readings on social media for your flying buddies, and the bl.skywatch.ch website gathers data from BL users and displays them on a map.
The cylindrical unit is made from anodised aluminium with stainless steel parts and sapphire bearings, and it weighs just 66g.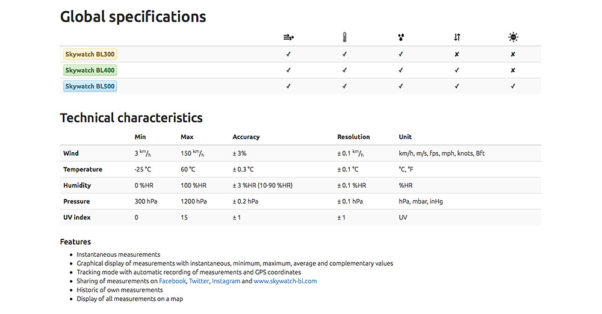 ---
• Got news?
Send it to us at news@xccontent.local.
Subscribe to the world's favourite hang gliding and paragliding magazine home
Never miss an issue
Our subscribers receive 10 issues a year, the annual Travel Guide and exclusive access to competitions and offers
Subscribe today