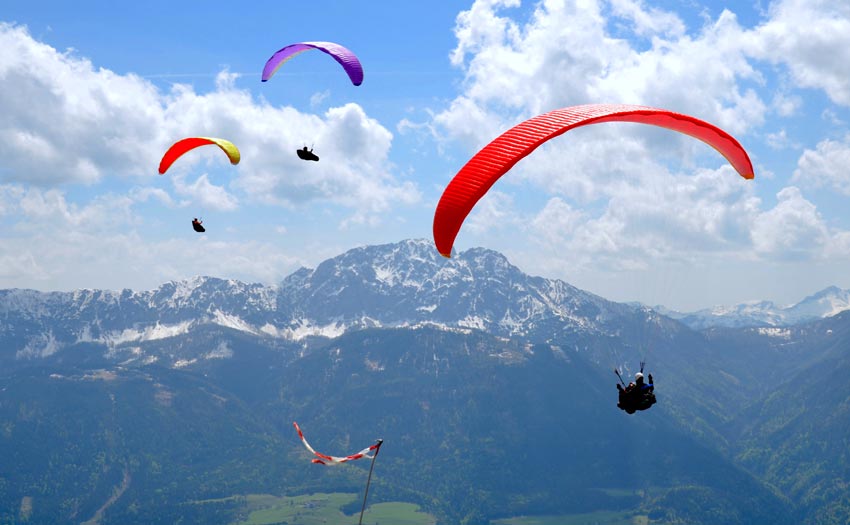 Nova held their first XC Team Challenge from 27 April – 1 May 2018, a long weekend of cross-country flying, emphasising teamwork. 
The inaugural event took place at Emberger Alm, Austria. 125 places were available to cross-country pilots, who did not have to be flying Nova wings to take part. Groups of four pilots were each put with a team leader, most of whom were Nova Team pilots.
The teams planned and then flew routes together. Despite less than ideal weather conditions, organisers say it was "An unbelievable success". At the end of the four days, thirteen pilots had achieved new personal bests and the awards ceremony was filled with smiling faces.
The winning team were team Lowsafe: Josef Edlinger, Peter Teutsch, Florian Guglhor, Thomas Gutweniger and Therese Deistler.  Watch the Doarama replay of their flight here. All results can be seen here.
Vera Polaschegg was one of the team leaders. You can read her blog about the event, here.
The big prizes, a Nova Pentagon reserve (worth €850), five vouchers worth over €500 each, a Naviter Oudie 4 and a Garmin Fenix, were awarded by raffle.
Look out for more Nova XC Team Challenges to come in 2019.
xc-team-challenge.com / nova.eu
Never miss an issue
Our subscribers receive 10 issues a year, the annual Travel Guide and exclusive access to competitions and offers
Subscribe today