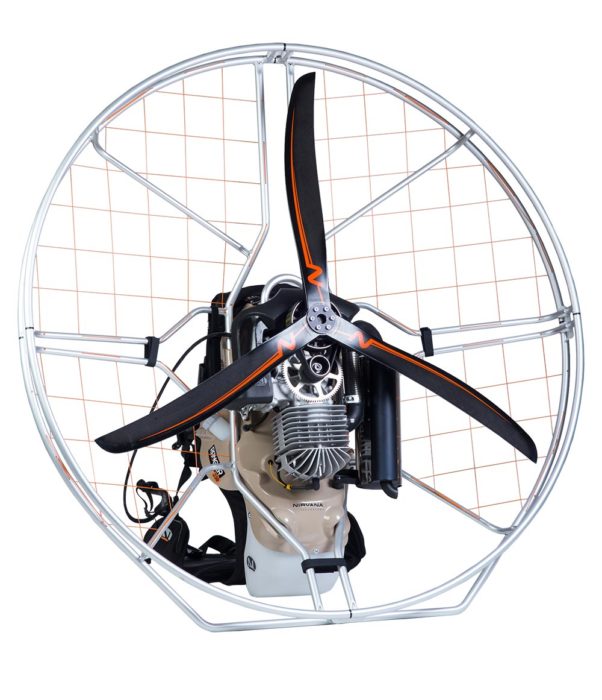 The Ranger, Nirvana's latest paramotor, was designed for rangers, conservationists and photographers.
It was developed for African bush-pilot and animal conservationist Eugene Cussons, founder of the RAPTOR project. Eugene uses paramotors in his fight against poachers in Africa's national parks.
To best suit its purpose, the Raptor needed a powerful engine, so Nirvana use their NS 230, which was previously only available on the Instinct. It provides 32HP at 7,000RPM, and Nirvana say it's plenty to assure easy take-offs from small areas. An in-air start system facilitates silent engine-off gliding over the ground, with the ability to easily restart the engine when required.
The air filter directs warm air into the Walbro WB37 carburettor, improving engine running in cold weather, and it also reduces engine noise.
The Raptor was designed with frame crumple zones, a laminate spine protector and a toughened fuel tank which is built into the skeleton of the frame. There are two main start switches, to help guard against accidental starting, and to disable the engine during take-off or in-flight if necessary.
The fuel tank has a ten-litre capacity, and a simple fuel gauge mirror enables the pilot to see how much is left in the tank.
The Ranger uses a carbon three-blade 4R3 125cm propeller, and the comfortable Ranger Kamo harness which has a bottom container and camouflage design. The unit weighs 25kg (empty and without the harness) and can take pilot weighs of 80-160kg, solo or tandem.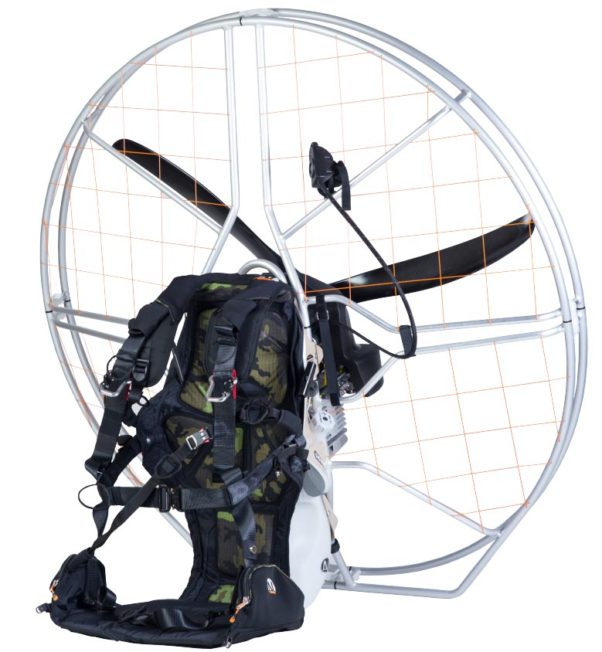 NS230 Engine
Power: 32HP (7,000 RPM)
Ignition: NIRVANA CIR (electronic with pre-ignition and battery charging regulation)
Carbutettor: WALBRO WB37 Diaphragm
Reduction Belting: 1:2.5 NIRVANA
Exhaust: Tuned NIRVANA
Propeller: Carbon three-blade 4R3 125cm
Starter: Manual and electrical
Tank: 10l, integration into the skeleton
Body: Self-supporting, laminated shell, orange colour
Frame: Aluminium, four-parts, foldable
Harness: Anatomic construction silencing of the remaining vibrations, straps AustriAlpin Cobra, front reserve container – removable, foldaway spacers
Accesories: Maintenance-free NiCd battery charged during the flight, socket 16.8 VDC, fuel gauge
Gear: Padded bag for engine complete with wheels, frame and propeller packs
Weight: 25 kg (empty unit without harness)
Recommended weight of pilot: 80-160 kg (single or tandem)
Minimal Static Thrust: 80kP
Fuel Consumption: 3-5l (depending on the pilot´s weight and glider)
---
• Got news?
Send it to us at news@xccontent.local.
Subscribe to the world's favourite hang gliding and paragliding magazine home
Never miss an issue
Our subscribers receive 10 issues a year, the annual Travel Guide and exclusive access to competitions and offers
Subscribe today