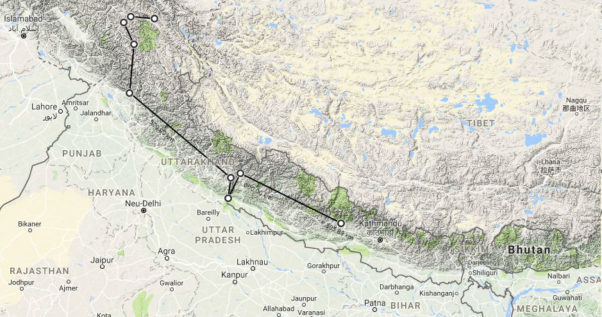 Stefan Bocks and Sebastian Huber have set off on a 1,700km vol-biv from Leh in India to Pokhara, Nepal.
Starting on the north side of the Himalaya they will cross through the highest mountain range on Earth passing near the famous Rohtang Pass and Manali.
The pair will then traverse the range through the remote mountains of Uttrakhand, and Western Nepal, to eventually land lakeside in the paragliding hub of Pokhara, Nepal.
The two German adventures have given themselves six weeks to complete the task, making an average of 40km a day necessary (no easy feat with short days, and mountain weather).
Both pilots are no stranger to long vol-bivs. Stefan Bocks finished third in the 2003 X-Alps, and fifth in the 2005 X-Alps. He also completed a first ever vol-biv solo expedition across Central Asia.
Huber is a well known X-Alps athlete finishing second in 2015. He is flying Advance, and Stefan Bocks is flying the UP Trango X-Race.
You can follow live tracking and daily blog here.
Never miss an issue
Our subscribers receive 10 issues a year, the annual Travel Guide and exclusive access to competitions and offers
Subscribe today