'A safe wing with sporting ambitions.' Charlie King flies this low-EN B
Sky released their latest EN-B earlier this year, the Kudos, a name now synonymous (to those who use Strava, at least) with sporting achievement and positivity. It's an easy EN-B, and is suitable for beginners. With it Sky say they intend to make a pilot's early paragliding experiences memorable, for the right reasons.
"A safe wing with sporting ambitions", their website says, adding, "We have created the EN-B with the EN-A soul that offers pilots joy, experience and safety." The test report shows mostly As with a few Bs and it's clear that Sky have made this wing to be safe, fun and capable. Those are high on my checklist of ingredients for an ideal wing, and I was looking forward to test-flying one.
I've never flown a Sky paraglider before, although the company have been making them since 1988 (they were originally called Sky Servis and were based in Slovenia, but merged with Czech partners in 1992). Sky's headquarters are now in Ostravici in the eastern Czech Republic, where they have been since 2003. They have their own factories, equipped with the latest fast floating electro magnetic CNC laser cutters.
Sky have a large range of gliders. I counted 18 current models on their website, including an acro wing, three tandems and four PPG-specific wings. Sky have sub-divided their range into Light Line, Comfort line and Sport Line. The Kudos is in the Comfort Line.
There are five sizes of Kudos, and the S was the obvious choice for me – I would be in the middle of the weight range. (I would have been right at the top of the next size down). The test glider came with a nice lightweight concertina-pack bag with mesh panels and separate riser bag. If you buy a Kudos, it's delivered with the Eyrie rucksack. We didn't get an Eyrie in the test package, but from the information on Sky's website it looks like a decent hiking-friendly rucksack. Sky say the rucksack is, "often an afterthought for many manufacturers but such an important part of your flying gear".
Materials and design
The Kudos has 45 cells, and an aspect ratio of 5.05, which is similar to BGD's Epic (5.01), Nova's Ion 5 or Ozone's Buzz Z5 (both 5.16). It is made from the 36g/m2 Dominico Dokdo N20 cloth throughout – top and bottom surfaces. There is no extra-tough leading edge material – the 'S' design on the top and bottom surfaces extends all the way to the front of the wing. Juan Salvadori, who designed the Kudos, said, "Dokdo N20 has shown to work well; it's not heavy and is smooth, which benefits by removing wrinkles with a correct and well defined 3D shaping".
The risers are narrow 13mm polyester webbing in black, with colour-coding stitching at the tops. The A-risers are split, with a separate big-ears riser. All lines are sheathed, right the way up to the upper gallery, which makes them easy to manage and less camouflaged on rocky launches. They are coloured too – red As, blue and green Bs and purple Cs, with bright neon brake lines which run through pulleys (as opposed to ceramic rings). The components are from well-known brands and nicely finished off – Ronstan speed-system pulleys and Peguet maillons with plastic inserts to keep the lines from slipping around them. The brake handles are soft, flexible and comfortable.
I got the luggage scales out, and weighed the glider in its concertina-bag at 4.3kg, which is exactly what Sky quote on their website. I guess you could call it semi-light, and the pack size is also reasonably small. I packed it in a hike-and-fly harness a few times and hiked with it, no problem.
The reinforcing structures in the leading edge, and the trailing edge mini-ribs, are narrow and light, and are made from nylon and Hypalon ("a kind of synthetic rubber made of chlorinated and sulphonated polyethylene", thank you Google). The rods are not long (up to 40cm) and are easy to look after, especially if you use the concertina bag. Juan says Hypalon comes in straight rods, and it does not deform like the plastic that comes wound on a reel. The rods fit into "pockets" on the glider, so they can be removed and replaced if they do get damaged.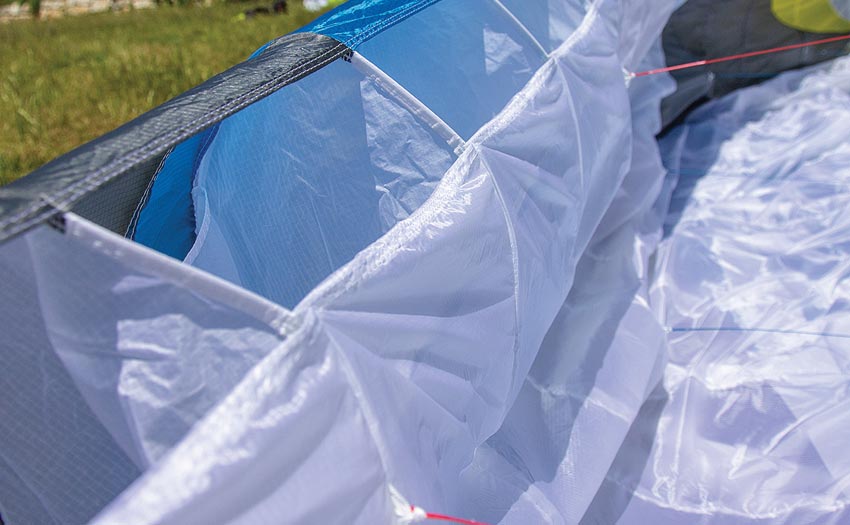 In the air
The Kudos launches fine with all As or just the middle ones. It comes up smoothly and not too fast, with no sticking points. The brakes are long, but the Kudos reacts to small inputs so it's easy to control.
My first couple of flights were at our local site, and I was taking photos while flying, so getting used to the feel of the wing without always paying it my full attention. It turns out the Kudos is a great wing for that – from the moment my feet left the ground I felt as if I'd known it for years. Intuitive.
Something that struck me from my first flight is that it feels quite fast. Subconsciously I must have been thinking low-B, middle of the weight range, small size, maybe it was going to be a little slow. I wasn't consciously thinking about the glider's speed at all (I was thinking abut taking photos), but it trucked along nicely, enough to jump into my conscious thought. Unfortunately, for, ahem, technical reasons, I don't have definitive speed-probe measurements for the wing. (I lost the speed probe. Taken by aliens in the landing field, I think).
I enjoyed 12 hours or so on the Kudos over the course of what seemed like a very long period of terrible weather in the southern French Alps. We didn't have many "normal" conditions, and took what we were given when we could. What we were given was probably good for trying out gliders, as it was very varied, sometimes a bit iffy and occasionally very good.
Nil-wind early morning hike-and-flies – the Kudos forward launches easily; rough and snotty air – it's very confidence inspiring. For me, the wing gives the right level of feedback – there's plenty of information to help you thermal, and it doesn't hide the fact from you if the air is rough, but it doesn't pitch too much and it feels very cohesive, like a single unit (as opposed to two separate wingtips that you are piloting one with each hand, that happen to be joined in the middle).
Thermalling
Thermalling is very intuitive. The wing reacts to weightshift and to small brake movements, and goes where you put it, even flown below the middle of the weight range. It will turn flat, or you can throw in the weightshift and bank it up. Because it goes where you want it to, and it has decent speed, I felt confident and in control – I was flying the wing, not the other way round. I didn't get that slightly 'helpless' feeling that I have experienced in the past in strong conditions, bobbing around at the whim of the wind. I used to always prefer to fly wings towards the top of the weight range for this reason, but with the Kudos it isn't necessary.
I found the speedbar to be light and easy to push on and keep on. The travel is about 13cm, and on my GPS I measured a speed increase of 10 or 11km/h from trim speed to pulley-to-pulley. The wing still felt nice and steady and solid with full bar on. Big ears are easy too. They are not the biggest of big-ears, but the wing doesn't rock about or change its course with the first ear in. You do have to hold them in, as they roll out straight away if you let go of the outer-As.
The brake travel is long, getting progressively firmer as you near the stall point, which comes after a lot of brake has been applied. You'd struggle to accidentally stall the Kudos in flight, but it makes a nice smooth, progressive flare for an easy landing.
I really enjoyed the Kudos. It feels safe and reassuring, and its speed and agility make it fun to fly, but also make it safer by giving the pilot the means to go where they need to and be in charge of the wing, not the other way around. Anyone looking for a low-end EN-B wing, I would say add this one to the shortlist of wings to test-fly. I don't think you'll be disappointed.
MANUFACTURER'S SPECIFICATIONS
What Sky say: "A safe EN-B class glider, for pilots who take pleasure in the sensations of flying"
Use: Soaring, thermalling, cross-country
Pilot level: Beginners upwards
Flat area (m2): 21.78, 23.27, 24.85, 26.55, 28.36
Certified take-off weight (kg): 55-70, 64-81, 74-94, 85-108, 99-125
Glider weight (kg):  4.1, 4.3, 4.4, 4.5, 4.7
Cells: 45
Flat aspect ratio: 5.05
Certification: EN B
TRANSFORMER
Along with the Kudos, I also tried Sky's new Transformer harness. It transforms from a cross-country pod harness, to a pod-free one for evening soaring, ground-handling etc. I found it best with the pod: the legs-forward position was more comfortable; I didn't feel my legs were as well supported without the pod. The pod was very easy to get into after launch. It can also be attached and removed easily and quickly – easy enough that you would happily change it over for an evening's soaring once you've had your fill of cross-country for the day. 
Use: multi-purpose
Pilot level: intermediate upwards
Pilot height (cm): M (160-180), L (170-190), XL (180-200)
Harness weight (kg): 4.37, 4.6, 4.83
Charlie King flew the Kudos for around 12 hours in southern France, in a range of conditions, with the Sky Transformer harness (with pod and without) and the Advance Success 4 at 70-72kg all up.