Luke Nicol gets to fly the brand new Skywalk Arak – an EN B
I've just got back from a trip to the Skywalk factory in Marquartstein, Germany for a first impression review of the new Arak – the new EN B paraglider from Skywalk.
With two days getting to know the Arak in perfect conditions, we had a 3,000m base and up to 4 m/s thermals over the stunning Austrian Alps. We then finished off with weak evening soaring and thermalling out in the valley. Perfect!
The B class category in paragliding covers the widest variety of gliders on the market. Some natural beginners start on a "low-B"' straight from school and plenty of hike-and-fly pilots want something safe but with cross country performance. Then there are the time-served and experienced recreational pilots who don't want the extra workload of a C glider but again still want the performance to fly XC.
You also have "low-C" gliders that have squeezed their way into the B category.
My point is it's a huge market! And many manufacturers have two different EN B gliders. Now, Skywalk have just released their third.
So what is the Arak, and where does it place between Skywalk's other two EN B gliders the Tequila 5 and Chili 4, both with their own lightweight variants (Arriba 3 and Cumeo)?
Arne Wehrlin said the glider is a "do-everything" wing, a Swiss Army Knife of a glider. It's for someone who wants more than a Tequila, more performance, more playful handling yet it's not as demanding as a Chili/Cumeo.
The medium size Arak is around 100g heavier than the Cumeo, but still has sheathed lines up to the shorter top lines. It has a new, robust, lightweight material – 32g Dokdo – on the top and bottom surface, which Skywalk have been testing for the last two years. The internals are also all made from this same lightweight material. The upper surface leading edge is made from the heavier duty Porcher 38g Skytex. The wing has a modest aspect ratio of 5.4, a shark nose and jet flaps.
The result is a glider that is suitable for a huge range of pilots. Low airtime pilots could move onto this as a perfect second glider. It's also lightweight and low pack volume enough to be a hike-and-fly glider: I flew it with a Skywalk Range X-Alps harness and the glider and harness easily fitted into the 55-litre hiking bag with enough room for a full face helmet and jacket, gloves and jumper!
What about the handling and performance?
This is what Skywalk says about the wing: "Its moderate aspect ratio and line concept share the straightforwardness of the Tequila series. Its performance-oriented profile in combination with the cell count and other built-in technologies minimizes drag and offers you nearly the performance of the Chili series.
"The Arak offers plenty of comfort due to its smoothness and its easy handling. The glider provides great feedback, creating confidence from the start, so you can focus on the essentials even in the most challenging conditions. This compact Intermediate wing allows playful and precise adjustment of your bank angle so you can optimize your position for every situation. From weak to shredded thermals.
"Its direct handling makes the Arak a blast to fly compared to other intermediates. Anyone who has always wanted to fly high wingover will find the ideal training tool in the Arak. The Arak's performance potential is enormous and easy to exploit thanks to its simplicity."
I flew the Medium size Arak half-way in the weight range, and also flew the small at the top of the weight range. I found both size gliders very similar in handling and performance.
The handling is certainly playful and direct; it is by no means a boring wing, which is always the dread with a mid-EN B glider. Wingovers are easy, as is banking it right up in the centre of a strong core. It does climb really well: Arne and myself had no problem climbing straight through all the tandem gliders that we were sharing the mountain with.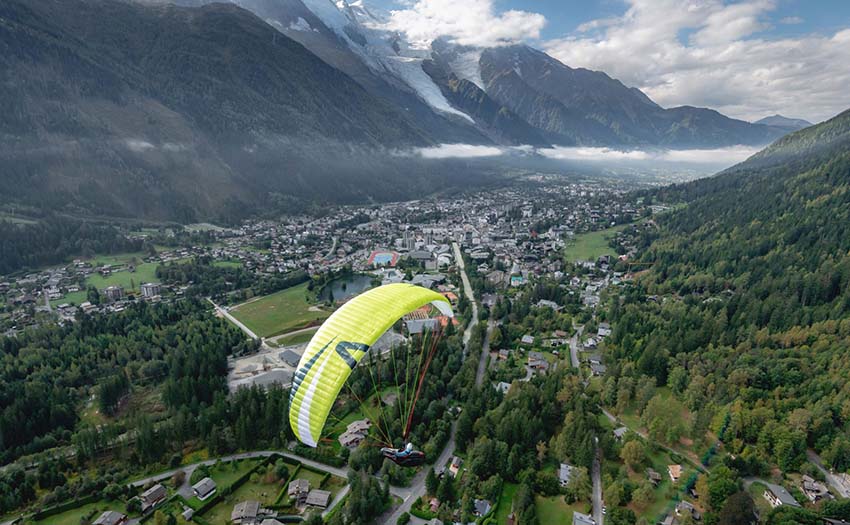 At first the feedback of the Arak took some getting used to – it definitely tells you what's happening around you. I spent the first couple of minutes flying the glider quite actively, but after a short time I realised I was doing too much. It just talks to you, but it is still a solid and safe wing that just wants to climb and search for lift.
The glide was also quite impressive: very easy to push on full speedbar and safe enough for me to me happily take photos of the stunning surroundings whilst on full bar.
Big ears were easy to hold in and pull down even further for a good descent rate and came out quickly on their own. I made a few side-collapses and it definitely feels like a safe, solid B wing.
I would say this isn't a first glider from school as it does turn directly and sharply – so over-piloting for a very low airtime pilot could be an issue. However, because of its safe feel it wouldn't take someone very many hours to progress onto one.
I can also see someone who is used to flying higher aspect ratio/higher performance gliders not getting bored on the Arak. I would choose this wing over my Enzo If I was to go hiking, or flying in some some scary big mountains or playing with some dunes. I wouldn't get bored.
I spent most of the time on the medium wing and then at the end of the day I landed and flew the small at the very top of the weight range, maybe even just over. I was not expecting to climb as well as I had been, especially in very weak thermals.
However, I crossed the valley with a two-liner and was once again impressed with my glide. We then spent 30 minutes climbing around in weak lift and I managed to stay on top. I was once again impressed and landed with a huge smile on my face before heading back to Munich airport after two fantastic days.
I'm currently planning a month-long trip to New Zealand and considering taking a hike-and-fly setup to explore the big mountains in the South Island. I need a wing that would be lightweight, confidence-inspiring in possibly windy conditions or turbulent seabreeze convergence but still with performance to get places. The Arak is currently at the top of that list!
Luke Nicol is a professional tandem pilot who flies hang gliders, paragliders and paramotors.
Manufacturer page: Skywalk Arak (EN B)