Five world records and a 400 km convergence line are just rewards for French record breaker Gil Souviron as he finds the answers to his calling in the deserts of Africa
Life is harsh here. It's hostile terrain. Rain is precious, and when it does come it's violent. Namibia is a land of extremes, both of people and climate. To live here you need to know how to survive, and surviving is tough, just like the flying. Yet, this is the place I've been looking for all my life. I've been hang gliding for almost 30 years; finally I've found my flying paradise. It's a little known town, of only 2,500 people, stuck somewhere between the Namib and Kalahari Deserts. Its name is Maltahohe.
My passion for years has been to go to the best places in the world and try to find out the limits of what's possible with the gliders we have at the time. I've tried satisfying my lust for big distances in Spain, and it's helped, but I always knew there were better places.
Then when I made contact with Thomas Sterzing, who'd flown in Maltahohe in '04 and '05, and heard his stories of the 200-km-plus flights he'd pulled off in Namibia during the 'wrong time of year', I went searching for my maps. It didn't take me long to see that Maltahohe had even greater potential than either Bitterwasser or Pokweni, two of Africa's most celebrated free-flying locations, as it's closer to the mountains and should be sat right next to the convergence line that forms over the frontier of the desert. In January 2008 I found out that I was right.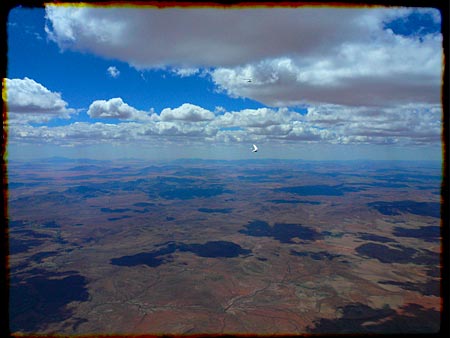 Jan 9, 2008
Here we are at last! At a farm in southwest Africa blessed with two essential things: beer and an airfield. Better still, this is an airfield with four runways, laid out as a star to take advantage of every wind direction. The owner, Andre Rossouw, and his team sort out the wind socks and a three-metre antenna radio. They've created a taxi way so as not to damage the runway and, even better, they have a quad bike to bring our gliders out from the hangar to the strip.
It's 7 am, I awake and I check the NOAA meteo website. It's the only one that works everywhere in the world. It's simple, efficient, reliable and uses a low bandwidth, which is the key. NOAA is forecasting a ceiling of 4,500 m at 14:00, and unbelievably 3,200 m at 11:00. With sunset at 19:45 we'll have more than ten hours in the air! It's already got the makings of a great day. First, though, I have to brief the team.
At ten o'clock we gather together. We are 17 pilots and one ULM tug pilot, and I lay out the rules. This is a remote desert environment, there's only a small village, maybe five houses, every 100 km or so and only a car or two travels the roads each day; get lost here and land out and you can make big problems for yourself and everyone else, but if everyone plays by the rules we'll have a safe trip. Just like our record camp in Australia, we're playing by the same three rules.
Rule 1 We all fly the same axis or route each day
Rule 2 You must be able to reach a road at all times
Rule 3 You never fly alone.
We take to the air, aerotowed up one by one and deposited in a thermal high above the orange African desert. The aim today is just to take in the environment and get to know our way around, the flying's great and even on our 'warm-up' six of us manage a 200 km circuit.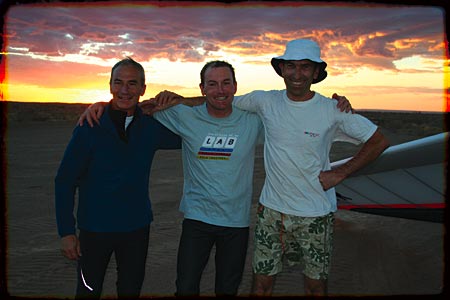 January 10
The emagrams are predicting a blue day with a ceiling at 4,500 m by mid-afternoon with 3,500 m at 11.00. We set our objective for the day, to break my FAI world out-and-return record of 338 km that I set in Australia in December 2006. Finally, five of us are ready to start the circuit at around 12:30.
Thermals are strong, large, but mellow. I open proceedings and head off first with Carlos Punet, Patrick Chopard and Pascal Lanser five minutes behind me and my brother, Jean, fifteen minutes behind us all. The day turns out to be just as we hoped.
There's not a cloud in the sky and we just fly blind, thermal to thermal, along the route as one gaggle. We only get low once, near a turnpoint just south of Bethanie, then we're up again and cruising back home. The flying is fantastic and eventually we touch a cumulus around seven in the evening. We all make it in, Carlos on an Atos VQ! We've only just arrived and already we have four world records under our belt!
At 20:00, when it's nearly dark, Jean makes it home on his Litespeed 4 RS to get the flex wing world out-and-return record too, taking the tally to five with his flight of 330 km!
Read the rest of the article in Issue 116 of Cross Country now. Subscribe now!
---
• Got news? Send it to us at news@xccontent.local
Subscribe to the world's favourite hang gliding and paragliding magazine