The Killarney Paragliding Open took place in Queensland from January 26 to February 2nd 2008. The flooding subsided in the nick of time, leaving the western foothills of the main Divide carpeted in green, and ready to host this the second of four competitions that make up the Australian paragliding nationals.
Early cloud generally gave way to good soaring conditions and 1800m cloudbases by late afternoon, and six tasks ranging from 57 to 139km were completed over the 8 days.
Craig Collings (AU, Gin Boomerang 5) won the event, with mark Watts (GB, Axis Mercury) in second place. Viv Williams (AU, Gin Boomerang 5) was the first woman, finishing 12th overall.
You can see all the results at www.fly-killarney.com.au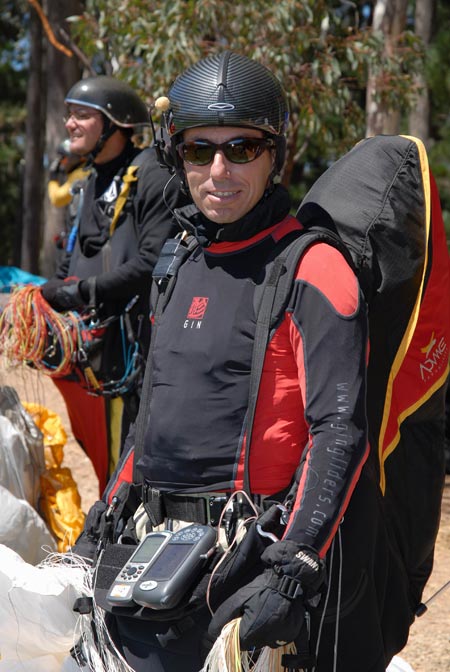 Craig Collings, photo: Olivier Barthelmes
Women's winner Viv Williams talks to Mark Watts and Craig Collings who offer some insight into two very different approaches to cracking Killarney's predominantly flatland conditions.
VW: Mark, you're a well respected British team pilot. How do you find the flying here in Aus?
MW: Really, you just have to get yourself here and do it. Australian conditions are sometimes really booming, and it's relatively easy to get around if you're sensible. It's awesome. I like the flatlands; it's really unstressful as you're never up against a ridge. In this comp I flew around 450 km in six days, that's a whole summer of flying in the UK.
VW: And your hints for success?
MW: Get yourself into a good gaggle; it gives you a massive advantage. A good gaggle is where everyone works together spreading out to find lift, and everyone does their bit to contribute. The winner often comes from the lead gaggle. On the two days I won, it was from pushing hard on the bar right at the end after working with the gaggle for the rest of the task.
VW: You say you hadn't experienced a thermal since mid-October – three months before the comp! How did you get yourself into the right mind-space?
MW: There are some similarities; this is like classic days in the UK, but with higher bases. Also, mental toughness counts. I know all the theory, but in practice it's harder. My sort of personality doesn't analyse it, I just get out there and do it. If I feel great, like now, I go great. You get this feeling you're going to keep going OK. I just hold onto that feeling.
In contrast to Mark's instinctual surfer style, Craig, who has been the Australian Champion for the last three years, is firmly rooted in the chess player camp. Vivian persuades him to spill the beans on strategy.
VW: You won pretty convincingly here in Killarney, what would you put your success down to?
CC: There are a few factors, like good preparation, I always try to get in plenty of flying leading up to a comp so I feel ready to compete. In the comp when the conditions were tricky I flew more conservatively, and then more aggressively in the stronger conditions. By conservative I mean I took all the lift available; in one task it shaded out 30 km from goal, I ended up climbing in 0.1 m/s to 0.5 m/s for about 40 minutes and just managed to limp into goal. In comparison, if lift is strong, I search more in the thermals, but don't stop till I find a good climb (3 m/s). Also, I will transition with a reasonable amount of speed on. Starting at the optimal time is important, as the tasks were all elapsed time. On one hand it was vital not to leave early because of the conditions, but you also can't leave it too long. At the end of the day, I would put my success down to my ability to gear up and down depending on changing conditions and fortunes.
VW: Conditions have been fairly windy over the comp, what hints do you have for flying on these sorts of days?
CC: The main trick is not to get too low, as the thermals get very broken up by the wind. Start searching for your next thermal higher up. If you lose your thermal after a couple of turns, you have probably lost it downwind rather than upwind like a traditional thermal. Also, the cores shift around more; to re-find the surge I had to relocate 50-100 m away either to the right or left (crosswind). In the flatlands time in the air improves your chances of finding a thermal. This is often done by drifting downwind in zeros. Wait patiently either for the next thermal to build from the zero, or until you drift into the next one.
VW: How about the pressure of competing?
CC: In other competitions I have really felt the pressure, but here I achieved a significant lead after four tasks. This reduced the pressure and I flew better. On the last task I had an 800-point lead so I pushed hard and won the day. There's an old saying which states, confidence builds success, and success builds confidence.
VW: Well, may we all have a slice of that!
---
• Got news? Send it to us at news@xccontent.local
Subscribe to the world's favourite hang gliding and paragliding magazine