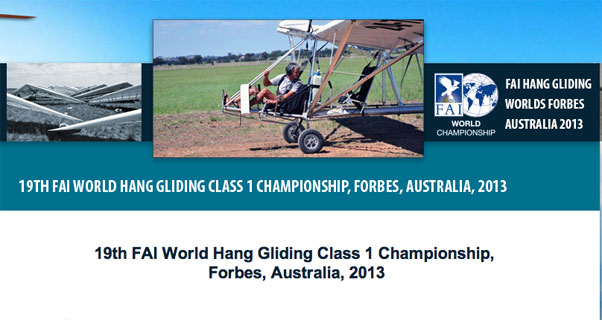 The 19th Hang Gliding World Championships starts 7 January 2013 and promises nearly two weeks of non-stop racing in the skies of Australia.
The competition is being held in Forbes where over 100 pilots will tow into the air for up to 11 days of competition.
There is no live tracking at the competition, but online spectators can keep up to date with the day-to-day action through the Oz Report – Davis Straub, editor of the Oz Report, is meet director of the competition and will be filing daily reports.
In an earlier interview with us he said, "We expect good flying every single day … We have been flying at Forbes for many years and it is always good."
Pilots are hoping for a better result than the last World Championships. Held in Italy it was decided on two tasks after the comp was plagued by bad weather.
Good luck to all competitors!
Official website
www.forbesflatlands.com
Oz Report online
www.ozreport.com
Oz Report Twitter feed
twitter.com/ozreport
---
• Got news? Send it to us at news@xccontent.local
Never miss an issue
Our subscribers receive 10 issues a year, the annual Travel Guide and exclusive access to competitions and offers
Subscribe today