Alex Raymont set a new Canadian open distance paragliding record on 20 May 2017 when he flew 334.5km over eight hours on his new Gin Explorer (EN B). Canada's Stewart Midwinter reports:
A group of paraglider and hang glider pilots are all gathered together in Alberta this week for the "Miles in May" record encampment, taking advantage of the yearly dry weather window between the end of winter and the beginning of the rainy month of June. As we draw near the summer solstice, pilots on the northern prairies can take advantage of nearly 16 hours of daylight, as the sun does not set until 9.30pm.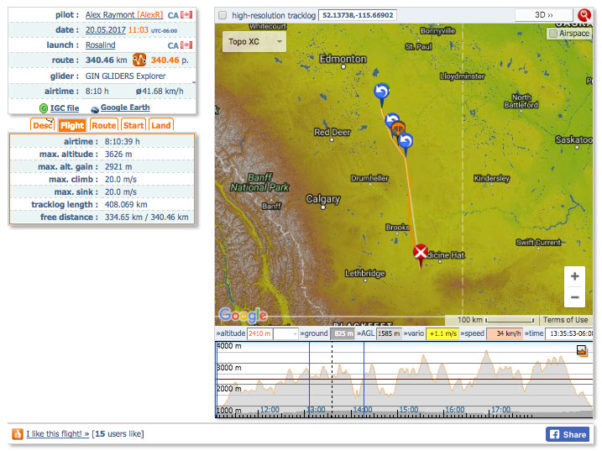 From a surface tow just after 11am on 20 May 2017, near the town of Camrose, southeast of Edmonton Alberta, Alex flew eight hours almost straight south towards the US border, landing after 7pm in the evening. His flight of 334.5km smashes the old record of 227km by more than 100km! That record was also set by Alex two years ago during the same record encampment week.
Peter Spear got away an hour later around noon, and also had a very good day, making a 7 hour, 307km dogleg flight and landing not far from Alex.
More on the Miles in May record encampment on Nicole Mclearn's blog here.
Never miss an issue
Our subscribers receive 10 issues a year, the annual Travel Guide and exclusive access to competitions and offers
Subscribe today