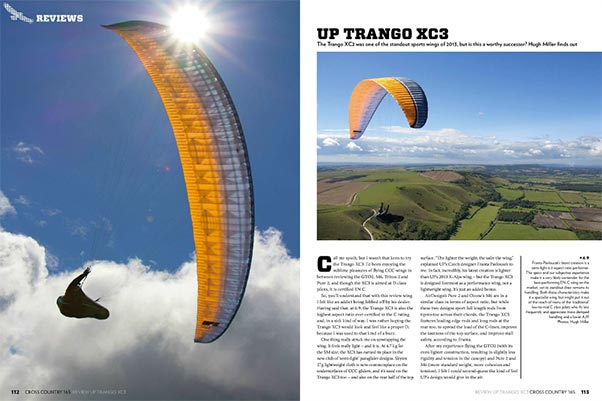 The Trango XC2 was one of the standout sports wings of 2013, but is this a worthy successor? Hugh Miller finds out
Call me spoilt, but I wasn't that keen to try the Trango XC3. I'd been enjoying the sublime pleasures of flying CCC wings in between reviewing the GTO2, M6, Triton 2 and Pure 2, and though the XC3 is aimed at D class pilots, it is certified EN C.
So, you'll understand that with this review wing I felt like an addict being fobbed off by his dealer. Having said that, at 6.9, the Trango XC3 is also the highest aspect ratio ever certified in the C rating and in a sick kind of way, I was rather hoping the Trango XC3 would look and feel like a proper D, because I was used to that kind of a buzz by now.
One thing really struck me on unwrapping the wing. It feels really light – and it is. At 4.7 kg for the SM size, the XC3 has earned its place in the new club of 'semi-light' paraglider designs. Skytex 27 gram lightweight cloth is now commonplace on the undersurfaces of CCC gliders, and it's used on the Trango XC3 too – and also on the rear half of the top surface.
"The lighter the weight, the safer the wing," explained UP's Czech designer Franta Pavlousek to me. In fact, incredibly, his latest creation is lighter than UP's 2013 X-Alps wing – but the Trango XC3 is designed foremost as a performance wing, not a lightweight wing. It's just an added bonus.
Air Design's Pure 2 and Ozone's M6 are in a similar class in terms of aspect ratio, but while these two designs sport full length rods from tip-to-toe across their chords, the Trango XC3 features leading edge rods and long rods at the rear too, to spread the load of the C-lines, improve the tautness of the top surface, and improve stall safety, according to Franta.
After my experience flying the GTO2 (with its even lighter construction, resulting in slightly less rigidity and tension in the canopy) and Pure 2 and M6 (more standard weight, more cohesion and tension), I felt I could second guess the kind of feel UP's design would give in the air.
But I was wrong!
Read the full review in Cross Country 165 (Nov 2015)
---
Cross Country is a reader-supported international publication and is available through subscription only. We publish 10 issues a year in print and digital. Subscribe to Cross Country.
Never miss an issue
Our subscribers receive 10 issues a year, the annual Travel Guide and exclusive access to competitions and offers
Subscribe today