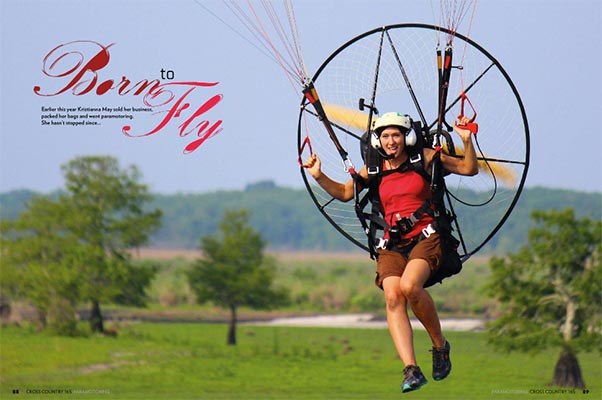 What's it like being a young woman learning to fly in a male-dominated scene? I feel proud to represent the more feminine side of PPG, and I hope I can get the word out that women can and are getting out there like me, flying paramotors and loving every minute of it.
France has a Classic Competition training program specifically for women. People might assume we are tomboys; rough and tumble like the guys. On the contrary, there's a lot of finesse and grace involved.
I am anything but athletic or masculine – I'm not into sports, I can't catch a ball and I have an "inconvenient" amount of hair. If I can do it, any girl can, and I wish women would feel less intimidated by the idea of a motor on their back.
With a proper foundation in training and the right instructor guiding you at your own pace with equipment and wings that are appropriate for your size and strength, it is both safe and thrilling. I love my little Miniplane that I can swing on one shoulder.
Flying has enriched all aspects of my life and character. It's amazing how it shapes the way you evolve as an individual, pushing you beyond your personal limits and forcing you to grow. I feel more mentally alert and aware, and better able to cope with daily challenges. I also feel more self-confident and in control of my life and destiny, and that somehow, I'm more aligned with my purpose.
My advice to other girls: If you have any inclination to wake up in the morning with a smile, if you want to feel proud and confident and break the barriers of convention, or if you simply dream of floating in the sky, don't let your dreams be dreams. Talk to an instructor, and don't hesitate to consider paramotoring because you're a woman.
Read the full article in Cross Country 165
---
Cross Country is a reader-supported international publication and is available through subscription only. We publish 10 issues a year in print and digital. Subscribe to Cross Country.
Never miss an issue
Our subscribers receive 10 issues a year, the annual Travel Guide and exclusive access to competitions and offers
Subscribe today