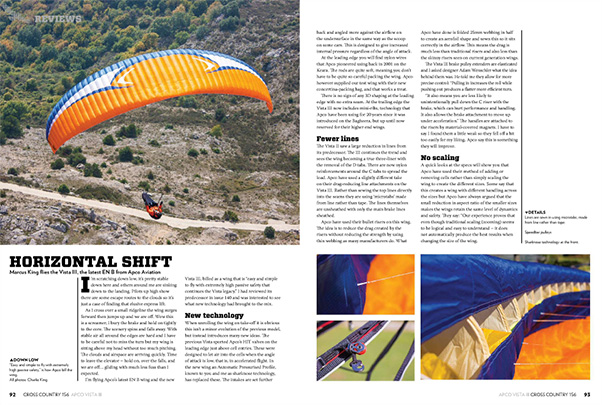 Cross Country 156 (Nov/Dec 2014) sees the latest EN B from Apco Aviation put through its paces. Marcus King writes:
I'm scratching down low, it's pretty stable down here and others around me are sinking down to the landing. Pilots up high show there are some escape routes to the clouds so it's just a case of finding that elusive express lift.
As I cross over a small ridgeline the wing surges forward then jumps up and we are off. Wow this is a screamer; I bury the brake and hold on tightly to the core. The scenery spins and falls away.
With stable air all around the edges are hard and I have to be careful not to miss the turn but my wing is sitting above my head without too much pitching. The clouds and airspace are arriving quickly. Time to leave the elevator – hold on, over the falls, and we are off… gliding with much less fuss than I expected.
I'm flying Apco's latest EN B wing and the new Vista III, billed as a wing that is "easy and simple to fly with extremely high passive safety that continues the Vista legacy." I had reviewed its predecessor in issue 140 and was interested to see what new technology had brought to the mix.
The full review is in Cross Country 156.
---
• Got news? Send it to us at news@xccontent.local
Buy and sell gear on Skyads.aero