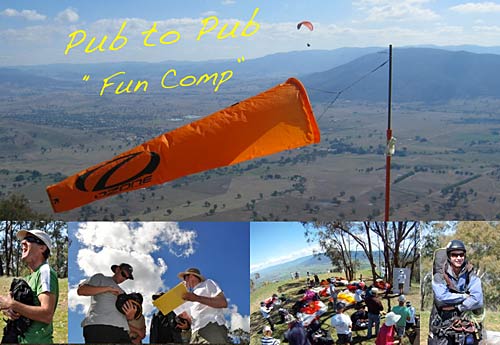 Pub to Pub is a fun paragliding competition that doesn't take itself too seriously. It's taking place in the Corryong region of Victoria, Australia from 14-17 February 2012, just before the Ozone Corryong Open. 
A "challenging" task with turnpoints will be set each day, with goal at a different pub in the region. The emphasis is on fun, and the idea is that  pilots will have some great flights, maybe set some personal bests and then have a great time at the pub afterwards.
The entry fee of AU$60 includes a drink voucher for the bar when you arrive at goal.
A handicap system will be used in the scoring, and there will be small day prizes with a cash jackpot and of course the ultimate prize, the fame of winning the very first Pub to Pub.
More information at www.corryongopen.com.au
• Got news? Send it to us at news@xccontent.local.
Subscribe to the world's favourite hang gliding and paragliding magazine
Never miss an issue
Our subscribers receive 10 issues a year, the annual Travel Guide and exclusive access to competitions and offers
Subscribe today