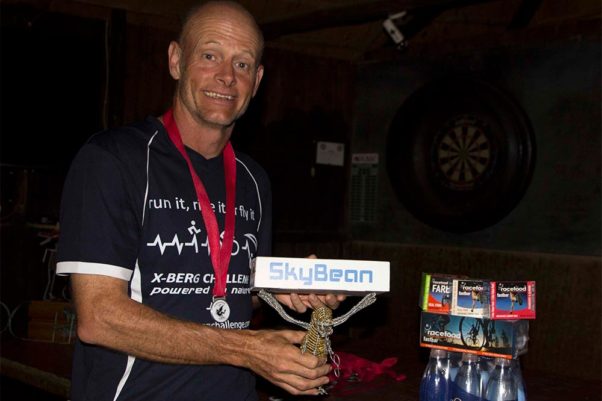 Paraglider pilot Pierre Carter won the 2017 X-Berg Challenge – a 110km (straight-line distance) adventure race around turnpoints in the Drakensberg mountains of South Africa which took place from 2-4 March. 
The X-Berg Challenge pits paraglider pilots, trail runners and mountain bikers against each other, and can be entered solo or as relay teams, with participants choosing one or more of the disciplines and being allowed to change discipline at turnpoints. Quickest time wins, but a relay team cannot win the overall event.
This year relay team Gimlet Eyed Dorks (Piers Pirow and David Barkhuizen, trail running and mountain biking) were first across the line, but it was the first solo competitor – Pierre – who was declared the event winner. Slovakian paraglider pilot and 2016 winner Juraj Koreň was third overall.
Next year's event is already in the planning, and the dates to note are 27 April to 1 May 2018.
Organisers sent us this report:
Imagine the smell of wet grass on your trail running shoes, the warmth of the morning sun after a chilly night sleeping underneath a rock overhang on the mighty Drakensberg's spine. You have covered roughly 40km the previous day navigating your way through remote wilderness areas, perhaps solo or with a fellow teammate. Today you need to decide which of the steep mountain passes will allow you to get to your next turnpoint the fastest to get more supplies (such as RaceFood, aQuella flavored water and more Ici-Co) before continuing one of the most testing journeys your favorite sport could have in store for you – the X-Berg Challenge!
This unique multi-day event is different to any other event in many ways. It is a small field of tough athletes with amazing endurance and navigational skills who enter (roughly 70% returning to the event each year) – maximum 45 entries permitted per year. The race initially was designed around paragliding a course around the Drakensberg as a fundraiser, but then mountain biking and trail running were added as additional disciplines for those daring to take on a real challenge. It is the only event that has paragliders, trail runners and mountain bikers competing against each other at the same time over a multi-day course of around 110km total straight line distance. It is not a stage race. Athletes can either enter to participate in one discipline throughout, or enter in the mixed discipline class (where they get to choose to either trail run, mountain bike or paraglide the route only changing discipline at turnpoints), or enter as a relay team (only changing at turn points to a next team member or discipline). This unique flexibility gives you the option to change from one discipline to another should the weather not favor what you had planned (for example if it looks like rain and you were to paraglide a certain leg of the race, you can change to cycling – subject to you having entered the mixed discipline class). Paragliding pilots may compete almost equal to trail runners when on foot making use of lightweight paragliding gear such as a hike & fly Gradient wing and SkyBean vario to lighten the pack.
This epic event also features live tracking allowing supporters and fans to follow the race in real time via the internet on their smart devices and computers (thanks to SportTrax for the 2017 tracking services!).
There are several turnpoints (checkpoints) that competitors must reach en-route from start to finish. Athletes may decide their own route to get to each turnpoint. The X-Berg Challenge route changes from year to year. For the past five years the race generally starts at the Border Post (Phatt Chef Roadside Diner B&B/Windmill Farm) on top of the spectacular Oliviershoek Pass and takes the athletes past the newly renovated Witsieshoek Mountain Lodge up to a point near Sentinal Peak. From there participants may choose to either go down via the beautiful Royal Natal National Park or up and over the chain ladders on top of the spectacular Drakensberg escarpment to the next turnpoint which is in the Mnweni valley. From here the next point is at Mikes Pass at Didima Lodge / Cathedral Peak area before crossing to the Monks Cowl area. Ezemvelo KZN Wildlife properties and campsites are ideal for the support crew overnight stops en-route to back their athletes. The 2017, 2016 and 2015 events finished in the Champagne Valley at Mountain Splendour Eco Resort, whereas the 2014 and 2013 events continued past Giant's Castle and finished at Underberg.
The individual or team completing the route in the fastest time is the winner. However, a relay team cannot win the overall event as they get 'fresh legs' at turnpoints en-route. There are several rules such as competitors missing a turnpoint (not getting within the stipulated radius of that particular turnpoint) or transitioning at an incorrect spot are penalized (subtracting hours). An enforced rest period at night for a few hours is also implemented for safety reasons and to ensure athletes rest for better decision making, help fight fatigue etc – and if not adhered to also results in a penalty.
The 2017 event was held 02-04 Mar, this past weekend, and saw relay team Gimlet Eyed Dorks, Piers Pirow and David Barkhuizen, cross the finish line first (trail running & mountain biking). However, due to them entering as a re-lay team, they finished 2nd overall. Paragliding pilot Pierre Carter came in second over the finish line and therefore took first place on the podium. Gradient sponsored paraglider Joraj Koren from Slovakia was 3rd overall.
This is truly a challenge of exploring, experiencing and living the dream to go big in sunny South Africa's best kept secret, the Drakensberg!
RESULTS
Overall
1st Pierre Carter (paragliding, solo)
2nd Team Gimlet Eyed Dorks – Piers Pirow & David Barkhuizen (trail running & paragliding re-lay)
3rd Juraj Koren (paragliding, solo)
Mixed Discipline Throughout
1st Team Pure Adventures – Michael de Haast, Laura de Haast, Adrian Saffy & Floors Welthagen (trail running & mountain biking)
2nd Hendrik van Zyl (paragliding, trail running & mountain biking)
Relay Mixed Discipline
1st Team Gimlet Eyed Dorks – Piers Pirow & David Barkhuizen (trail running & mountain biking)
2nd Team NetTrace & Co – Jonathan Bass, Ted Wood & Andre Dempers (mountain biking)
Single Discipline Throughout – Mountain Biking
1st Justin Armstrong
2nd Team Mad Bad & Dangerous – Clive Leader & Rory Eidelman
Single Discipline Throughout – Paragliding
1st Pierre Carter
2nd Juraj Koren (Slovakia)
3rd Jeremy Holdcroft
Single Discipline Throughout – Trail Running
1st Vanessa Fisher
2nd Team Tail Gunners – Wiljee Blom & Terence Westcott
---
• Got news?
Send it to us at news@xccontent.local.
Subscribe to the world's favourite hang gliding and paragliding magazine home
Never miss an issue
Our subscribers receive 10 issues a year, the annual Travel Guide and exclusive access to competitions and offers
Subscribe today