Husband-and-wife duo Alexandre and Marie Mateos were first and second in the 6th FAI European Paramotor Championships that were held in Břeclav, Czech Republic, from 19-26 August 2017. 
There was no separate women's prize, so Alex is European Paramotor Champion and Marie vice-champion. France took all three podium spots, Pierre Lefebvre being the bronze medal winner in an event with 100 pilots representing 13 nations in its line-up.
Eight tasks decided the results, with Alex winning all eight! By contrast, Marie improved her task positions throughout the competition, coming 29th in the first task and then 10th, 3rd, 6th, 6th, 2nd, 2nd, 2nd. She writes:
The start of the competition was not perfect for me. After winning the training task, I took too much margin on my "pure navigation" (max. turnpoints and max. kilometres in a defined time) which put me in 29th position. Ouch ouch ouch! Later, I missed my preciusion landing: the hopes of the podiums are not very good at the moment. Due to the correct weather, we continued with other tasks, which allows me to climb as best as possible in the rankings. Finally at the end of these 17 hours of flights, I finish 2nd in this championship, silver medal in the overall standings! Among the men, a goal that was important to me. As one of my partners said: "There was no women's ranking possible, so you found another way to get on the podium!"
Four different types of task contributed to the scores: speed navigation; declaration of time navigation; fuel economy; and take-off and landing precision.
Alex and Marie both use a Macfly Frame and Polini Thor 200 engine. Alex flies with an Ozone Viper 4 18, and Marie a Dudek Hadron XX 18.
Results
Alex mateos, FR, 5856 points
Marie Mateos, FR, 5088 points
Pierre Lefebvre, FR, 4913 points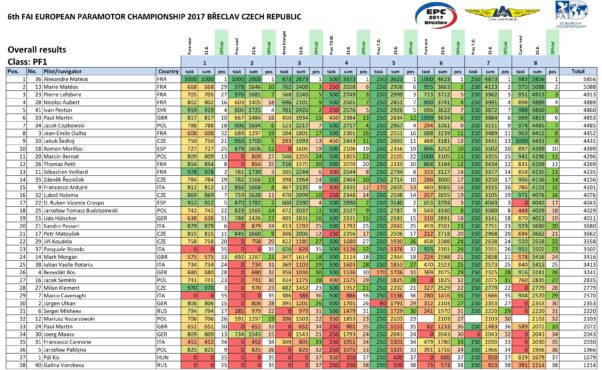 ---
• Got news?
Send it to us at news@xccontent.local.
Subscribe to the world's favourite hang gliding and paragliding magazine home
Never miss an issue
Our subscribers receive 10 issues a year, the annual Travel Guide and exclusive access to competitions and offers
Subscribe today