Getting your advertising right is important. Here are some technical notes that help explain what we need when it comes to providing advertising artwork. If you have any questions, please just get in touch with Verity on advertising@xcmag.com and we will have the answer.

The magazine
Page size: 210mm x 280mm
Full page
No bleed: 188mm x 255mm
Bleed: 216mm x 286mm trimmed to 210mm x 280mm
For adverts with bleed please don't have any copy within 3mm of the trim size!
Half page
No bleed:
Vertical: 92 x 255mm
Horizontal: 188 x 125mm
Bleed:
Vertical: 105 x 286mm trimmed to 102mm x 280mm
Horizontal: 216 x 146mm trimmed to 210mm x 140mm
Third Page
No bleed
Vertical: 60 x 255mm
Bleed
Vertical: 73 x 286mm trimmed to 70mm x 280mm
Classifieds section
Quarter-page horizontal 188 x 57mm
Quarter-page vertical 92 x 118mm
Eighth-page 92 x 57mm
1/16 Page 44 x 57mm

Online at xcmag.com
Billboard: 970 pixels x 250 pixels (across the page)
Mobile: 300 pixels x 250 pixels (max size 150kb)
For our website, both advert sizes should be supplied – depending on whether the reader is using mobile or full-screen the right-sized advert will be delivered.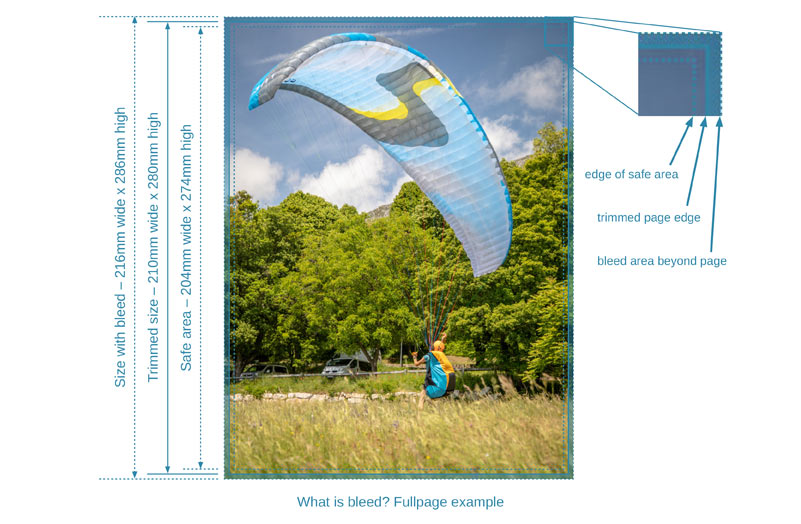 Understanding print
We know that getting things right for printing is a complex operation. Here are some of the most commonly used terms explained.
Trim: This is the actual page size. Each page is cut (trimmed) along these lines. But we must allow some margin for error
Bleed: This is the margin for error in case the page is cut a millimetre or two in the wrong direction. This prevents any white paper showing through. Allow 3mm extra in all four directions – so an extra 6mm height and width.
Safe area: This is the area we recommend that important images or text should stay within to ensure it isn't lost when the page is trimmed.
Resolution: Ink on paper is printed at a resolution of 300 dpi (dots per inch). This differs a lot from screen resolution, which is 72 dpi. It means everything supplied for the printed magazine must be high resolution. It's the same for photographs, adverts and illustrations. As an example, a full-page A4 photograph should be 2480 x 3508 pixels. Any smaller and you start to lose quality when the image is printed.
CMYK / RGB: Printing is done using four inks – CMYK. Anything displayed on a screen uses three colours: Red, Green, Blue (RGB). This means anything supplied for print must be output as CMYK, otherwise it won't reproduce correctly. To ensure best results please check all your files are CMYK before sending them to us.
---
Please help us help you
Look out, here comes some legal contractual stuff…
Conditions: With consecutive bookings, we will automatically repeat artwork in each new edition unless the client provides new artwork by the deadlines agreed. Submitting artwork is understood as a firm booking. 50% cancellation charge before deadline, 100% after.
Magazine artwork: We can accept adverts supplied as finished (300 dpi) JPGs or PDFs (preferred) with all fonts either embedded or as outlines. A charge may be incurred if any work needs to be undertaken to ensure your advert prints correctly. Please supply a colour proof.
Online artwork: Adverts should be supplied as .jpg or .gif files with a max file size of 150kb, although we prefer less. The minimum term for online adverts is three months.

Artwork deadlines for issue numbers
Cross Country 197, Feb/March: 30 Nov 2018
Cross Country 198, Apr: 1 Feb 2019
Cross Country 199, May: 15 Mar
Cross Country 200, June: 12 Apr
Cross Country 201, July: 17 May
Cross Country 202, August: 21 June
Cross Country 203, September: 19 July
Cross Country 204, October: 23 August
Cross Country 205, November: 20-Sep
Cross Country 206, Dec 2019/Jan 2020: 18 Oct
Travel Guide 2020: 8 Nov
Cross Country 207, Feb/Mar 2020: 29 Nov
Get in touch
Please drop Verity a line on advertising@xcmag.com, Skype us on 'xcmagazine' or ring on +44 1273 256 090.