Advertising with Cross Country magazine is a great way to get your message across to the international community of pilots.
---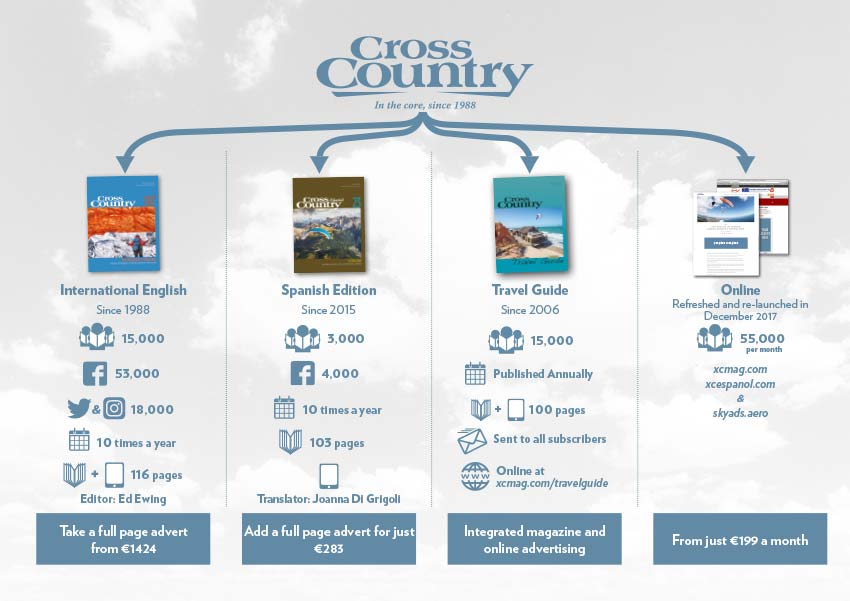 About Cross Country
Published since 1988, Cross Country is the world's only international free flying magazine, and enjoys a reputation for quality and integrity.
It is the perfect medium for you to reach thousands of pilots across the globe, both in established markets and emerging free flying nations too.
Printed in full gloss Cross Country is unsurpassed as a showcase for the most inspirational imagery from the best photographers in the sport.
Our magazine is also available digitally on the iPad or tablet through the Zinio app, expanding our reach even further. The Spanish edition is available digitally.
Cross Country magazine reflects our passion for paragliding and hang gliding and provides our community with the most up-to-date information on new gliders and developments.
Add to that inspirational stories from those at the edges of our sport, humourous columns, flying tips and advice from the world's best pilots and the most mouth-watering photography we can lay our hands on.
It all means Cross Country is a fantastic tool to help you reach out to the world's pilots.
Download our advertising media planner and view our key figures in our infographic
---
About our readers
An independent survey of Cross Country's readership reveals:
Unique: Cross Country reaches a unique audience of influential pilots, with very little cross-over readership between Cross Country and any one other magazine.
Loyal: The average reader has been reading Cross Country for three years and eight months, and 89% of pilots think Cross Country is the best magazine in free flying.
Passionate: Our readers are obsessed with flying, and are influential figures. 52% fly at least every week, 20% are instructors or coaches, and 75% fly cross-country or competitions.
High disposable income: They spend on average €1,587 a year on travel, and €1,401 a year on equipment. This represents a total spend in excess of € 50 million a year on flying by Cross Country readers.
Keen on kit: Cross Country readers fly sport gliders, and buy a new wing every 2 to 3 years and a new flying suit, harness, vario or other instrument every 1 or 2 years.
Internet savvy: Most readers are aged 30-45, and use the internet very frequently – with 43% spending an hour a day online.
---
Production

We offer an outstanding standard of production from the word go. With each issue, from sourcing content and images through to the printing process, we ensure that by using professional suppliers our end product is perfect every time.
---
Distribution

Cross Country's circulation has steadily grown, and we now have shop sales and subscribers in 75 countries. That makes Cross Country the only worldwide flying magazine.
Circulation is strong in Europe, the USA, Australasia and the Far East, and is also growing in important emerging markets like Eastern Europe and South America.
Research shows we are especially well-read by influential pilot groups – instructors, retailers and competition pilots.
---
Editorial

Cross Country keeps its readers informed about the hottest new products. We'd welcome your new product news, team news and other news. Please send it to news@xcmag.com
---
Promotions
In addition to advertising, we also offer bespoke marketing opportunities and print solutions, including DVD cover mounts, poster inserts, sponsorship of our yearly Fly Forever calendar, and other solutions to help your brand develop and your sales grow.
---
Online
Social media reach of 70,000 and our websites mean we have a large and growing presence online, with advertising opportunities available.
---
Get in touch
Please drop Verity a line on advertising@xcmag.com and ask her to send you a media planner. Or ring us on +44 1273 256 090.