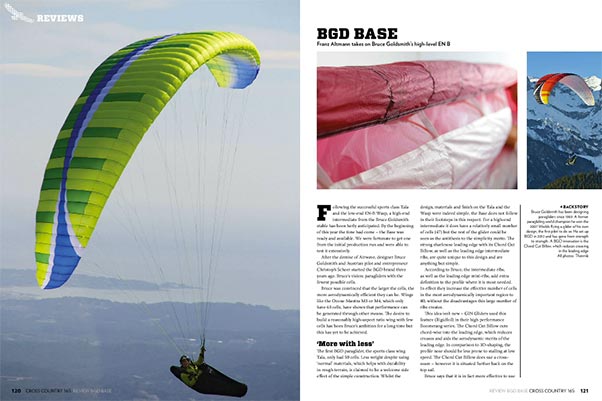 Franz Altmann takes on Bruce Goldsmith's high-level EN B
Following the successful sports class Tala and the low-end EN B Wasp, there has been great anticipation of a high-end intermediate from the Bruce Goldsmith stable.
By the beginning of this year the time had come – the Base was ready and available. We were fortunate to get one from the initial production run and were able to test it extensively.
After the demise of Airwave, designer Bruce Goldsmith and Austrian pilot and entrepreneur Christoph Scheer started the BGD brand two years ago. Bruce's vision: paragliders with the fewest possible cells.
Bruce was convinced that the larger the cells, the more aerodynamically efficient they can be. Wings like the Ozone Mantra M3 or M4, which only have 63 cells, have proved that performance can be generated through other means.
The desire to build a reasonably high aspect ratio wing with few cells has been his ambition for a long time but this has yet to be achieved.
Read the full review in Cross Country 165
Never miss an issue
Our subscribers receive 10 issues a year, the annual Travel Guide and exclusive access to competitions and offers
Subscribe today