When Nick Greece first went to Haiti to fly he didn't expect to fall in love with the country. He did.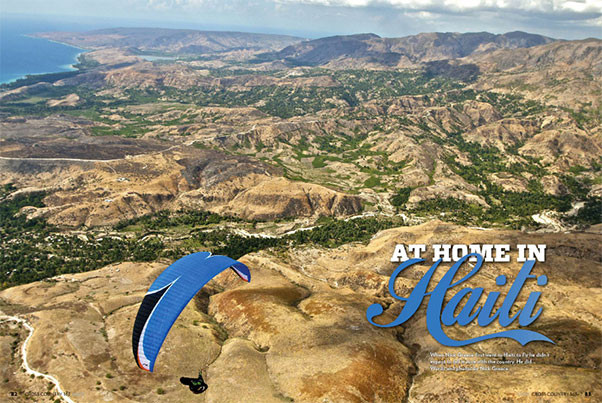 Many people question why I keep going back to Haiti, and the answer, like the country, is complex. The easy answer is "the flying is spectacular, and I like to fly paragliders."
The deeper yet canned response is, "I admire the rich culture and the strength of a people who have borne witness to numerous historic tragedies, yet still march firmly forward with hope of a better future to come."
However, the more often I return, the more hollow that response sounds, because only visiting the country can enlighten the curious as to the why. Rarely in this day and age of show-and-tell are photos and words not enough to sufficiently reflect an experience, and that is one of the draws of a place like Haiti.
It's a country filled with people who must work harder than anyone in the West can imagine in order to provide basic necessities for their families. It's a country where Voodoo Art and RaRa music encapsulate the times and lives of the people as uncertainty permeates every step forward.
Yet every day the populous awakens and seizes any available opportunity because they must in order to thrive. Nothing is a "gimme," including the flying…
The full article is in Cross Country 163 (September 2015).
---
Cross Country is a reader-supported international publication and is available through subscription only. We publish 10 issues a year in print and digital. Subscribe to Cross Country.
Never miss an issue
Our subscribers receive 10 issues a year, the annual Travel Guide and exclusive access to competitions and offers
Subscribe today