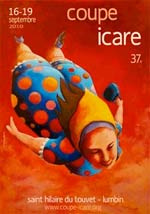 The famous Coupe Icare kicks off today at St Hilaire du Touvet, France, and runs until Sunday night (16 – 19 September 2010).
Alongside the film show will be the usual mix of trade stands, fancy-dress fly-downs, balloons, birds of prey and all manner of things to keep children and adults entertained, and the event promises as always to be a great way to spend the weekend.
Cross Country/Paramotor Magazine's stand will be in the exhibition area, so come along and have a chat with the team and a browse of the XCShop.
You can bring along second hand kit to sell at the second-hand market, or buy that piece of kit you need at a bargain price. This year paramotors are included in the second-hand fair.
Thursday and Friday the skies are open to free-fliers, so enjoy a flight over the event or take an early morning hike-and-fly from the Dent de Crolles over the weekend, when the skies are reserved for the fancy-dress fly-down and various official airshows during the day.
If you want to test out your reserve parachute there is a zipwire especially for the purpose.
The funicular will be running from 7pm until 1am on the Saturday evening to get people up from the landing field to the evening's events on the South take-off, for the special return price of 5 €.
---
• Got news? Send it to us at news@xccontent.local.
Subscribe to the world's favourite hang gliding and paragliding magazine
home
Never miss an issue
Our subscribers receive 10 issues a year, the annual Travel Guide and exclusive access to competitions and offers
Subscribe today