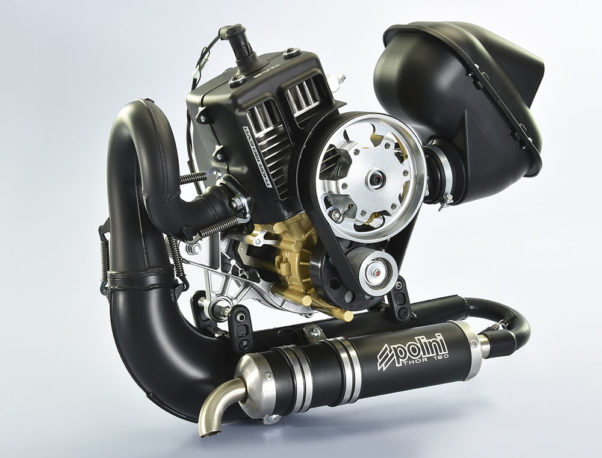 The Thor 190 Evo from Polini is a powerful two-stroke engine with "an excellent power-to-weight ratio".
The 193cc two-stroke engine weighs just 13.6kg. There are lots of design improvements, listed below, and it's available in different versions with centrifugal clutch and electric start options.
Piston with new profile, that improves the performance and reduce the wear of the piston rings
Modified carburetor with new setting and specific filter. The new setting, beyond granting a power increase to 8000 RPM, improves the power output which is more linear and constant. The filter, re-designed in its intake holes, grants a noise reduction and makes the carburetion adjustment easier .
Exhaust system: it is divided into two sections with manifold with spherical connection and fixed on natural rubber suspensions that grant longer life. The exclusive new springs with steel hooks make them stronger and offer the possibility to be better fastened.
Flash starter with new design, with its starter spring profile entirely revisited, is made of carbon steel, with exclusive Polini formula that grants a longer life. To improve the fixing, screws with M6 reinforced section have been used.
New shroud design which optimizes the forced air flow improving the engine cooling.
Polini THOR 190 EVO engines feature two stroke 193cc engine, with really reduced weight of 13,6 kg, transmission with belt gearing-down, compact dimension but powerful.
Belt transmission with 2,83 reduction ratio.
SPECIFIC POWER UNIT
The power unit with 193cc displacement, 64mm bore and 60mm stroke, is cast in light alloy. It offers the maximum performance with 27 hp power at 8000 rev/min. even at the maximum working temperature. The cylinder liner has a nickel-chrome coating for the best piston sliding. The piston is gravity die-cast in light alloy at high silicon content with 2 chromed and nitride steel rings. The new profile improves the performance and reduce the piston ring wear.
EXHAUST SYSTEM
The exhaust system is completely hand made for a better product quality.
The muffler has been designed to achieve a compact design, contained dimensions and to reduce its weight. The reduced overall dimensions improve the aerodynamic and grant a low noise level.
BETTER COOLING
The forced air cooling system grants a better air cooling, optimizing the performance and maintaining fixed- temperatures.
FIXING SYSTEM
The frame-engine fixing points of the Polini Thor 190 Light are exactly the same as the other engines: Thor 80, Thor 130, Thor 200 and Thor 250.
The other models of Thor 190 EVO engine are:
---
• Got news?
Send it to us at news@xccontent.local.
Subscribe to the world's favourite hang gliding and paragliding magazine home
Never miss an issue
Our subscribers receive 10 issues a year, the annual Travel Guide and exclusive access to competitions and offers
Subscribe today