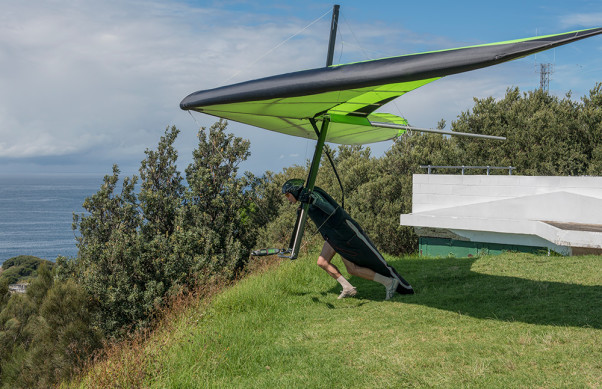 Moyes' new Gecko is an intermediate hang glider, fitting between the Malibu and the Litesport Class in their range.
Moyes say the Gecko has great handling and performance, with good responsiveness to weight shift and short packing dimensions.
The company say:
The Gecko utilises a 50/52mm leading edge construction with 62mm crossbars – all in 7075 T6 aluminium alloy tubing – like the Malibu. The result is that it's very responsive to weight-shift without compromising maximum pos/neg load requirements for certification.

It sports a sophisticated wing planform, with its carbon outboard dive strut retained inside the 70-90% double surface. The wing is finished off with a radial glass-tip design, allowing short packing dimensions for storage and transport.

The Gecko features a side-cable/luff-line compensation system like its bigger brother, the Litesport. This eliminates unpleasant wire slack while launching, and at the same time guarantees solid pitch stability without compromising glider performance throughout the range of its exceptionally efficient VG system.

With its advanced rigging system and high performance like "dingle-dangle" hang point, the cable geometry is such that the Gecko lays flat and packs up without any tricks – the kingpost folds forward with enough luff line slack to allow for a straight forward procedure.
The Gecko is currently available in the medium size, for pilots weighing 55-86kg (optimum weight range is 72-77kg). Its stall speed is as low as 28km/h, and top speed 90km/h plus.
Specifications (M size)
Area: 14.4 m²
Span: 9.66 m
Nose Angle: 124 Degrees
Aspect Ratio: 6.5
Weight: 29.5 kg
Pilot Weight range: 55- 86 kg. Optimum Pilot weight range: 72-77 kg
No. of Battens: Top Surface 8, under surface 2
Double Surface: 70 – 90 %
Stall Speed: 28 km/h
Top Speed + 90 km/h
---
Cross Country is a reader-supported international publication and is available through subscription only. We publish 10 issues a year in print and digital. Subscribe to Cross Country.
Never miss an issue
Our subscribers receive 10 issues a year, the annual Travel Guide and exclusive access to competitions and offers
Subscribe today