Cross Country is at the Coupe Icare in St Hilaire du Touvet, France. We'll be blogging on this page so check back over the weekend 21-23 September 2012 and refresh this page occasionally for updates. If you're heading to the festival, come and visit us on stand B21.
---
10.30am Sunday 23 September 2012
It's a beautiful day and people are flying.
Yesterday turned out nice, with the masquerade flying successfully taking place in the afternoon. The trade tents were packed and later on the expert Parabatix pilots showed us their stuff in the paramotor pylon racing.
The evening was taken up with the winners of the film festival – the 30th film festival held here at the Coupe Icare.
They include:
Icare d'Or – The Gold Cup: I believe I can fly, by Sebastien Montaz Rosset
Icare de l'Aventure – The Adventure Prize: Karakoram Highway, by Olivier Bonnjing
Icare de l'Originalite – Best Original Film: Paragliding Circus, by Shams.
We saw them all and they are all deserving winners.
Today looks like a great day, with hot air balloons floating up from the valley early this morning, a few pilots coming down from the summit on paragliders and plenty of powered action in the paramotor field this morning.
The deguisements / masquerade flying starts at 11am local time. See you down there!
---
2pm update
Just to say the weather is nice here now, and people are flying – the masquerade flights are happening now.
It's turned into a great day!
---
10am, Saturday 22 September
Friday night saw plenty of action down on the South Launch, where the partying went on long into the night.
The famous mass balloon launch made a good spectator sport – which one will get caught in trees, which one will make it through – and the film tent was packed. Bands and dancing, plus the famous green beer of St Hilaire (it is really green – coloured green) meant a good night was had by all.
But by 4am the rain was coming down hard enough to wake many of the campers, and by dawn it was definitely 'not flyable'.
So far Saturday is rainy and cloudy, with cloud drifting across the Parabatix paramotor field, and lots of people in ponchos and rain gear.
No flying this morning, sadly. However, organisers say the forecast is for flyable conditions this afternoon. They are hopeful that the masquerade flying will go ahead today at 1pm, maybe 2pm. Fingers crossed.
---
6.30pm update, Friday 21 September
It's been a busy day here, despite the lack of flying. The weather has been nice, lots of old friends have been greeted, and new friends made.
The weather forecast is for perhaps some light rain overnight, and then hopefully a flyable day tomorrow – less wind than today.
Here are some photos from around:
---
4pm update, Friday 21 September
A quick update to say the weather here has been nice, but too windy to fly all day. But the party atmosphere is in full swing. Lots of people arriving now and the place is filling up. More later…
---
10.30am
The weather.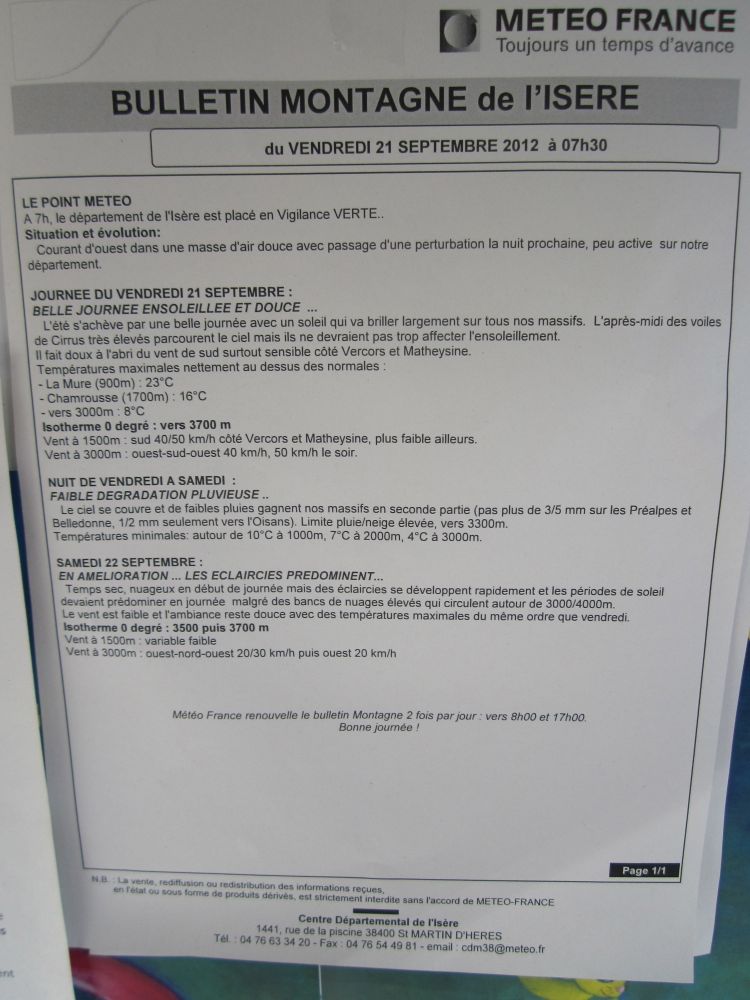 Today is forecast to be the windiest day. Saturday is forecast to be nil/light winds, and sunshine all weekend.
---
8.30am St Hilaire Time, Friday 21 September 2012
It's a beautiful day here at the Coupe Icare, with blue skies this morning. The Paramotor Field has been revving its engines, while out in the valley the hot air balloonists have been floating around. No sign of anyone flying over the top of us having hiked up to the mountain behind us, the Dent des Crolles, yet, so it could be a sign that it is windy up there.
So, croissants are being eaten, coffee drunk and stiff backs warmed in the sun. It's good to be here… it's good to be anywhere!
---
Thursday 20 September 2012, St Hilaire Time
The Coupe Icare is upon us and we are live from St Hilaire.
Free flight's biggest festival is on from 20-23 September and is expected to attract 60,000 visitors over the four day weekend.
The main events are the trade tents (where you will find Cross Country and Paramotor Magazine – come and say hello), the film festival (full details here) and of course, top of the stack, the famous masquerade winged parade on Saturday and Sunday.
There will also be hot air balloonists, sailplanes, acro displays, wingsuiters, eagles, and all sorts of aerial shenanigans.
The weather forecast is good for today and Friday, a bit iffy on Saturday and back on form for Sunday (if you look at it in a positive light). We'll be updating the flyable conditions from here as the weekend progresses, so check in for a weather check if you're thinking about making the trip.
Come on down – don't forget your toothbrush (and bring a jumper, it's chilly in the mornings). And bring the kids – there's loads for them to do.
Last year's blog: Coupe Icare 2011
---
• Got news? Send it to us at news@xccontent.local
Never miss an issue
Our subscribers receive 10 issues a year, the annual Travel Guide and exclusive access to competitions and offers
Subscribe today