Mar
20
Wed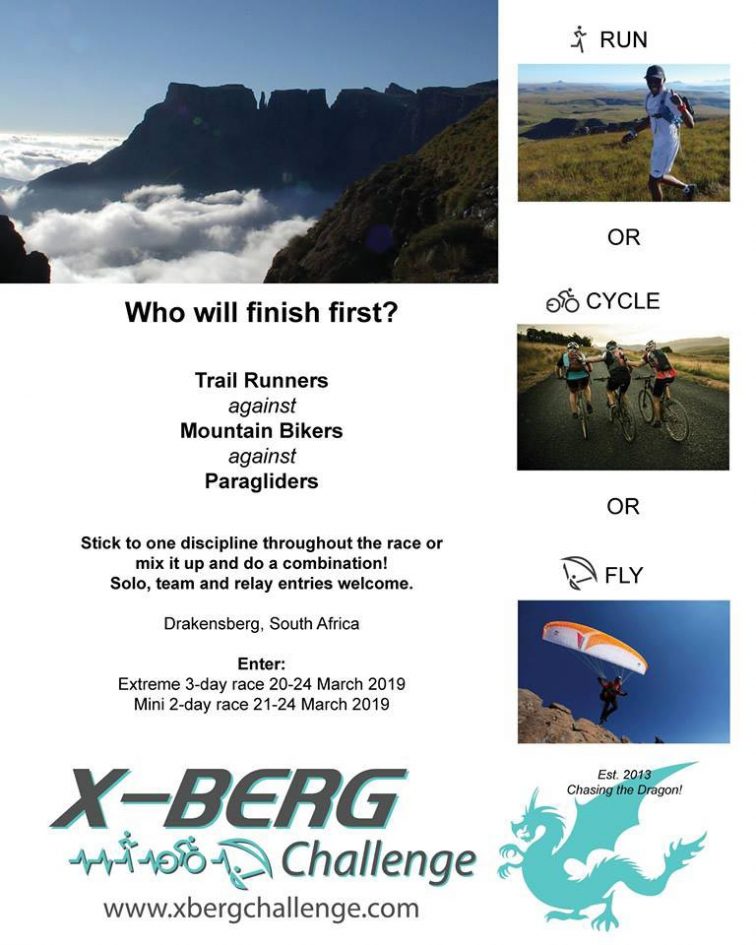 The X-Berg Challenge is a fun and very flexible race. You can choose your discipline between paragliding, running and mountain biking, or mix it up, and plan your own route between the turnpoints.
Extreme 3-day race 20-24 March 2019
140 km (as the crow flies)
If mountain biking you can expect to cover 310km to 340km (depending on your route-finding!) and 10,000m elevation gain.

Mini 2-day race 21-24 March 2019
40km (as the crow flies)
If mountain biking you can expect to cover 105km to 115km and 3,200m elevation gain.
Mar
24
Tue
The eighth edition of the X-Berg Challenge will take place from 24-29 March 2020 with Extreme (three-day) and Mini (two-day) versions.
Paraglider pilots race mountain bikers and runners around turnpoints in the Drakensberg mountains of South Africa / Lesotho. The route distance depends which way you go, and typically only 10% of competitors make it to the finish of the Extreme Challenge.
2019's Extreme winner was mountain biker Jon Kirkman who finished in 24 hours and 43 minutes; second in were biker team Justin Armstrong and Peter Joughin, a day later.
Between Heaven and Earth, who organise the event, are offering complete travel packages from Johannesburg International Airport to the 2020 X-Berg Challenge event, along with return transport, accommodation and add-on travel packages including trips to game reserves, Cape Town and Wilderness retreat.