Nov
15
Thu
Kendal MFF: Ozone Free-Flight Session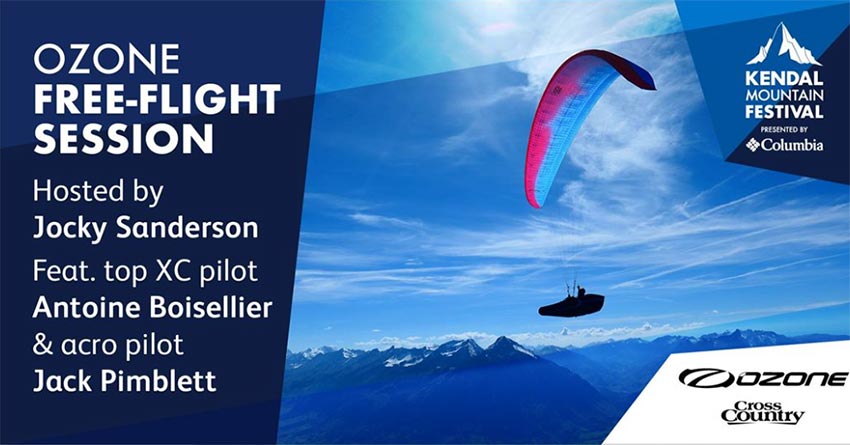 Hang glider and paraglider adventure pilot Antoine Boisellier, and the UK's young acro star Jack Pimblett, will be among the speakers at the Ozone Free Flight Session on 15 November 2018.
Hosted by Jocky Sanderson, the session is just one part of the four-day Kendal Mountain Film Festival, which runs from 15-18 November 2018.
The Ozone Free Flight Session starts at 19:30 on Thursday 15 November at Kendal Town Hall. Tickets are on sale now and cost £12.50 for adults, or £7.50 for under-18s.
The full program of events can be seen here.
May
18
Sat
X-Lakes Challenge 2019

@ Escape Flight Park
Bag as many Wainwrights (peaks over 1,000ft in England's Lake District National Park) as possible in under 32 hours, by foot or by paraglider.
Hike-and-fly rules – you carry your kit, or it carries you. All athletes must stop at night. They can choose to bivy with their kit where they finished up, or book a hotel in town (any transport allowed to get there and back) and return to the spot they stopped at, to restart the next day.
All the rules and sign-up form here.
Jul
11
Thu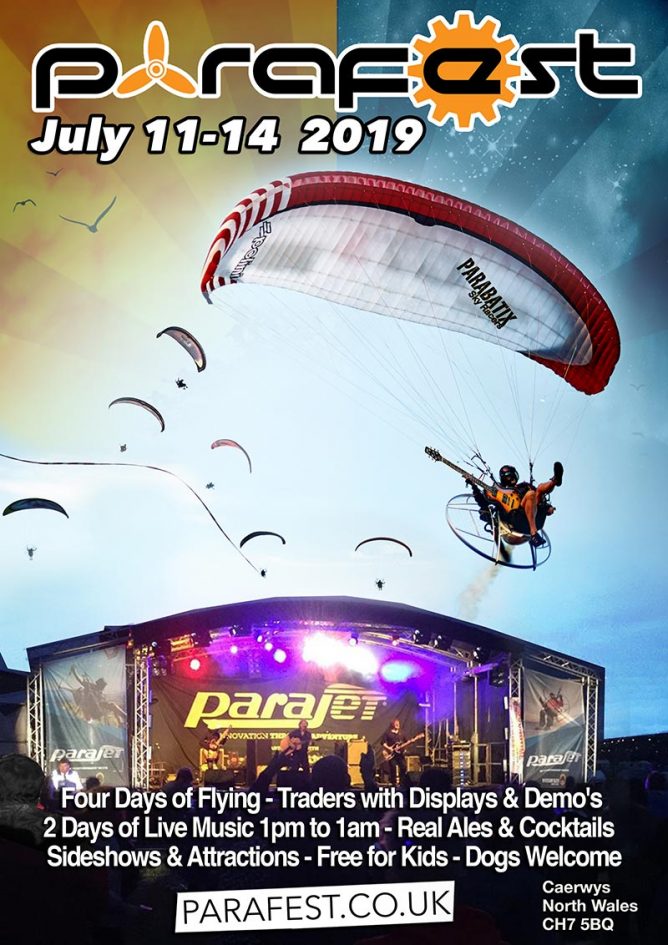 The UK's music and flying festival, Parafest, returns to the stunning setting of Caerwys in North Wales in July 2019.
Parafest is the UK's only event for all foot launched and single-seat trike aviation. The festival site is ideally placed for access to both coastal and mountain flying, with several North Wales flying sites a short drive away for free-flyers, and a dedicated field for powered craft to use from Thursday to Sunday.
There will be a trade show with demo equipment available, and the British Vintage Hang Glider Rally will be on site with up to 40 fully rigged gliders charting the history of UK hang gliding from its beginnings to the present day.
The pilot-run 'Fly Inn' bar will be stocked with Welsh real ales, gins, rums, Pimms, Prosecco, cocktails and more. In addition there will be arts and crafts markets, a children's area, live music from 1pm to 1am on the Friday and Saturday nights, sideshows and much more.
Tickets are on sale now and cost £65 for pilots (Thursday to Sunday) or £55 for non-flyers. Under-16s are free and dogs are welcome. Organisers warn, "Parafest sells out to capacity every year and tickets must be bought in advance from the website".