Oct
1
Tue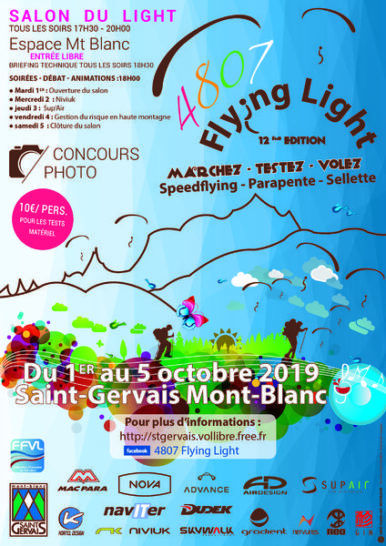 Test out new lightweight equipment, speak to manufacturers and join in the group hike-and-fly sorties, under the watchful gaze of Mont Blanc. Or atop it, if you are really, really lucky!
The 4807 Flying Light salon at Saint-Gervais-les-Bains is now in its twelfth year and supported by 14 major paragliding equipment manufacturers. It's grown in duration to a five-day event, and is one not to be missed if you love hike-and-fly in high mountains.
It's free to enter the trade area, €10 to test out material.
Jun
11
Thu
Super Paragliding Testival 2020
The dates to note for this year's Super Paragliding Testival are 11 – 14 June 2020.
Pilots are invited to put the dates in the diary then come along and test wings and harnesses (solo only – no tandem flights allowed at the event).
The ski lift that goes to launch is within easy walk of the landing field where the manufacturers' stands will be set up. It's also home to the famous Fliegerbar that will be serving cold beer and weisswurst (white sausage). Choose what you want to demo, head up the lift then fly from the north-facing mountain slope, known for its gentle thermals.