Oct
1
Tue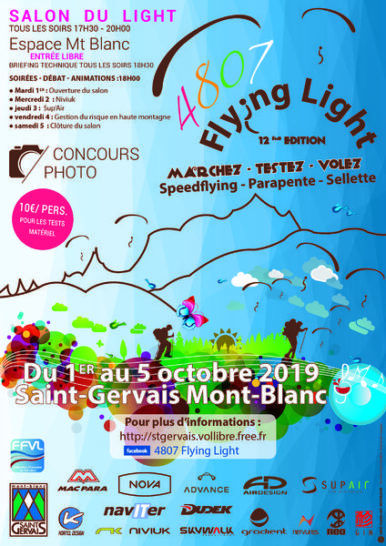 Test out new lightweight equipment, speak to manufacturers and join in the group hike-and-fly sorties, under the watchful gaze of Mont Blanc. Or atop it, if you are really, really lucky!
The 4807 Flying Light salon at Saint-Gervais-les-Bains is now in its twelfth year and supported by 14 major paragliding equipment manufacturers. It's grown in duration to a five-day event, and is one not to be missed if you love hike-and-fly in high mountains.
It's free to enter the trade area, €10 to test out material.
Nov
9
Sat
PWC 2019 Argentina: Loma Bola
The fifth and final round of the 2019 Paragliding World Cup tour will now be held in Loma Bola, Argentina (the event planned in Mexico was cancelled).
The other dates on the tour are:
Coeur de Savoie, France 25 May – 1 Jun
Manteigas, Portugal 29 Jun – 6 Jul 2019
Pico do Gaviao, Brazil 7-14 Sep 2019